Taiwan's top beauty and fashion infotainment show, Lady First (女人我最大) will soon have a made-in Singapore version! A collaboration between StarHub TV, Hong Kong TVB and its Taiwanese arm TVBS, Lady First – Singapore (女人我最大 -新加坡) intend to provide viewers useful insights into the world of beauty and fashion, while injecting it with a local flavor. The 13 episodes Lady First – Singapore will make its debut on E City (StarHub TV Channel 111/825) from 20 May 2013 at 8pm.


Pauline Lan (蓝心湄) with her Lady First's resident stylists, Kevin Chou (Kevin 老师) , Wu Yi Lin (吳依霖) and Xiao Kai (小凱), whom are renowned beauty and fashion experts in Taiwan; together with top local stylists – skincare expert Bryan Gan, make-up maestro Clarence Lee, style guru Keith Png and hairstyling whiz Ken Hong, will join hands in providing expert advice and insider tips.


When asked during the media conference, what are the common fashion mistakes made by Singaporean ladies, Pauline pointed out the most common one will be the wrong choice of undergarment size, such as wearing oversize underwear when dressed in body hugging apparel, causing visible panty lines; and wearing undersized bra, resulting in overflowing breast.
In addition to the team of expert stylists, there will also be a 10-member ladies team made up of local female personalities to give their take on latest beauty products and fashion trends in the market, and doubling up as models for the stylists. The ladies team, made up of beauty queen Cheryl Wee(黄馨慧), Sunsilk Academy Fantasia talents Winnie Lee (aka Vee) (李盈瑩)and Celyn Liew(柳芷琳), local DJs Angel Yueng(杨迪嘉) and Candyce (杜蕙甹), blogger cum actress Silver Ang (洪子惠) and local celebrities like Tay Kexin (郑可欣), Kanny Theng(伶恩) and Carrie Yeo(杨佳盈), will be led by local Singer Kelly Poon(潘嘉丽), who will also host the outdoor segment of the show.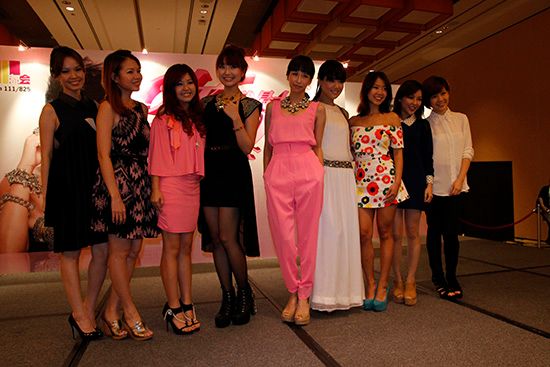 Viewers can look forward to journeying along with Lady First – Singapore across different platforms. It will be made available on StarHub TV Anywhere (www.starhubtvanywhere.com) for viewers to catch the programme on the move. "Live" updates from on-ground events and publicity stunts will be shared on StarHub Entertainment Facebook Page, Instagram and Twitter where fans can follow the official hashtag #ladyfirstsg to join in discussion or share their thoughts. StarHub will also have a new dedicated YouTube channel which will house all StarHub-related video clips to enable viewers to check out Lady First – Singapore's trailers and video in just one click.
StarHub TV will also be launching a second screen app featuring Lady First – Singapore, allowing viewers to log in via their Facebook accounts to access additional content that complements the programme in real time, as well as access Instagram to participate in weekly contests and quizzes.
Similar to Taiwan's Lady First, the brands of the featured products on Lady First – Singapore will be masked out on TV, however, viewers can find out more about the featured products via a specially set-up microsite at www.starhub.com/ladyfirstsg, they can also chat with liked-minded people on the forum, and keep up-to-date via its photo and video galleries. Exclusive webisodes not shown on air will be available on the microsite. Viewers who miss an episode can also check out the microsite for video clips on key highlights of each episode.
Now ladies, take note of the premiere date and be ready to turn yourself into a prettier and more confident woman. Do get your man to watch the same, so that they will learn to appreciate your effort in dressing up.