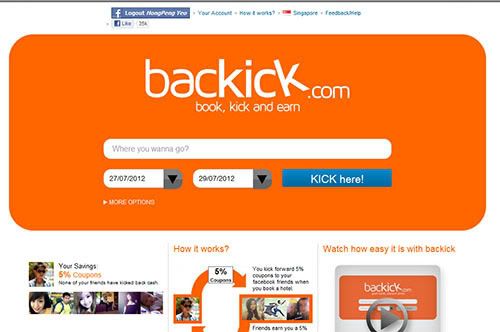 Good news to all travellers! An online hotel booking has launched by Backick.com, a combination of two favourite leisure activities – connecting with friends on facebook and planning for holiday. It is the world's first of its kind socially website where friends help pay for your travel launches in 11 Asia Pac countries including Singapore, Hong Kong, Thailand, Indonesia, Philippines, Malaysia, India, Vietnam, Taiwan, Japan and Korea.
With its fun social experience way of booking hotel online, it also allows you to monetise your social media friendships and builds a self-propagating network of unbeatable hotel discounts and cash rewards. Likewise, user can choose up to 100,000 hotels worldwide with attractive offers of up to 80 per cent off basic hotel rates.
It's as simple as you "Book", "Kick" and "Earn" just within a few clicks on their official website. Let's watch a video on how its work with the new online booking hotel system.

4 step to Book with Backick.com
#1
Connect by logging in with your Facebook ID
Go to www.backick.com, and click connect to log in with your facebook ID as backick.com uses facebook connect to pass on discounts to your network of friends. Once you connect, like us and you will be welcomed with a 5 per cent discount coupon in your backick.com account.
#2 Send Coupons to your facebook friends
– Start sharing and earning backicks by sending friends a 5 per cent discount coupon by clicking "Send Coupons" from backick.com. Friends and family will get a pleasant surprise when they receive an email saying they've received backicks (a.k.a. cash rewards) from you!
– Book a hotel on backick.com, a 5 per cent discount coupon will also be shared – or kicked forward – to your facebook friends who will receive notifications of the redeemable coupons on their facebook timeline.
#3 BOOK from a selection of 100,000 hotels worldwide
Choose from backick.com's extensive inventory of more than 100,000 hotels worldwide with discounts of up to 80 per cent off normal room rates.
Once you've logged in to backick.com and connected through facebook, you could see 4 to 5 star hotels at ZERO dollars as backick.com automatically updates the rates with the backicks and discount coupons you have. Select the room type, click "Book Now" and get ready for some fun!
When it's time to pay, you determine how much to save on bookings. Cash in your coupons, redeem available backicks or stockpile them for a free trip.
#4 EARN more backicks! STAY for free!
When your friends use these discounts, they send discounts and backicks to you. Accumulate enough backicks and your next stay could be FREE! It pays to be popular!