Before watching "Life of PI", I have heard others mentioned that this movie is not meant for the no-brainers as it is a thought provoking movie.
Adapted from Yann Martel's Booker Prize-winning novel, "Life of Pi" stars Suraj Sharma, Irrfan Khan, Gérard Depardieu, Tabu, Adil Hussain. The story is about this young man, Pi Patel, left stranded on a boat in the Pacific Ocean with a Bengal tiger named Richard Parker after a shipwreck. It talks about the unexpected connection between Pi and Richard Parker, and and how PI miraculously survived through 227 days out in the sea.


The movie triggers one to many deep thoughts. While it seems to be talking about survival, it covers many more – religions, humanity, faith, truth and self-discovery too. It brought out the belief/conflicts among people in religions; the importance of faith; and the fact that sometimes the truth is just too brutal that one may opt to believe what they prefer to believe, is the truth; than what they actually believed is true.
I shall not reveal too much of the storyline else you may lose the thrill to watch it!


I would highly recommend you to watch the movie in 3-D with Dolby® Atmos™, it is certainly worth to pay slightly more to watch the movie in 3-D. The employment of 3-D photography and CGI technology brought about beautiful and breathtaking sceneries and spectacular moments. The vivid color palette used throughout the movie simply creates a magical feel.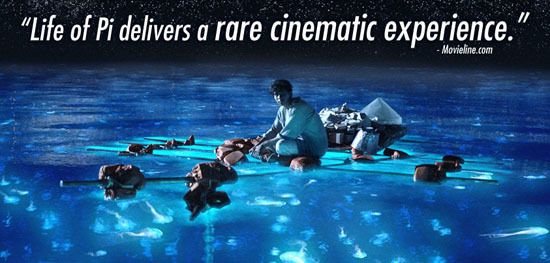 The Dolby® Atmos™ offers a more realistic sound field, and provide a lifelike sensory experience. Experience the dramatic change from peaceful to turbulent sea during the storm; feels the ocean floating around you during moments of tranquility; jump as you feel the tiger pouncing at you!


I would highly recommend this movie to all. Oscar winning director, Ang Lee, basically serves as an assurance to the quality of the movie. Love how the movie provokes the viewers to think deep. And it's really DEEP… It took me a while to actually understand some of the underlying messages. Even if you find it hard to understand, simply enjoy the beautiful fantastical sceneries, as well as the lovely film scores and imagine for a moment, yourself being PI…
本人大力推荐大家前去观赏《少年PI的奇幻漂流》Dolby® Atmos™ 3-D 版。奥斯卡得奖导演–李安,本身便是电影品质的最佳保证。影中利用3-D摄影及CGI特效,制作出令人叹为观止的怡人景色,虽然有点梦幻,却依然感觉真实。Dolby® Atmos™ 音响令人感受到平静海面随着暴风雨的侵袭,而海浪汹涌;老虎扑向过来时如此真实,不免惊吓一跳。
这部电影引人深思,所涉及的课题包括:存亡,宗教,人性,信仰,真理, 自我探索。要参透当中要传达的信息不易,须有一些慧根。但,即使悟性慢了点,依然可以观赏影中美景,聆听当中悦耳的电影配乐,感受一下奇幻漂流…
Photos Credit To: Lifeof PI Facebook page