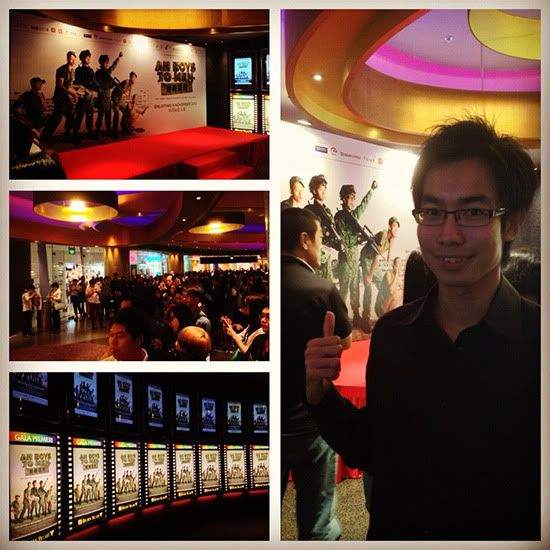 Thank You Nanyang Polytechnic (NYP) and JTeam Production for the great invitation to Jack Neo latest film 'Ah BOYS to MEN' Gala Premiere last evening at Vivocity Golden Village. Hence, today I will be sharing my review on Ah BOYS to MEN Movie. Time prepare for Army…!


Ah BOYS to MEN Movie Review:
Ah BOYS to MEN – a comedy and educated movie directed by our local outstanding director's Jack Neo and cast by excellent local artists such as Roy Loi, Wang Lei, Irene Ang and this time round, Jack Neo had chosen the popular online Youtube stars and bloggers to be involve in this movie.
The introduction of Ah BOYS to MEN Movie gave audience a 'WOW' break through attention by its awesome visual effect. The story of this movie talk about the NS life from the past till present and I think that this is the most memorable movie for the Singaporean guy who had served the National Service (NS). Likewise, if you have not got into NS, this is the best time to watch the movie and get prepare for army!
Another good reason why you must watch Ah BOYS to MEN Movie is because of its humorous. Yes! Jack Neo never fails in making audience laugh throughout the whole movie screening. Perhaps, you might able to learn some hilarious joke in this movie too.
A part from that, Ah BOYS to MEN is also an education movie for all people who live and grow up in Singapore regardless man or women. Reason because, this movie talks about Singapore history and future and i can say that it is the situation of facing the reality. Well, what will you do if one day Singapore is attack by an unknown enemy? I guess that, is for you to find out by watching the Ah BOYS to MEN Movie! I rate this Ah BOYS to MEN Movie: 4/5 stars. It's recommended to watch!
Ah BOYS to MEN movie (Part 1) will be releasing in the cinema theatre on 8th November 2012 and Ah BOYS to MEN Movie (Part 2) will be releasing in next year 2013 February.
'Ah BOYS to MEN' Behind the scene: https://hpility.sg/2012/08/21/jack-neo-movie-ah-boys-to-men-filming/


Ah BOYS to MEN Movie Synopsis:
In commemoration of Singapores 45th year of National Service, renowned homegrown director Jack Neo returns with a S$3million production Ah Boys To Men. The movie stars local veteran actor Richard Low, well-known actress/comedienne Irene Ang, celebrated musician Roy Li and actors Wang Lei and Jacky.
On top of these familiar faces, Jack Neo also introduces fresh faces to the cast lineup, including famous bloggers Mr Brown, Qiu QIu and Tosh. In conjunction with the NS45 campaign From Fathers To Sons, the movie shares how youngsters now step out of their comfort zone and learn the importance of protecting their country.
Ah Boys To Men is sure to bring back memories for Singaporean men who have previously served National Service and at the same time, interest young boys who have yet to join the army.