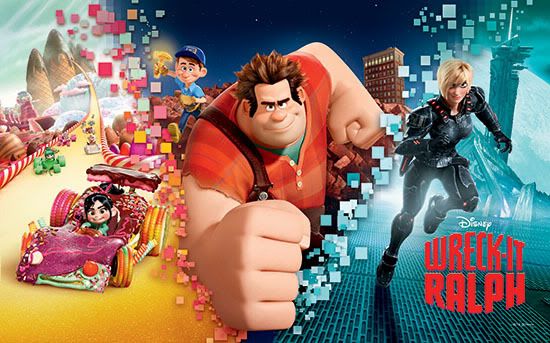 Wreck-It ralph Movie Review:
Childhood arcade game till present animation in 3D, Wreck-It ralph movie brings you back to childhood memories. Wreck-It ralph movie started up with a fantasy and creative introduction which able to catch audience attention easily. I like the way how they used pixel and stop motion effect to present in this movie.
He is not as "Bad" as you think

In Wreck-It Ralph movie, you will see your childhood favourite game character and also if you are an arcade fans, you will definitely love it. Despite of being "Good" or "Bad" character in this movie, at the end of the day, you will learn what is "Good" side of bad guy and "Bad" side of bad guy too. Well, "sometimes a little "bad" in life is good." I rate Wreck-It ralph Movie 3.5/5 stars.

So what is my favourite game character? Answer is… RALPH! Hahaha I like Bad guy uh? But you tell me which guy on earth not BAD? Hehe… Reason why I like Ralph is because he is tall, huge and strong. Although he is known as the "Bad guy" but I believe that he has a kind heart to help the others.

Wreck-It Ralph Movie will be officially release on 20th December 2012 in Singapore cinema theatre. Do catch the movie because it going to make your day awesome and memorable! For your additional information, you may want to take part in the 'Candy Cane Catapult' game on Disney Studios Singapore Facebook Page. Follow @disneystudiosSG and subscribe to the Official Disney Studios Singapore YouTube Channel!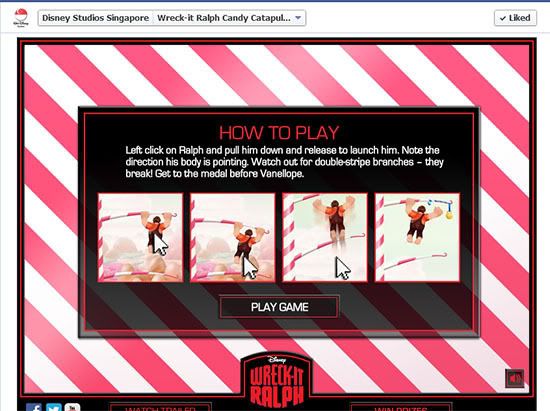 Wreck-It ralph Movie Synopsis:
Walt Disney Animation Studios and Emmy®-winning director Rich Moore (TV's "The Simpsons," "Futurama") take moviegoers on a hilarious, arcade-game-hopping journey in "Wreck-It Ralph." Ralph (voice of John C. Reilly, "Talladega Nights: The Ballad of Ricky Bobby," "Step Brothers") is tired of being overshadowed by Fix-It Felix (voice of Jack McBrayer, "30 Rock"), the "good guy" star of their game who always gets to save the day.
But after decades doing the same thing and seeing all the glory go to Felix, Ralph decides he's tired of playing the role of a bad guy. He takes matters into his own massive hands and sets off on a game-hopping journey across the arcade through every generation of video games to prove he's got what it takes to be a hero.
On his quest, he meets the tough-as-nails Sergeant Calhoun (voice of Jane Lynch, TV's "Glee") from the first-person action game Hero's Duty. But it's the feisty misfit Vanellope von Schweetz (voice of Sarah Silverman, "The Sarah Silverman Program") from the candy-coated cart racing game, Sugar Rush, whose world is threatened when Ralph accidentally unleashes a deadly enemy that threatens the entire arcade.
Will Ralph realize his dream and save the day before it's too late? "Wreck-It Ralph" crashes onto the big screen on December 20, 2012, in Disney Digital 3D™ in select theaters.