Dell Venue 8 7000 series is the first tablet with an Intel RealSense Snapshot Dept camera which captures a depth map for every picture taken. It also featured the best tablet display technology available with crystal clear images on an edge-to-edge screen. At the same time, it was recognised as 2015 CES Innovation Award Best of Innovation Honoree.
Launch
On the 10 March 2015, I was fortunate to attend the launch of the tablet in Singapore. It was first unveiled at the Intel Developer Form last September. It got everyone excited since the much-anticipated tablet features a series of "firsts" in its design and features.
Features
So how thin is this tablet ? Only 6mm and has an anodized aluminium finish which gives it a sleek and premium look. It has a stunning 8.4 inch OLED display which provides sharper viewing from all angles. The tablet' vivid 2560 x 1600 resolution delivers crystal clear images that enables users to immerse themselves in their photos and videos.
The tablet runs on Android 4.4 "Kit Kat" OS, and drives performance with the latest Intel Atom processor Z3500 series, allowing for faster web browsing and photo editing. Users can also enjoy an immersive audio experience through the tablet's premium audio technology from MAXXAudio Waves and its front-firing stereos.
If you are into digital photography, this tablet sets a new dimension by integrating the Intel ReaSense Snapshot Depth Camera. The tablet has an 8MP main camera and two 720P cameras separated b 80cm that capture a stereoscopic image with every photograph.
Together with the Dell Gallery application, users will have much more flexibility when editng photos with selective filtering and refocus functions. In addition, Dell's ecosystem of accessories enhances the experience of the Venue 8 tablet.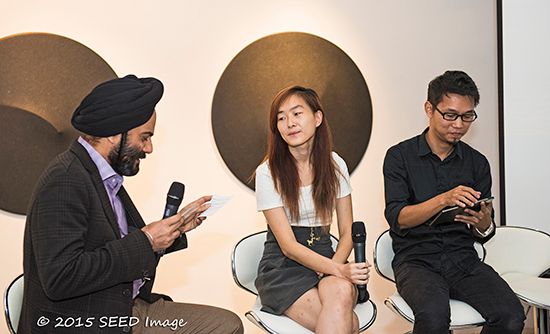 At the launch, Dell invites Derrick Ong, a professional wedding photographer since 2005 to speak on his experience with the tablet.  He has won over 50 international awards from numerious photography association. The other guest is Ng Li Tying, who started her own bakery. The spatula and the Pen. Li Tying also works at Naiise, a design retailer based in Singapore. She was norminated for Her World's The Young Woman Achiever Forum 2014.
Dell Inc. listens to customers and delivers innovative technology and services that give them the power to do more. For more information, visit www.dell.com . The Venue 8 is now available at S$659 with the Dell Venue Folio and at S$699 with the Dell Venue Keyboard Folio.
Photography/Editor: Derrick See