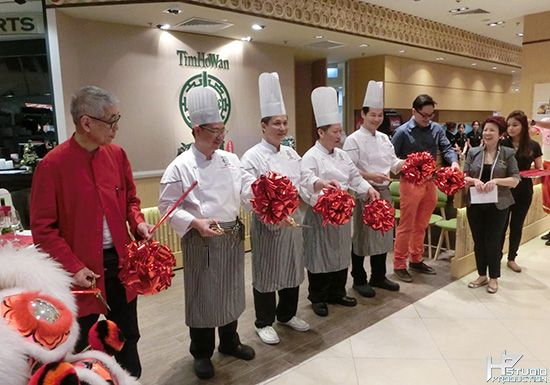 28 December 2013 marks a very important date for Tim Ho Wan Singapore as 2 new outlets are officially opened in Bedok Mall and Westgate. (The East and West) With the opening of these new outlets, the heartlanders no longer need to travel down town to have their appetite satisfied. Chef Mak Kwai Pui, who is stationed in Hong Kong, has travelled over to Singapore for this occasion.


We were invited to the Official Grand Opening of the Bedok Mall outlet and official opening started off with the traditional Chinese lion dance, followed by the ribbon cutting ceremony.
2013 has been a stellar year for Tim Ho Wan where they managed to retain its Michelin star for the fourth year, consecutively; and launching a total of 4 restaurants in Singapore just within the short time frame of nine months; marks a great milestone for them.


The new Tim Ho Wan restaurants at Bedok Mall and Westgate have the mission to join the existing branches present tasty and high quality dim sum.
The Baked Bun with BBQ Pork, which is Tim Ho Wan's marquee dish, has earned the applauds of many food critics and its other menu mainstays such as the Pan Fried Carrot Cake and Steamed Egg Cake have also made it to the must-try lists of gourmet lovers. Never to get self-contented, Tim Ho Wan continue to create new dishes to cater to Singaporeans' palates, such as Jade Wanton in Laksa Soup and Yam Dumpling with Sweet Chili Crab Meat.
Jade Wonton in Laksa Sauce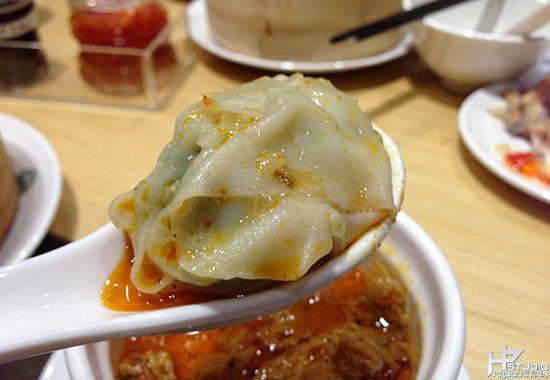 Dumpling with Chilli Crab Meat


To keep its guest with continual surprises, Tim Ho Wan will be introducing new and irresistible dishes throughout the year, starting from 2014. Different monthly specials will be available at the different outlets and on rotation basis so that patrons get to try them at their preferred Tim Ho Wan outlet during different months.


For this exclusive invite, we had a chance to try out the January 2014 Specials before its official launch, where we get to share with our readers:
Bedok Mall and Westgate January 2014 Specials
Yam Dumpling with Chili Crab Meat $5.00
Jade Wanton in Laksa Soup $5.00
Toa Payoh January 2014 Specials
Crispy Salad Fish Rolls $4.20
Phoenix City Quail Eggs $5.00
Plaza Singapura January 2014 Specials
Dace Fish Paste Soup with Lettuce $6.00
Steamed Chicken with Fish Maw $5.50
Tim Ho Wan Singapore Restaurant Location:
Tim Ho Wan Bedok Mall
Address: 311 New Upper Changi Road #B1-51/52 Singapore 467360
Opening Hours: 11.00am – 10.00pm (Monday – Sunday and Public Holiday)
Tim Ho Wan Westgate
Address: 3 Gateway Drive #01-13/14 Singapore 608532
Opening Hours: 11.00am – 10.00pm (Monday – Sunday and Public Holiday)
Tim Ho Wan Toa Payoh
Address: ERA Centre, 450 Toa Payoh Lorong 6 #02-02, Singapore 319394
Opening Hours: 10am – 9pm (Monday – Sunday and Public Holiday)
Tim Ho Wan Plaza Singapura
Address: 68 Orchard Road #01-29A, Singapore, Singapore 238839
Opening Hours: 10.00am – 10.00pm (Monday – Friday)
9.00am – 10.00pm (Saturday, Sunday and Public Holiday)
for their latest promotion