Are you looking for a short getaway with your family or friends this holiday season? Well, why not consider Desaru Coast as part of your destination resort! Introducing you guys the Desaru Coast Adventure Waterpark, a newly open attraction located at Persiaran Pantai, Johor, Malaysia. It is conveniently 2 hours ride from Singapore.
Desaru Coast Adventure Waterpark (DCAWP) is one of the world's biggest waterpark, offering fun, wet and dry rides and slides suitable for all ages. From chill to thrill, DCAWP home to one of the biggest wave pools in the world and including its first water coaster in the region. For more, the waterpark features more than 20 rides, slides and attractions across the 5 exciting splashing zones.
Check out the 5 zones in Desaru Coast Adventure Waterpark
Zone 1 – Penawar Falls
Penawar Falls
The Penawar Falls is the iconic entry view for DCAWP. Three separate waterfalls tumble over the cliffs into the reflecting pond below. At the foot of the cliffs, a giant Penawar Flower is spotted.
Swinging Ship
Just inside the colorful Main Entry Gate, guests will encounter a classic Swinging Ship theme park ride and three towering waterfalls cascading over massive 13m high rock cliffs. The replica pirate ship arches up to 180-degrees in both directions bringing great fun for all ages.
Surf Wall
The Surf Wall is a safe and high-energy surf simulator. Surfing beginners or enthusiasts can catch and ride a radical artificial wave till they wipe out and, then jump up and try it again. The Surf Wall can accommodate up to five boogie boarders or two stand-up surfers at a time, while friends and family cheer them on from shaded benches. The Surf Wall section will stay open after park operating hours catering to night games and activities! The adjacent Desaru Coast Riverside will also be open at the same time for guests to explore and enhance their experience!
Seafarer's Gift Shop
No trip to DCAWP is complete without a pit-stop at Seafarer's Gift Shop (merchandise store). You can shop for exclusive swimwear, sunglasses, unique gifts and souvenirs, and official Desaru Coast Adventure Waterpark branded items; from t-shirts to fridge magnets and more.
Zone 2 – Penawar River
Penawar River
The Penawar River is a long, looping lazy river float through lushly landscaped riverbanks and riverside fishing village scenes. It is a 350-metre long waterway that is suitable for families and individuals in search of a relaxing time. Along with a number of other food and beverage outlets; it's here that you will find four giant water slides – Wild Whirl, Super Twister, Riptide and The Tempest.
Penawar River Huts
Scattered along the sand-lined Penawar River are the Penawar River Huts. These economy cabanas are available for rental for guests' own personal and private space.
Wild Whirl
On Wild Whirl, riders on rafts plunge down a steep entrance channel, then shoot into the high, wide-open bowl for peak thrills. As rafts and riders slow down, they move to the centre drop chute for a quick and exciting exit. Water jets send rafts effortlessly into the patented CorkScrew™ and down a tunnel into the splash pool below.
Super Twister
Equipped with 4 sensational funnels where you slide up and down, the Super Twister leads riders cruising through radius curves before an unexpected drop into a funnel. The riders oscillate back and forth and then exit back into the enclosed tunnel before heading to the next set of exciting curves and funnels. It is definitely a unique ride that is fast and exhilarating!
Riptide
Riptide is a ride that will sweep riders at the steepest angles and fastest speeds giving an unparalleled feeling of weightlessness. Then, riders will travel downhill to enter the first twister where they slide back and forth several times before exiting into the second and third twisters and splash out into the pool.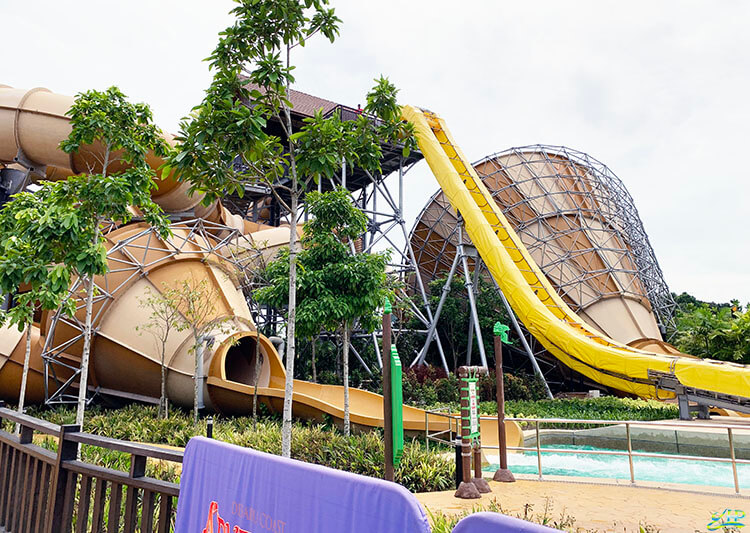 The Tempest
The Tempest riders will experience two high-energy funnels throughout the course of the slide as well as a sudden 24-foot drop, which allows for high-banking swings and zero gravity moments. A 55-foot tube slide with a funnel in the middle sends riders on a swirling vortex before completing the descent. Kids and adults will enjoy this water slide's high thrill intensity.
Surf's Up Juice Bar
Stop for refreshments at the Surf's Up Juice Bar, a swim-up bar – located along the Penawar River.
Zone 3 – Shipwreck Reef
Kraken's Revenge
Kraken's Revenge is a combination of a roller coaster and splashing flume ride that takes thrill seekers up 30 metres above the ground in rolling "boats" before swooping and spinning through a full 360-degree horizontal loop. The ride then takes a 27-metre drop to the shipwrecking Kraken sea monster waiting in the pool of water below. Riders can reach speeds up to 70 km/h as they plummet to a splashing finish.
From there, if the riders manage to escape the 'angry Kraken', they'd be able to catch their breath again on a leisurely float back to the ride station. Kraken's Revenge is the signature, differentiating ride for Desaru Coast Adventure Waterpark as the first-of-its-kind in Malaysia and the Southeast Asia region.
Kelong Eatery
The main restaurant in the waterpark, Kelong Eatery offers a wide variety of food and cooling beverages.
Zone 4 – Tidal Wave Beach
Tidal Wave Beach
Tidal Wave Beach is one of the biggest wave pools in the world with some of the world's biggest man-made waves! This signature water feature at Desaru Coast Adventure Waterpark spreads over nearly three acres and holds more than 4 million gallons of water. The Tidal Wave Beach can create waves up to four metres high, awesome for surfers and boogie boarders in the mornings and smaller waves that are safe, exciting and fun for everyone throughout the day.
Guests can relax in luxury and enjoy the wave pool views from the Beachside Cabanas, or lounge along the 170m long sandy shoreline of the Tidal Wave Beach. The Hard Rock Hotel Desaru Coast looks out on the Tidal Wave Beach and the giant wave pool. What's more, there is a dedicated entrance to Desaru Coast Adventure Waterpark for Hard Rock Hotel guests.
Zone 5 – Kids Ahoy
Kids Ahoy is a dedicated children's zone with 3 separate age-appropriate play areas filled with water play equipment; a combination of 13 different water slides designed for the waterpark's younger guests! Li'l Warrior's Hideout, Scallywags and Starfish Splash will be fun-time favourite for toddlers, young children, tweens and early teens, and for parents too.
My verdict:
Having a fun holiday is all about creating fond memories with your loved ones. Therefore, Desaru Coast Adventure Waterpark is definitely a one-stop fun attraction for everyone in JB Malaysia. Their security and safety systems are tight and well-deployed in all game activities area. No matter which section you at, there will be a lifeguard on standby for you. Likewise, I also like how the way DCAWP separated the fun activities between children and adult. And yes, the place is Instagram-worthy! Get ready not only your bikini outfit but also dresses for your adventurous photoshoot in the Desaru waterpark. Hope you guys have a splashing great time at DCAWP!
The waterpark is easily accessible by road, air and sea from Johor Bahru, Kuala Lumpur and Singapore.
Good news! Guests who plan their stay at the Hard Rock Hotel Desaru Coast will be entitled a promotion price to Desaru Coast Adventure Waterpark!
Location Address:
Persiaran Pantai, Desaru Coast, 81930 Bandar Penawar, Johor, Malaysia
Daily Opening hours: 10am to 6pm
Ticketing Prices: Starting from RM90
For more information, please visit: https://desarucoast.com/en/Pages/Play/Desaru-Coast-Adventure-Waterpark