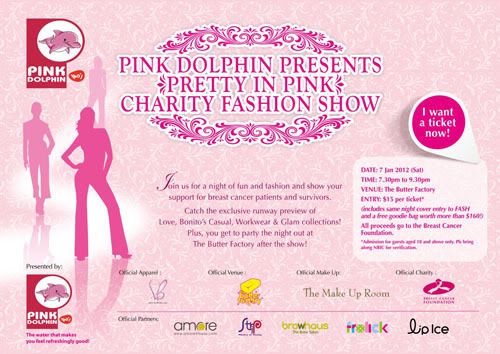 Young women in their twenties and thirties today seem to have it all, having their own careers and the financial independence to engage in their favourite activities like shopping, beauty and partying. However, the daily stresses of life also mean that young women often neglect their health as a result of the many tasks that demands their attention.
To remind young women of the importance of taking care of their health, Pink Dolphin is presenting the "Pretty in Pink" Charity Fashion Show, held on 7 Jan 2012, 7.30pm to 9.30pm at The Butter Factory, to raise funds for the Breast Cancer Foundation.
Hey guys! Join the night of fun and fashion and show your support for breast cancer patients and survivors. Last but not least, catch the exclusive runway preview of Love, Bonito's Casual, Workwear and Glam collection.
Fashion forward ladies can do their bit for charity by purchasing a ticket at $15 only at Pink Dolphin's website www.yeos.com.sg/pinkdolphin Ticket price includes event entry, a free goodie bag worth more than $160, plus same night cover entry to FASH at The Butter Factory, so guests can look forward to partying the night out after the event!
Pink Charity Fashion Show Event Information:
DATE: 7 Jan 2012 (Sat)
TIME: 7.30pm – 9.30pm
VENUE: The Butter Factory, One Fullerton, #02-02/03/04
Event ticket: $15
Website: www.yeos.com.sg/pinkdolphin