02/06/09
Tuesday
Blog Template Changed since 01/06
Introduction of Hpility Blog!
This Blog Best View in: Mozilla FireFox, Safari, Google Chrome and Opera.
If View in Internet Explorer (IE): Some layout will be corrupted and Some Link might not be able to load smooth.
Hello people! Welcome to hpility new blog layout! Last month, some of my reader,viewer,bloggers…say having diffcult loading the site. Therefore, in June 2009, i decided to changed the overall layout and this time the loading speed is 3 second or maybe less! Well, next few paragraph will go into the introduction on my new blog template.
Introduction Part 1
This time, my blog header just a normal picture file, unlike last time, using flash header…haha, actually for my this flash header still under designing and editing. Hope by July can be done! As for the navigator, it show, 'Home','Post Rss','Comment Rss' and 'BlogRoll'. So Far i only edit and add in the BLOGROLL navigator but is incomplete yet…Some site i haven link and some will nid to be remove. Talk about RSS, well people! if you think my blog daily post is interesting to you, You are free and welcome to feed my blog starting from now!!! xD haha
Introduction Part 2
Part 2 bring you to the left of my blog which is my BLOG POST! From Past, people keep asking 'where by comment box…why i cant comment…' Well, starting from today, i had put my comment box (unedit version). Just simply click the Square Box, it just beside my blog title and you can comment it! However, Tag/Chat are still welcome to here, haha i do reply Tag as well as comment!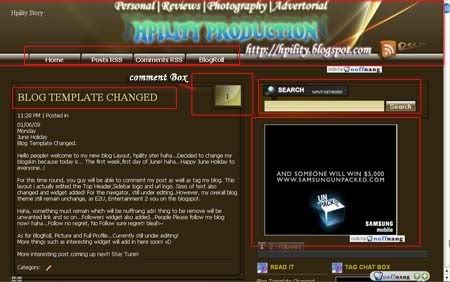 Introduction Part 3
Part 3 bring u toward to my Left of my BLOG! On the Left, you can see Nuffnang Ads,Followers,Profile,Links,TagBox,MusicBox,Contest Vote,Plurk and so on…
First of all, Nuffnang Ads! Thank to nuffies raine for giving me the current ads which is on samsung unpacked mobile! People, Do click it to know them more! 3 nuffnang ads, Top, Middle and Sidebar! As for TagChatBox, You are welcome to Tag my blog dailys..haha, dont forget tat everyweek, i will post out the faces in my communites! xD As usual, under this section, i still got alot of things nid to be edit such as links colour, picture and words. *I Need More Time*!!! haha

Introduction Part 4
Part 4 will be my review on my overall blog layout. This Layout Design actually not done by me, however, i did changes on its header and some navigate links. Compare to old template, this one look new and fast! haha the loading speed is extremely fast and smooth to me…I not sure you guys think..haha..But still wanna thank you for visiting! xD As my theme said, "I never stop writing, you cannot stop reading"! "Entertainment To You (E2U)"
Tats all for today…Comment or Tag as you wish! haha..I need Followers!! Feel Free to Follower Me in Bloggers and Facebook! Lastly, you guys will be wondering what my next post will be…haha…
Hint: "Do Singaporean Dress Badly"?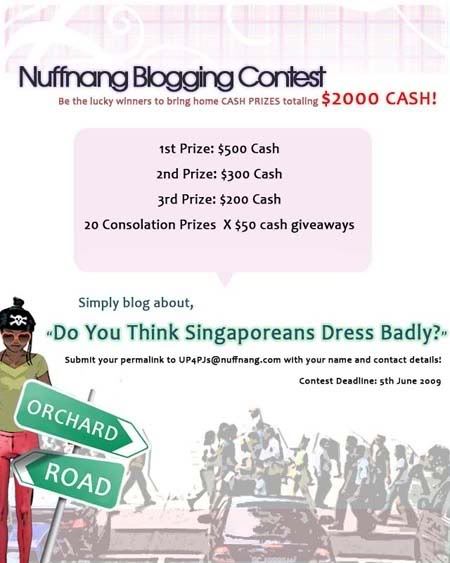 Thank for your reading and viewing! xD
[Do Tag Before you leave this blog]
幸福下一站