The next generation of the ever popular a7 series full frame camera comes with an upgraded a7 II. The most exciting upgrade is the Optical 5-Axis Image Stabilization feature. It is remarkable that Sony is able to squeeze so many new features into this little camera and yet it didn't grow bigger in size.
When I hold it on my hands, one notable thing is the handgrip. It felt so comfortable ergonomically on my hands as compared to the first version of a7.


The launch attendees were dealers from the various South-East Asian countries as well as a small group of media personnel from Singapore.
Speakers at the Launch
The opening speech was done by managing director, Naoki Sekiguchi of Sony South East Asia.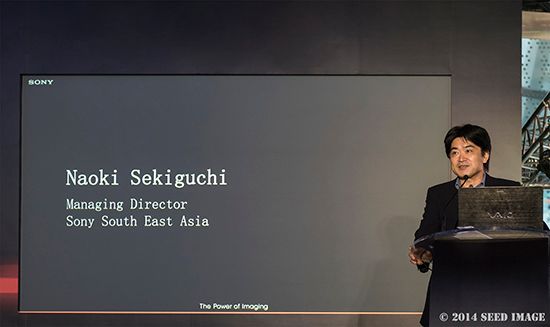 Takashi Yasuda from the Imaging Marketing Division of Sony gave a detailed explanations of Sony a7II features. He claimed that he was not a photographer and went on to demonstrate the most important feature of a7II 5-axis stabilization with a large Sony 300mm A-mount lens. The result was astonishing. The ability to shoot at a lower shutter speed without a tripod ( hand-held ) is a big plus point for a7II.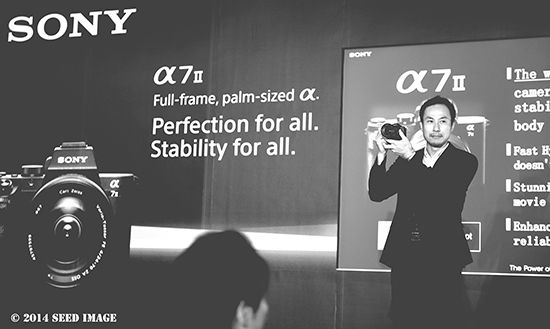 The next Sony speaker is Kavid Yan, Assistant Manager for Digital Imaging Marketing Division of Sony South-East Asia. I had a chance to speak to him in person after his speech. I raised a few questions concerning a7 series. One of them is the lack of native lens. He explained that a7 series was only introduced in 2013. Given the short period of introduction, Sony already produces 6 lens.
As compared to Canon and Nikon, they have been around for a long time with the F mount and EF mount. Sony is committed to produce more lens in the coming years for the popular a7 series. He further explained that it is easy to produce kit lens but for better quality lens, it will take more time.
In addition, he said that 5 axis stabilization feature is the result of feedback received from users. It is an important feature as it will help better stabilization of the camera which resulting in better quality photos. He went onward to relate that with all these new features build into this small camera, Sony engineers make sure that the a7 Sony body remain the same size as the previous model.
Another question, I asked was about the a7s 4K recording. The 4K recording will need an external recorder. Some users remarked it as an incomplete camera. As compared to Panasonic GH4, the 4K recording was built into the camera. I could not remember what Kavid explanation but I believe it may be due to the size constraint of the a7 camera. Sony believes in a small light weight full frame camera. In any case, a7s is an exceptional low light camera produce amazing photos and video. Let's keep our finger crossed; the next model of a7s will have even world's first features.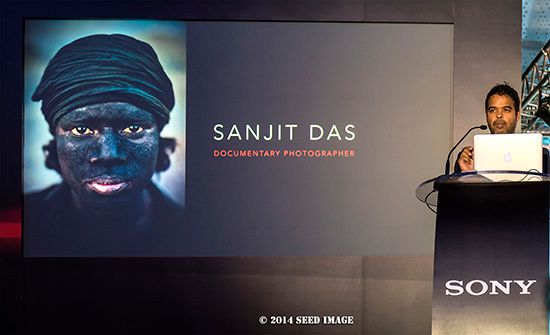 Sony also brought in two other professional photographers to speak in this event. They are Sony Ambassador. Sanjit Das is a Malaysian. He is a documentary photographer. You can read about him at this link. http://imagingambassadors.sony.net/masters/sanjit-das
Pilar Tuason is the other professional photographer.
She is the Ambassader of Sony Philippines.


Notable features of the new camera
• World first's full-frame camera with optical 5-axis image stabilisation – The five axes include angular shake ( pitch and yaw) which occur when shooting with a telephoto lens, shift shake ( along the X and Y axes) that becomes noticeable as photographing magnification increases, and rotational shake ( roll ) that often affects shots at night or when recording video. This feature will benefit any lens ( both native and non-native ) you mount on the camera. Fr still images, stabilisation is equivalent to up to 4.5 steps faster shutter speed of correction.
• Speedy, accurate autofocus with Fast Hybrid AF – It has a Wider AF coverage, 30% faster AF and 1.5 times better tracking ability of the previous model.
• Better Image quality and video recording using an advanced BIONX X image processing engine and XAVC-S recording
• Support S-Log2 gamma function for wider dynamic range, wider S-Gamut mode for a full featured professional video recording capability.
• Refine usability include grip shape and height and increase comfortable. The tilting display features White Matic LCD screen for better visibility under the bright sun.
• Reliability – Magnesium alloy construction are now on the top, front cover and internal structures for more durability and light weight. Sealing of dials and buttons help to keep moisture and duct out.
• Quick Startup faster by 40% then the previous model.
• Wi-Fi and NFC for better connectivity with mobile device and support for PlayMemories Camera apps.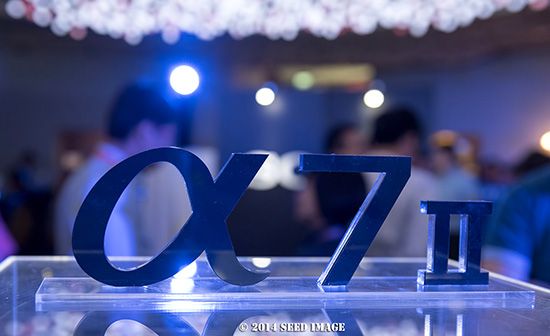 Samples photos provided by Sony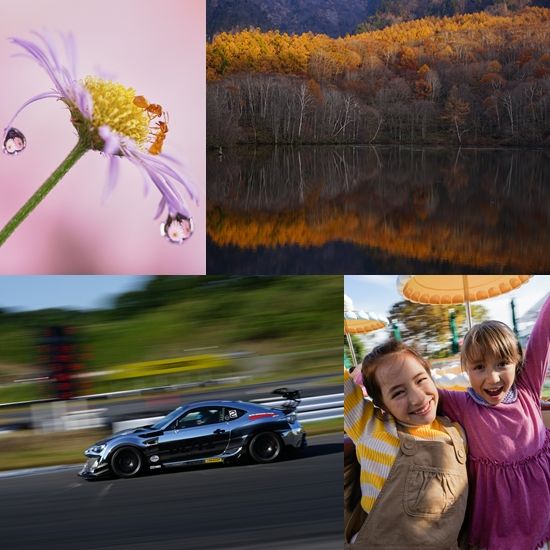 Unedited Samples photos taken during the launch using a7II with the kit lens 28-70mm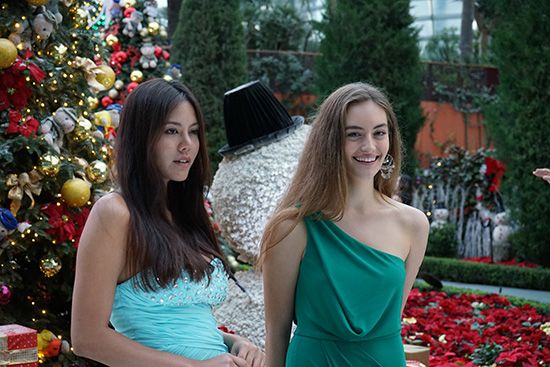 Launch Special
The a7II is available in stores from 12 Dec 2014. Click on the link below to find out more on the launch special. – http://www.sony.com.sg/microsite/MySony/promotions/alpha_dec14/index2.html
Opinion
My personal preference is a small full frame camera with the capability of taking high resolution photo and video. As I am currently using a Nikon D4 and D750 for both my professional work and leisure/blogging, in time to come, as I get older, I may have to change to a small mirror-less full frame camera to resolve the weight problems of pro DSLR and it's pro lens. Thus, Sony a7 fit well into my small camera bag.
Sony had demonstrated to us that it is possible to squeeze many features into this the new a7II. With innovation and technology advancement in the coming years, I will not be surprise to see even more great features in the future of a7 series. What's next…a7r II and a7s II.
Editor: Derrick See