Last Saturday, I am glad to attend the family day of celebrating the Republic of Singapore Air Force 45th Anniversary (RSAF45) at Singapore Airshow 2014 held at Changi Exhibition Centre. This year, RSAF has feature some of the highlight activity such as the Aerial display, RSAF Pavilion, Static display and Aircraft rides for audience to enjoy an unique and exciting experience as well as spectacular view moment.


The RSAF Pavilion is a place that will allow visitors to get to know the RSAF's transformation as well as the operational excellence and professionalism of the 3rd Generation RSAF. It comprises three distinct zones whereby Zone 1 is to visit their air force heritage and transformation, Zone 2 will be experiencing their Air Force Capabilities and Zone 3 to understand more about RSAF environment.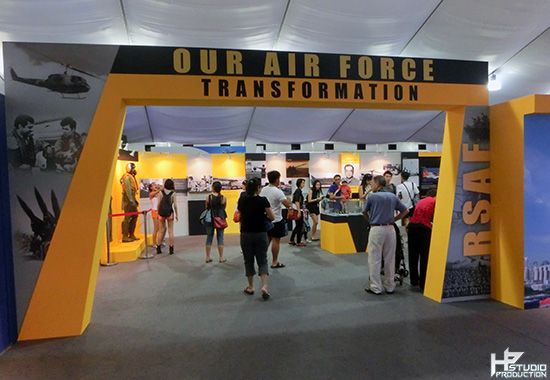 Zone 1 – Our Air Force Heritage and Transformation. Zone 1 features exhibits that showcase the RSAF's transformation journey over the past 45 years, allowing the visitors to better appreciate our transformation and development.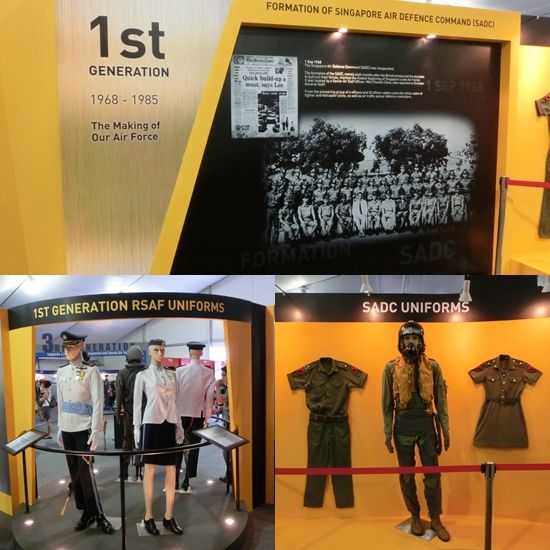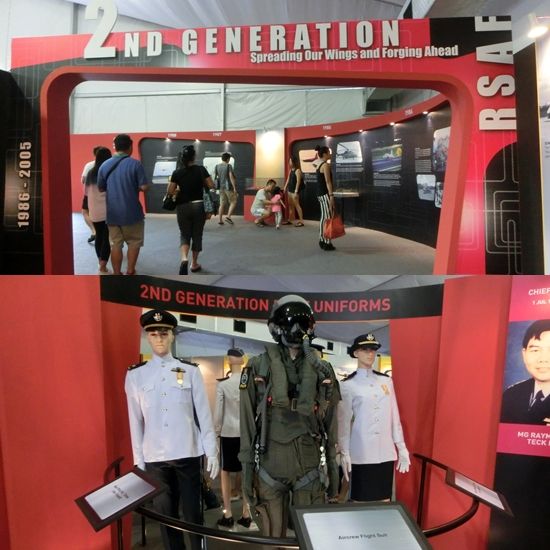 Zone 2 – Experiencing Our Air Force Capabilities. Zone 2 showcases the operational capabilities of the 3rd Generation RSAF through its Island Air Defence (IAD), the RSAF's contributions in Operation Blue Ridge, our integrated operations with the Army and Navy, as well as the involvement in Search and Locate/Rescue missions. A mini-theatre will also screen videos related to the RSAF's operations in Afghanistan, and the RSAF Black Knights. In addition, Zone 2 also features interactive activities such as simulators, aviation-related games, Total Defence exhibits and a photo booth.
Zone 3 – Our People, Our Tribe. Zone 3 showcases our servicemen and women being the heart of the RSAF. It comprises 5 segments, (1) Our People – At work, at play and in the community, (2) Our People – Making a Difference, (3) Forging Our Tribe, (4) Our Air Force Stories and (5) Air Force Recruitment. In addition, visitors will get to meet the Black Knights during the meet-the-people and photo taking sessions in this zone.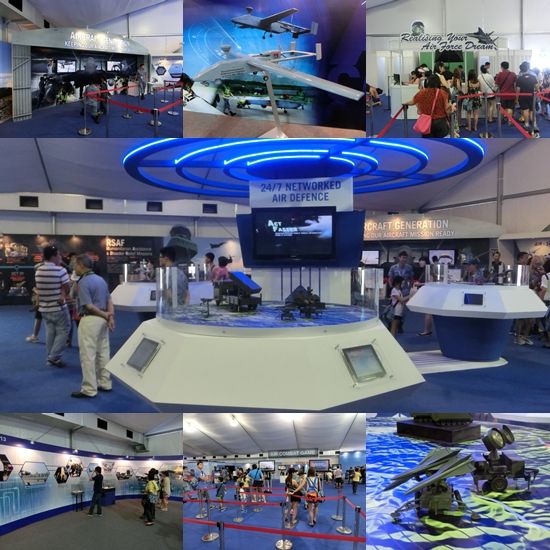 Kids are excited about the RSAF "One Force" game on ipad!


Next the static display! There are total of 17 types of aircraft and weapon system on display and the key highlight of display include the F-15SG, G550-AEW, SPYDER Air Defence System as well as the Heron 1 Unmanned Aerial Vehicle (UAV) and Hermes 450 UAV. Other aircraft types on display include the F-16D+ and the F-5S/T fighter aircraft, C-130 Hercules transport aircraft, AH-64D Apache attack helicopter; CH- 47D Chinook and Super Puma helicopters. Other ground-based air defence systems on display include the Mechanised IGLA, I-Hawk, RBS-70 and Mistral.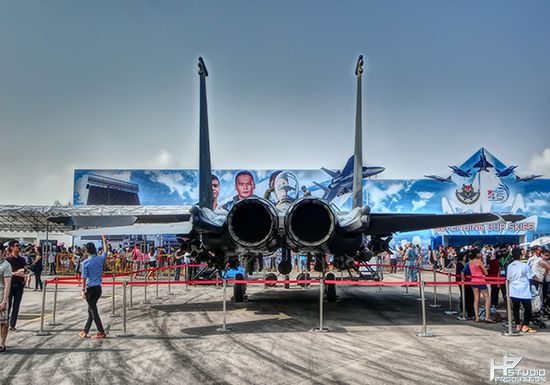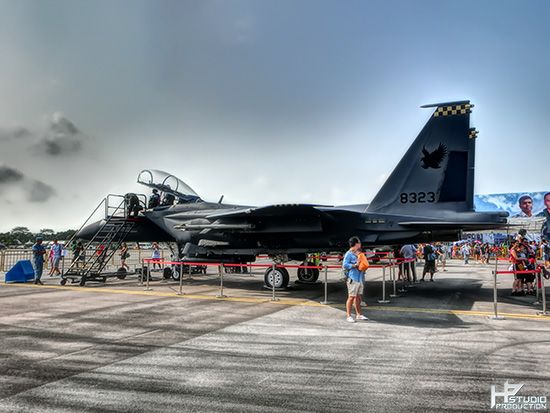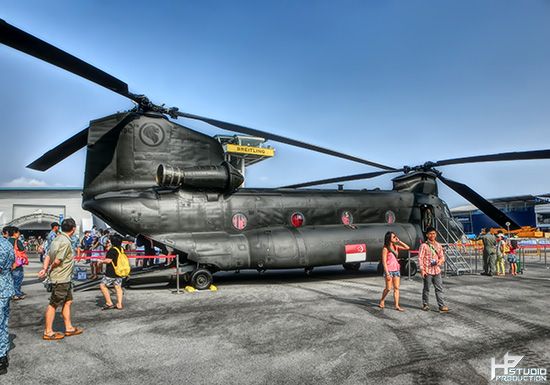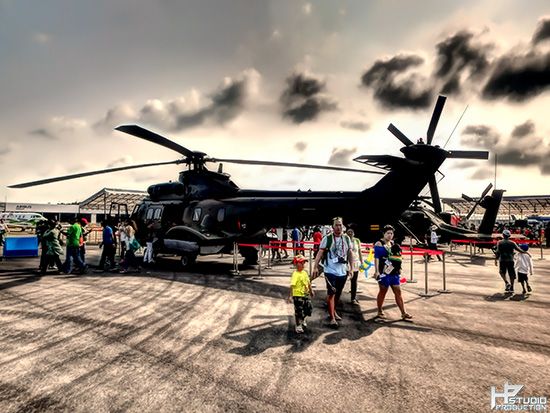 Got a myself a picture on F16!


One of my favorite section – The aerial display where it features the RSAF Black Knights in action. An one hour performance and visitors will witness the aerobatic team's precise and spectacular manoeuvres in action. Get prepare and ready to see their stunning formation performance!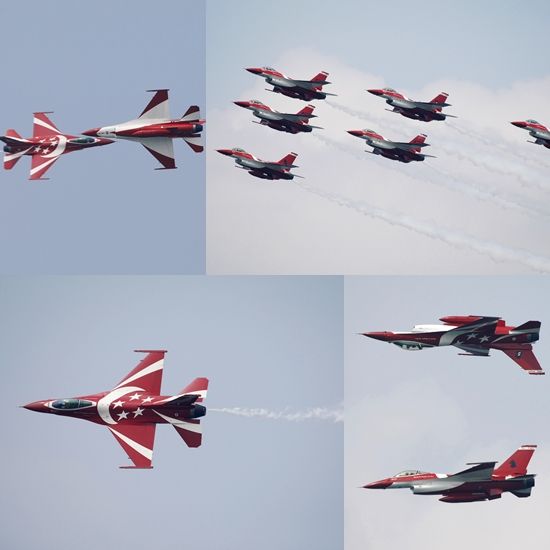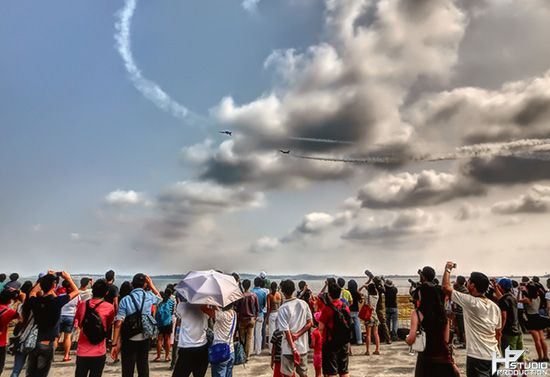 Last but not least, The Aircraft Rides! Yay! I got myself onboard the RSAF's Chinook Helicopter again! Is my second time and it was a rare opportunity for me to enjoy the bird's eye view of our island on the Chinook Helicopter! Awesome!
Group photo with the media at Singapore Airshow 2014


Singapore Airshow 2014 will be held from 11th February to 16th February 2014 at Changi Exhibition Centre. Visitors will also be able to redeem exclusive gift packs to commemorate the RSAF45th Anniversary.