Ramen have been a very popular Japanese food in Singapore. Ramen Champion Singapore was started in July 2011 which brings in reputable ramen brands to Singapore. The 2015 Ramen Champion Tasting Competition event was held at Bugis+ which was to celebrate Ramen Champion's evolution since its inception in 2011.


Besides the first outlet at Bugis+, there are two other outlets of Ramen Champion. One at Changi Airport T3 and the other one at Great World City. There are a total of 6 Ramen brands which include a new brand, Tonkotsu Ikkyu joining in 2015.
The new brand Tonkotsu Ikkyu was created by Ramen chef and producer of Ramen Champion Singapore, Chef Koji Tashiro. He is known as "Son of Ramen God". He is the disciple of "Ramen God" Kazuo Yamagishi, the legendary Ramen chef credited for inventing the wildly popular Tsukemen or dipping noodles.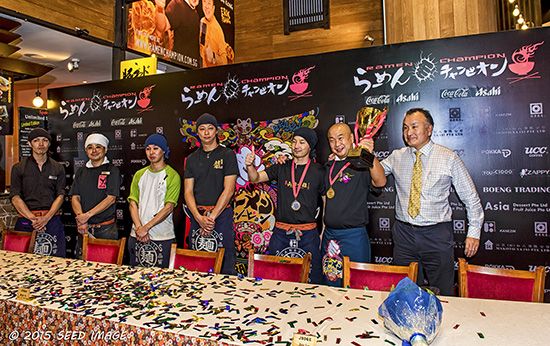 The event started with a Japanese traditional drums performance. You can feel the energy and excitement of the drummers during this short but high energy performance. This is followed by a sweet Japanese lady compere together with the Chef Koji Tashiro, translating every words of what Chef says.


The panel of judges were a mixed group from our local Singapore top chefs, chief editor of BITES etc. In the tasting competition, we were given a voting card which we will be submitting at the end of the tasting competition.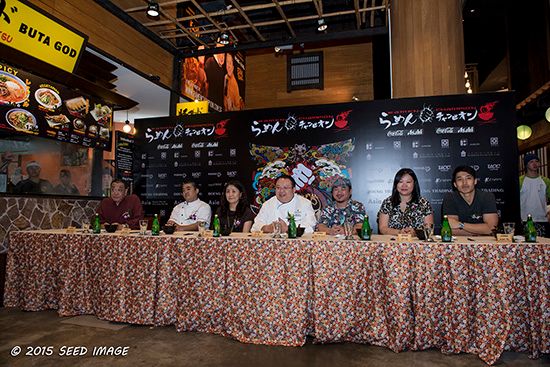 There are six brands and each dish out one Ramen dish. Here are the Ramen.
(1) Ramen Brand : Menya Ryu, Ramen : Sapporo Miso Special Ramen. The original flavour come from the capital of Ramen in Japan, Sapporo, Hokkaido. A minimum of 7 hours spent for making the broth. The Chef, Melvin Yeo uses 3 kinds of Miso which is just like the traditional miso ramen of Sapporo. My Opinion : It has a rich, tasty and thick soup. The meat is tender. The half boiled egg is soft and juicy. This is definitely one of my favourite Ramen.


(2) Ramen Brand : Buta God, Ramen : God Ramen. Buta God specialises in port ramen. Chef Mamoru Kana create a perfect combination of the slightly sweet Tonkotsu broth with sliced marinated pork belly and proached egg. My Opinion : You can feel the softness and yet the tasty sliced pork belly. The soup was really nice. This is my favourite and I voted on this Ramen.


(3) Ramen Brand : Riki, Ramen : RIKI Chashumen. The brand was established in Tokyo. Very popular with men in Japan. It's broth boiled for more than 8 hours, achieving a perfect milky-white broth. Riki means Energy Boost. My Opinion : The soup is a bit saltish but it still tasty. The meat is well done. Still this is not my favourite ramen.


(4) Ramen Brand : Menban Yamagishi Kazuo, Ramen : Original Tsukemen This is the legendary ramen chef, Kazuo Yamagishi who created this wildly popular Tsukemen, or dipping noodles. My Opinion : This is a ramen that is very different from the rest. The noodles are dipped into the soup for every mouthful of noodles. Quite interesting. In fact, it is quite nice. Should give it a try.


(5) Ramen Brand : Shodai Koji, Ramen : Triple Chashu Ramen. Chef Koji Takano is trained in Hokkaido, Yokohama, Tokyo, Australia and Singapore. He is the disciple of Chef Koji Tashiro. The uniqueness of this dish is that you can enjoy three kinds of meats. It is based on Yokohama-style ramen. It combines the elements of new generation with the traditional ones. My Opinion : For a meat eater like me, I really appreciate this ramen with three different kind of meat. It seems rather generous with it's ingredients.


(6) Ramen Brand : Tonkotsu Ikkyu, Ramen : Special Tonkotsu Ramen. The ramen is created by Chef Koji Tashiro, disciple of Ramen God Kazuo Yamagishi. Eric Tsang, a Hong Kong celebrity and producer of Ramen Champion Hong Kong have request the chef to create this Ramen. The topping of cha shu which is pork collar is cooked in the western sous vide style and that the soup base comes in four vibrant colours and flavours. Finally, this ramen emerge as the grand winner. My Opinion : In my opinion, the soup is salty. I would prefer something less salty. Overall presentation is good. The meat is tender.


It is an experience to witness and be part of a Japanese culture of eating ramen in a competition. With more of such competitions, I believe the level of creativity and quality of ramen will greatly be improved.
Ramen Champion Singapore outlets:
Bugis+ –
Open Daily 11am to 10.30pm
201 Victoria Street, Bugis+ 04-10, Singapore 188607
Changi Airport T3 –
Open Daily 10.30am to 11pm
65 Airport Boulevard #B2-58 Terminal 3, Singapore 819663
Great World City –
Open Daily 11am to 10.30pm
1 Kim Seng Promenade, Great World City, #01-22, Singapore 237994
Website : www.ramenchampion.com.sg
Editor: Derrick See