Life always started with a question and ended with an answer. Common questions always came into our mind when we are looking for something and things to look out for in our daily life. Example such as; 'What time the bus is coming?', 'How to go this place?', 'What's happening around these places?' and etc… Have you ever thought of a public transport application which comes all in ONE which solves all your questions just a single click?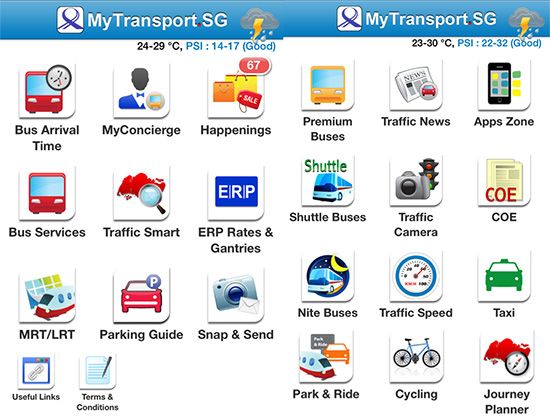 Introduce you guys an application called 'My Transport', available on both iOS and Android platforms. It is an interactive mobile application which enables commuters, motorists and cyclists in Singapore to view real-time traffic information and plan their journeys ahead.
Information provided includes: parking-lot locations & availability, real-time traffic information, bus service information, MRT/LRT information and the location of cycling towns throughout Singapore. The information is presented in an easy format that provides all commuters with valuable transportation information at their fingertips.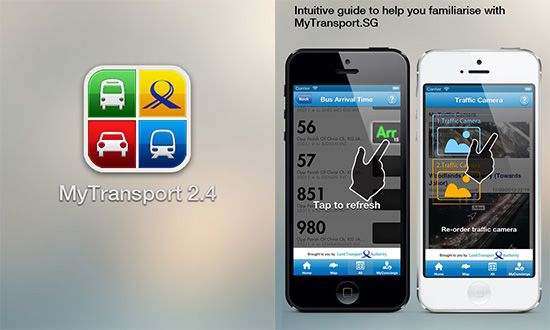 Hence, about a week ago I have downloaded and tried out 'My Transport' app on my iOS phone. Despite being a commuter or a driver, the first thing came into my mind was convenient and efficient. This apps was useful in the way that it had help me to navigate the way I want to go and saved up the time for me to hop online for information. Thus with this application, every detail is shown on my phone screen as long as I search for it.
Alternative, it has a function call 'snap & send' whereby in any event it allows users to snap and send road infrastructure feedback to LTA, such as potholes on roads, faulty streetlights and obstructed signage, directly from their mobile devices.
10 reasons why you should use 'My Transport SG' App:
It is a Free and straightforward Application.
It's user friendly and easy to navigate with the interactive map.
Allow you to check Bus Arrival Time.
It shows you the promotions and events happening around Singapore.
It acts like a mini transport guide book.
12 hour weather forecast with PSI.
Is an All in One App and always up-to-date about the traffic news.
It provides information such as parking guide, LTA Fines & Fees.
It show where is the Traffic Cameras and what is the ERP Rate.
Delivers Real-Time situation updates on the app.


One of the thing I want to highlight in this App was the 'Traffic News' function whereby I find it the most useful stuff as I can get instantly live update of the traffic news happening around Singapore. Thus, this can avoid me as well as the publics from entering into that damage road way and also, with the efficient information news; I believe that this could help to reduce the traffic congestion among our daily life.


Next thing to highlight was the 'Traffic Camera', this app will show all traffic cameras around Singapore, Hence I know where and when to slow down my car speeds and avoid any unnecessary incident/accident while travelling on the road.
Promotion & Events in Singapore!
To add on, this application can navigate you to your destination in the shortest way!


Lastly, I would like to say that 'My Transport' app had make my life more easier especially people like me, use to take public transport almost every day. Whenever I want to check timing for my bus ride or even a simple map guide to my destination, all I have to do, is to navigate the app and the result will simply show on my screen. Well, it's time to get everything you need to make taking public transport more efficient!