23/12/09
Wednesday
Treasure Hunter Movie Event
Jay Chou (周杰倫) and Chi Ling (林志玲) !
Blogger who attended this event:
Adele, Josh, JianHao, JunQi, Michelle and Joyce
Hello people! welcome back once again…Yesterday at plaza sing, there an event on Treasure Hunter movie roadshow and i'm so happy that got a chance to see Jay Chou again! haha

Yesterday afternoon, Met Jianhao at Tampines mrt station and we on the way to plaza sing…Event start at 7 pm…guess wad time we reach there? lols…We reached there about 3pm and have to stand and wait for another 4 hrs! Tats really long…but many thing can be done within this 4 hrs…xD
However, i met Junqi and Michelle too and soon later, Josh and Adele came! haha all Jaychou fans…While waiting, was too bored…Connected my phone to the internet…using twitter, ebuddy, facebook and surf web…Did some camwore too..haha

Time past…around 6.30pm…The crowds was getting more crazy…each level inside this plaza sing shopping mall was full fill up with people! I heard that at a point of time, the security guard even close one of the entrance…lols…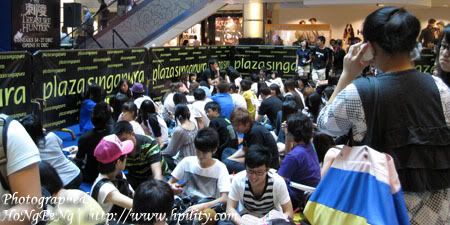 As i said, the crowds getting more and more….Those people standing behind was pushing and squeezing here and there…Michelle lucky ar..standing infront of us…But Me, Jianhao and Junqi…kena FREE-TOUCH by those girls behind lor…LOL *Very crowded*

Time delayed..Event started at 7.30pm…Jay Chou (周杰倫), Chi Ling (林志玲) and Director Kevin Chu came up on stage…This really omg…whole crowdse was shouting for their fans…lols *lucky glass never break* They started to introduce their movie and Jay Chou also perform his Magic show too…One lucky fans was call up on stage to perform with him…

This event took about 30min to end with a signature of Jay Chou (周杰倫) and Chi Ling (林志玲) on the Treasure Hunter Poster…*picture below*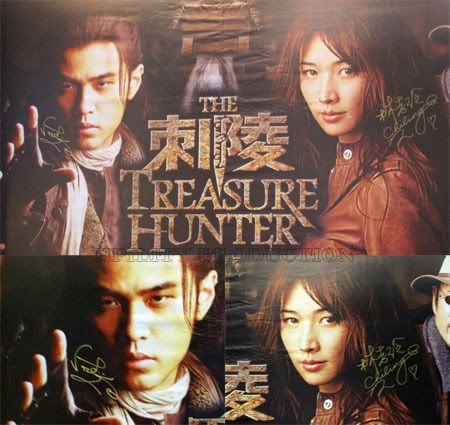 Overall, it was a tiring day yet enjoying….Took many picture but had choose the best to post in my blog above…haha..Had my dinner after all and i call it a day.
Tats all for today!
Thank for your reading and viewing!
[Do Comment/Tag Before you leave this blog]