I've got the chance to watch Life of PI and I'm glad to have watched it in 3D with GVmax® Dolby® Atmos™. You may ask, so what exactly is Dolby® Atmos™ ? It's Dolby's brand new theatrical surround sound system, which is the most significant development in audio.

Below shows the evolution of the sound system from a Mono speaker to Stereo speakers, and to Dolby surround sound system, which now includes overhead speakers and pan-through array.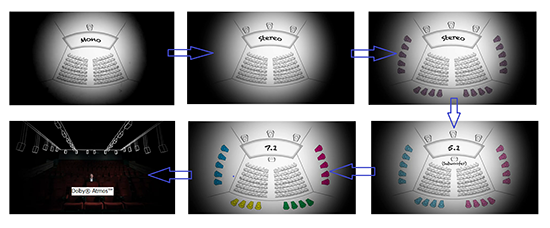 The Benefits of Dolby Atmos:
– Delivers a powerful and dramatic new cinema-sound listening experience
– Allows sounds to move around the theatre to create dynamic effects
– Reproduces a natural and lifelike audio experience that perfectly matches the story
– Adds overhead speakers for the most realistic effects you've ever heard
– Reflects the artist's original intent, regardless of theatre setup
– Employs up to 64 speakers to heighten the realism and impact of every scene
Take a look at the Gvmax theater, saw the surrounding speakers and the overhead speakers? The Dolby Atmos revamp the traditional surround sound methodology and offers a complete platform for sound to deliver to the audience in realistic sound field, and transporting them into the story with a lifelike sensory experience.

I would highly recommend you to watch the movie in 3D with Dolby® Atmos™ – why?
"As the storm begins, a wall of rain sweeps past the camera, moving dramatically from the screen to the rear of the theatre."—Tim Squyres, Film Editor
"Dolby Atmos is an incredible system. It is for music and sound what 3D is for visuals. For the music for Life of Pi, we were able to bring various elements separately out into the theatre: choir circling overhead, gongs on the back wall, harps running down the side walls…. In an organic way, the music envelopes the audience and better tells our story."— Mychael Danna, Composer

As such, you get to feel the dramatic change of peacefulness on the sea to the sweeping rain to the horrible storm which turns into such vigorous moment on the sea. Experience the school of flying fish fleeing tuna whizzing, flying past you, and right above you!
It is no doubt that Dolby® Atmos™ will brings you to higher level of entertainment! And now I'm looking forward to watch the upcoming Hobbit with Dolby® Atmos™