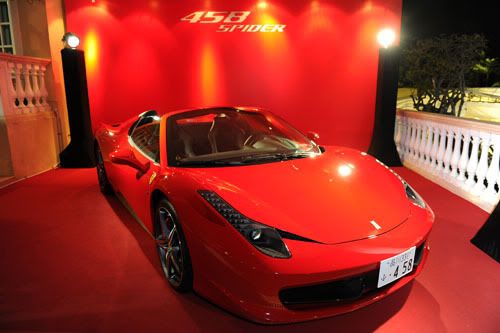 Singapore, 30 January 2012 – It was a Chinese New Year party with a difference when Mr. Teo Hock Seng, Managing Director of Ital Auto, invited 300 guests to his home to witness the unveiling of the world's first luxury sports car with a fully retractable hard top and mid-rear V8 engine.
Surrounded by the lush greenery at the sunken poolside bar, the new Ferrari 458 Spider, with its superbly-styled and streamlined body, took centre stage at the celebrations. The 570-horsepower V8 engine, an example of the revolutionary engineering excellence that Ferrari is renowned for, was also a key conversation topic on 25 January 2012.
The Teos' personal friends, Ferrari's high net worth clients, motoring enthusiasts and industry heads were the first to witness the debut of the 458 Spider which was exclusively flown in for the occasion. Amid the cheerful banter and festive wishes of ''Gong Xi Fa Cai'', there was also collective enthusiasm to test drive the latest in the Ferrari stable when Ital Auto's demonstrator arrives here in March.
Ital Auto, the exclusive distributor of Ferrari is now taking orders for the new 458 Spider. Prices start from S$998,000, without a Certificate of Entitlement.
About the Ferrari 458 Spider
Previewed for the first time in South-East Asia, the 458 Spider joins the 458 Italia and is powered by Ferrari's naturally-aspirated, direct-injection 4.5 litre V8 engine. Power is transferred to the road by the supercar's leading dual-clutch F1 paddle-shift transmission through a sophisticated E-Diff, itself integrated with the F1-Trac traction control and high-performance ABS for maximum dynamics.
Manufactured entirely in aluminium, the hard-top offers a brilliant reduction of 25kg in weight and a deployment time of just 14 seconds compared to traditional folding soft-tops.
Some of the car's features, such as its accelerator pedal mapping and the damping of the multilink suspension, have been calibrated to guarantee maximum sportiness and absolute driving pleasure with the top down, in line with Maranello's exclusive spider tradition.