We have all heard of the brand Alienware, when it comes to laptops and gaming. A leader in high-performance gaming systems, Dell unveiled its latest Alienware 15 and 17 laptops and for the first time in Singapore, the Alienware Alpha Console.
The Alienware 13, 15 and 17 focus on components that matter to gamers. The laptops also have a premium full-size keyboard with reinforced metals for uniform typing feedback, ensuring comfortable travel and quick responsiveness for gamers in action.


Alienware also presents its first Ultra HD 4K screen on a notebook with the Alienware 15, which also comes in FHD option. The optional Ultra HD panel boasts an impressive 3,840 x 2,160 resolution, bringing users the ultimate visual revolution on their laptops. Gamers who demand a large screen will favour the Alienware 17 which prioritizes screen size and picture quality, providing gamers with wide, vivid viewing experience on a notebook. All three laptops also provide optional touchscreen technology for maximum usability.
The new Alienware 15 and 17 are also packed with Intel Core i7 quad-core processors and NVIDIA GTX 980m graphics to deliver maximum graphics performance for even the most intensive games. The Alienware 17 offers a higher base graphics option and higher maximum CPU option than any other Alienware notebooks, promising supreme speed and performance as gamers immerse themselves in the action.
The Alienware 13, 15 and 17 help gamers outpace their rivals with the latest performing networking technologies such as the Killer gigabit Ethernet and the Killer Wireless 802.11ac WiFi. Powered by Klipsch and Creative Soundblaster X-FI technologies, users will enjoy the best sound quality they need when playing their favourite videogames.


The Alienware Alpha brings the best of both worlds together by combining the freedom of PC gaming with the ease of a console. The exclusive Alienware user interface allows gamers to navigate all of Alpha's core functions with the included Xbox 360 controller.
Users can choose to launch Steam Big Picture, adjust core system and AlienFX settings and access their media without needing a keyboard and mouse. Featuring the 4th Gen Intel Core i7 Processors, graphics powered by a custom-built NVIDIA GeForce GTX GPU 2GB GDDR5, gamers can enjoy gaming on a big screen in 1080p Full HD beauty.
Personally, I think that Alienware products deliver high quality performance for gamers and should be a priority when it comes to choosing laptops for gaming. The specs speak for themselves and I am sure that we have much to enjoy when using Alienware products.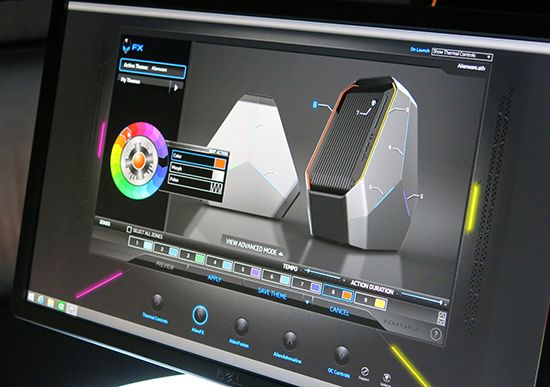 Editor: Samuel Low