If there is one thing about the Singapore distributor, Altas Singapore for Bose system, their service is top-notch. Way back in 1990s, I bought a Bose home theater system, Lifestyle System 12 from the Altas founder, Mr AB Tien. I was totally sold for it's sound quality and Mr. AB Tien ability to market Bose well.
I used it before I got married and the system follow me to my current home (married of course). I just love it for both music and the played movie surround sound. A good distributor does help especially the sales staff are knowledge and able to answer your questions without any "err, let me get back to you."
But recently, my system is giving me some hiccups and I am unable enjoying it. Sometimes back, they offered a trade-in deal formy old system. I did not take up the offer as my beloved system is still serving me well. If only they start their favourable trade-in offer again for the current range of SoundTouch systems, I may consider upgrading. Given the opportunity to visit Bose showroom, I jumped at the opportunity ( of course, for the public, you may visit the showrooms anytime if you want to)


Visiting the beautifully furnished Bose Winstedt showroom is a real treat for my ears.In fact, they have a living room, kitchen and two bedrooms (I do not remember seeing any beds). Bose introduces SoundTouch a while ago and they have included a newly launched SoundTouch 10 which is the smallest unit among the SoundTouch systems.
Worth mentioning are the exciting range of SoundTouch systems 20 and 30. As usual, Bose system sounds really good. Great sound through constant research.


I am exceptionally impressed with the new SoundTouch Wave system. Every morning, my first generation of Wave radio without fail, wake us up. The Wave technology is simply awesome and delivers rich sound. But the new Wave system is even better after I verify it with both my ears.


You may install the SoundTouch apps for your iphone or Android phone. SoundTouch apps help to control all your Bose SoundTouch systems into one remote control. This apps really make me a lazy person since I do not need to go over to all my SoundTouch Systems in every rooms in my home.
Different staff demonstrates the various SoundTouch systems such as home entertainment system, outdoor system etc.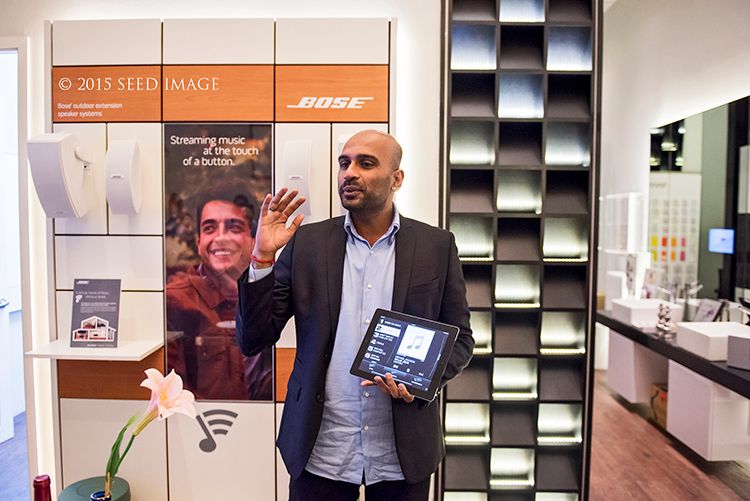 Writer: Derrick See