Our skin most exposed to germs around us, hence to prevent harmful bacteria and viruses around us, we need to use a safe products that protect our overall health. Introduce you guys the Bio Shield, an essential health product to enhance in our daily life.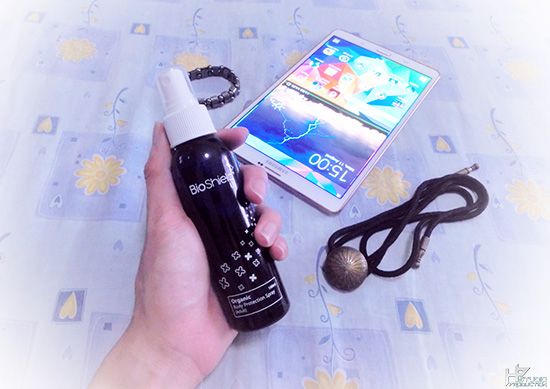 What is Bio Shield?
It is an organic body protectant designed to maintain and enhance the skin's immune functions. Components that make up the protectant include complex Bioflavonoids, Ubiquinol, MenaQ7 and Lipowheat. Since its launch in 2010, Bio Shield remains the top body protector of choice for adults, children and babies.
It was originally designed for the US Military and subsequently the sports industry in the United States. Found its way to the general public to provide additional protection to us in today's harsh environment. The formulation is certified organic by ECOCERT and NOP/USDA. It is also REACH compliance.
5 Reason to Use Bio Shield U!:
It helps to reduce the risk of infection from harmful bacteria.
It keeps you refreshing at all time.
It gives you an essential vitamin on your skin layer.
It protects you, your friends and family.
It maintains and enhances your skin's immune functions.
The best time to use Bio Shield ourselves:
Overseas Trips Travelling.
Indoor/Outdoor Photo and Video shoot.
Wedding occasion and Birthday Celebration.
A dining date in restaurant.
My Review about Bio Shield U!:
I had tried this product recently and I pretty love the effect of 'Bio Shield U' whereby it keeps me refreshing and feeling clean at all times, especially whenever I exposed to outdoor under the blazing sunlight, it shields me from the harmful UV ray. A spray of Bio Shield on my skin also gives me an antimicrobial vitamins layer which keep me look healthy and sporty.
I must agree that germs are invisible everywhere within our eyes distance regarding indoor or outdoor! Likewise with "Bio Shield U!" it also protects me from indoor activities such as dining in restaurant, travel to my destination by car and doing photo-shoot at indoor studio. Thus, Bio Shield Me and my loved ones!
The Bio Shield range includes BioShield U!, BioShield Kiddy, 
BioShield HandSan and BioShield Healthy Feet.
DO CODE: "201406-TIN.Bloggers"
FOR 5% DISCOUNT!!!