It is an art created during Mid Autumn. Dishing out yearly creation of mooncake is what makes Xin Cuisine Chinese Restaurant special. The restaurant resides within the Holiday Inn Singapore Atrium.


Infused with the taste of tradition and complemented with a modern twist, Xin Cuisine's irresistible range of mooncakes promise to delight. The traditional continues with Xin Cuisine producing best seller and award winning mooncake to fill the taste buds of mooncake lovers.


The mooncake tasting session comes with wine tasting from the wine distribution company, Aurum Mestika Sejati Pte Ltd (AMS). This trend of pairing mooncake with wine is fast catching up in Singapore. It started about 4 to 5 years ago in the Southern China. More people are appreciating good wine with good mooncake.


Our tasting session started with our first wine from Limari Valley, Chile, Casillero del Diablo Sparkling wine. The alcohol level is at 12%. The wine is popular and has a tie-up with the Red Devil Manchester United. In fact, Diablo means devil. You should be able to spot a devil logo on the neck of the wine bottle. The wine paired well with the mini Snowskin mooncake Soursop & Chocolate Crunch and Peranakan Durian. http://www.youtube.com/watch?v=Kj_KHYvFMdk
The second wine comes from Veneto, Italy (https://en.cantineriondo.com). The wine, Riondo Moscato Oro Cuvee Excelsa won a string of International awards such as the International Wine and Spirit Competition 2011 – Silver. Only 7% alcohol, it is sweet and light. It is my preference wine for the tasting session. It paired very well with Passionfruit Paste and Lychee Chocolate & Apple Lotus Paste.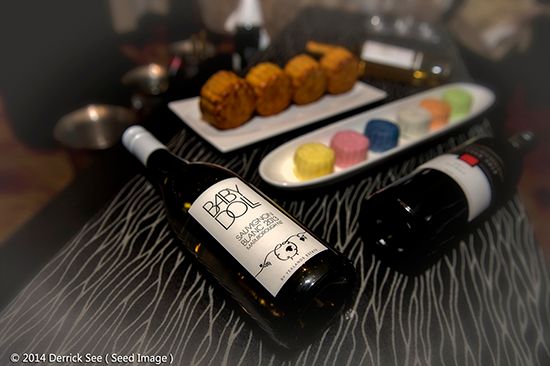 The next wine has a rather attractive name, Baby Doll. Don't be fool by the name. It has an alcohol level is at 12.5%. It comes from Yealands Estate ( www.yealands.co.nz ), New Zealand. The wine also won a few awards. It paired well with Xin Cuisine's Signature collection, Teochew Yam Paste with Single Egg Yolk and mini Softskin mooncake (except Peranakan Durian ).
The fourth wine to taste is Richard Hamilton ( alcohol 14% ) from Australia ( www.leconfieldwines.com ). This is the only red wine during this tasting session. It is a gentleman wine. A fruit dominant wine showing mint, plum and black pepper. It paired well with Xin's limited edition Assorted Nuts with Cordyceps Flower mooncake.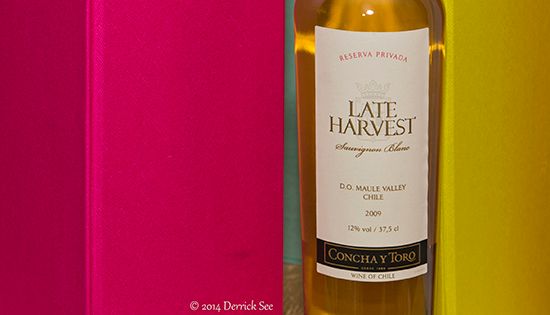 The final wine comes from Maule Valley in Chile, Concha Y Toro ( www.conchaytoro.com ). The sweet dessert wine, full bodied with an alcohol level of 12%, Late Harvest, uses grapes from the Mediterranean climate of the Maule Valley. It is packed with luscious peach and papaya flavours with a fresh, crisp finish. It goes well with Snowskin mooncake, Lychee Chocolate & Apple Lotus Paste.
My verdict for my favourite wine is Moscato in short ( second wine tasted ). With all these different wine tasted, I get a bit tipsy after the third wine but I have fun time enjoying the wine and mooncake.


My verdict for my favourite mooncake will be the various mini Snowskin varieties. Usually, I do not have a craving for mooncake, but these mini brightly coloured mooncake make me want to eat more than my usual limit. A special mention for the limited edition Assorted Nuts with Cordyceps Flower mooncake. It is nutty and nice with a touch of Cordyceps flower.


To complete our tasting session, we were treated to a whole range of mouth-watering finger food from Xin Cuisine. Special Thanks to Eunice Tan from Holiday Inn Singapore Atrium for inviting us at Hpility to this pairing of mooncake and wine tasting session. We shall look forward to more exciting gastronomic invites in the future.
The mooncake will be available until 8 September 2014.
If you wish to order the mooncake and wine, here are the contact details of Xin Cuisine Chinese Restaurant and the wine distribution company, AMS.
Xin Cuisine Chinese Restaurant Location:
Holiday Inn Singapore Atrium,
Level 4, 317 Outram Road, Singapore 169075.
Article Written By: Derrick See