Nowadays, having a simple meal in a cafe might be quite expensive. After the Services Tax and GST, it might cost you more than $30 for just a simple meal. To save up your wallets, I have come up with a list of 10 cafes that charge neither Service Tax nor GST. Now you will be happier in what you eating! Check them out here!
1. Department of Caffeine
Department of Caffeine is one of a popular cafe along Duxton road. Department of Caffeine (also known as D.O.C.), specialize on coffee. It offers a very popular brunch menu, with a special menu specifically for the weekends. DOC's regularly changes their menu to attract more customers or loyal customer to back. Another reason to visit, DOC is also one of those cafes in Singapore that do not charge service fees.
Department of Caffeine Location:
15 Duxton Road, Singapore 089481
Opening Hours:
Monday – Friday: 10.30am – 7.30pm
Saturday – Sunday: 9.30am – 7.30pm
2. The Bakery Chef
The Bakery Chef is a tiny cozy bakery cafe in the public housing estate of Bukit Merah Central. The nicely decorated cafe offers coffee and a variety of freshly baked and good looking cakes, pastries and macaroons. They doing delivery service too. So check out their website and find out more.
The Bakery Chef Location:
161 Bukit Merah Central #01-3711, Singapore 150161
Opening Hours:
Friday – Monday: 10am – 7pm
Tuesday – Thursday: 10am – 9pm
3. Lola's Cafe
It's cozy inside, it smells of great food and freshly ground coffee. When Lola's Café was first conceptualized, there was one binding thought that was not to be compromised; Lola's was going to be a playful and casual environment where you could get honest, unpretentious comfort fare in the company of great friends.
Lola's Cafe Location:
5 Simon Rd, Singapore 545893
Opening Hours:
Sunday, Tues-Thurs: 10am – 11:30pm
Friday – Saturday: 10am – 12am
Closed on Monday.
4. Sprmrkt Cafe
SPRMRKT Cafe is about redefining your local supermarket experience and repurposing that space for your daily needs. It spices up your supermarket experience by providing food, retail and art. Artists are allowed to showcase their work here for public enjoyment, as well as for sale.
Sprmrkt Cafe Location:
2 McCallum Street, Singapore 069043
Opening Hours:
Mondays – Tuesdays: 8am – 9pm
Wednesdays – Fridays: 8am – 11pm
Saturdays – Sundays: 9am – 6pm
5. Drury Lane
Drury Lane was named after a road called Drury Lane in London. And it's tucked in a bright red shop house unit along Tanjong Pagar. It serves decent coffee, nice food and has a nice cozy ambience. There are two storeys. The lower storey is where the kitchen is and where the brewing of coffee takes place.
Drury Lane Location:
94 Tanjong Pagar Rd, Singapore 088515
Opening Hours:
Mon: 9:00 am – 8:30 pm
Wed – Thu: 9:00 am – 8:30 pm
Fri: 9:00 am – 10:00 pm
Sat – Sun: 10:00 am – 6:00 pm
Closed on Tuesday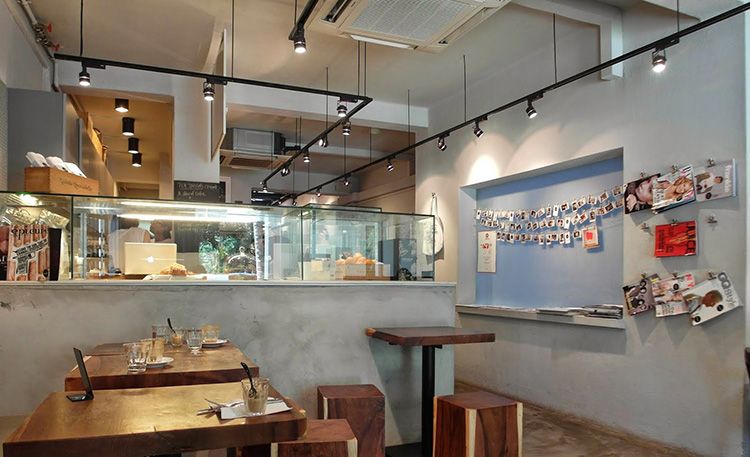 6. Flock Cafe
A family-run cafe, Flock's atmosphere is deliberately relaxed. A modern outfit with a touch of industrial chic – natural wood & metal combined with concrete flooring – it's a lovely minimal style.
Flock Cafe Location:
78 Moh Guan Terrace #01-25,
Tiong Bahru Estate , Singapore 162078
Opening Hours:
Daily: 8am – 6pm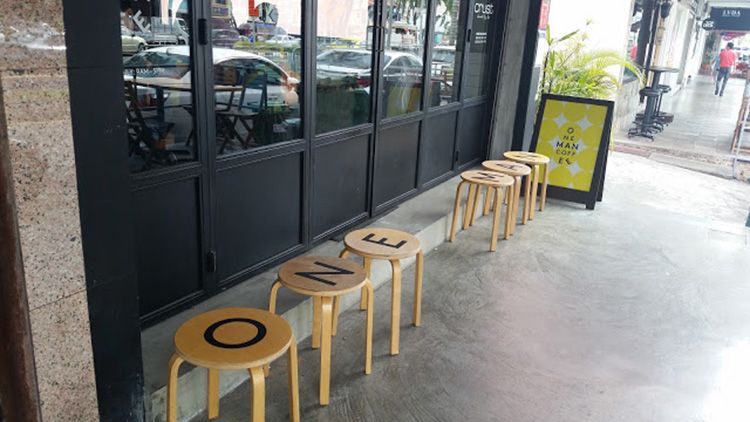 7. One Man Coffee Cafe
One Man Coffee is a specialty coffee concept that focuses on the art of the espresso. One Man Coffee that they actually share the same place as Crust. One Man Coffee uses this space from 9am to 5pm, and after which Crust takes over its operations from 5pm onwards.
One Man Coffee Location:
215R Upper Thomson Road, Singapore 574349
Opening Hours:
Mon – Sun: 9:00 am – 5:00 pm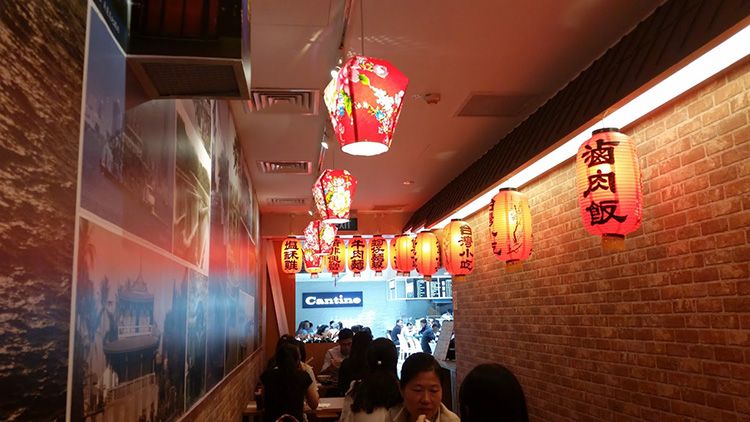 8. 5 Little Bear Cafe
5 Little Bears serving popular authentic Tai Chung cuisine dishes such as Braised Pork Belly Rice, Oyster Vermicelli and more. Ingredients are brought in from Taiwan and style of cooking is almost close to authentic taste of Taiwan by the owner himself.
5 Little Bear Cafe Location:
60 Paya Lebar Road, #B1-09, Singapore 409051
Opening Hours:
Daily: 11am – 930pm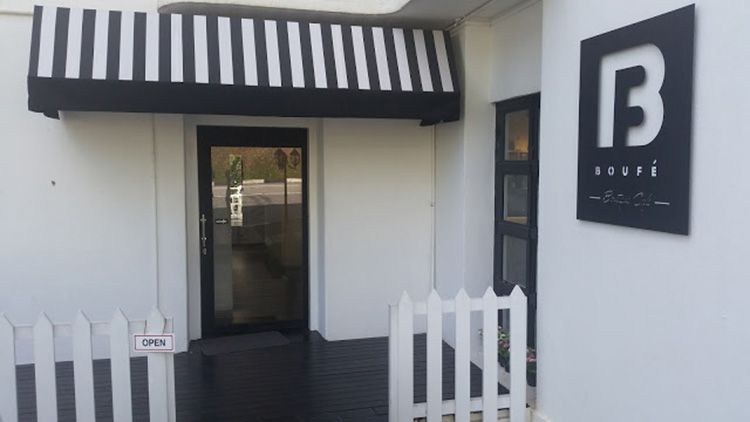 9. Boufe Boutique Cafe
Located in Phoenix Park, blending simplicity and serenity is what Boufe does best – whether its fusing minimalistic architecture with well thought about food elements, or blending strong flavors into fresh modern menu items. The Boufe Boutique Cafe concept certainly proves their sincerity by bringing you an intimate, yet memorable cafe setting away from the bustle.To top it off, allow yourself some time at the exclusive boutique space by Ohvola, with its overall look blending well with the cafe, housing an array of women's fashion apparel
Boufe Boutique Cafe Location:
Phoenix Park 308 Tanglin Road, Singapore 247974
Opening Hours:
Tue-Sun: 10am – 10pm
Closed on Monday

Photo Credit: Sgfoodonfoot.com
10. Assembly Coffee Cafe
Assembly Coffee is a little cafe situated at Evans Road Lodge. The place is a self-proclaimed third-wave coffee movement which has been named "Assembly". The coffee beans they used are from local roasters – Liberty Coffee & Geisha Specialty. Assembly also offers up a good, hearty brunch, with waffles that are highly well-known.
Assembly Coffee Cafe Location:
26 Evan Lodge, Singapore 259367
Opening Hours:
Tue – Sun: 8:00 am – 7:00 pm
Closed on Monday
Editor: Jonathan Soh