Embark on a love journey with Richie Jen (任賢齊) and Shu Qi (舒淇) on their latest romantic comedy movie – All You Need is Love (落跑吧爱情), directed by Richie Jen (任賢齊) and Andy Luo (羅安得). Although this not the first time Richie Jen parntering with Shu Qi in the film industry but I would say that this is the best featured of both Richie Jen (任賢齊) and Shu Qi (舒淇) entering into a fascinating love story.
All You Need is Love (落跑吧爱情), story concept came from a classic song "Grandmother's Pescadores Islands" (外婆的澎湖灣). Hence, this film was shot in the Pescadores Islands in Taiwan, showcasing the lavish beach paradise, stunning landscapes and spectacular attractions around the Pescadores Islands.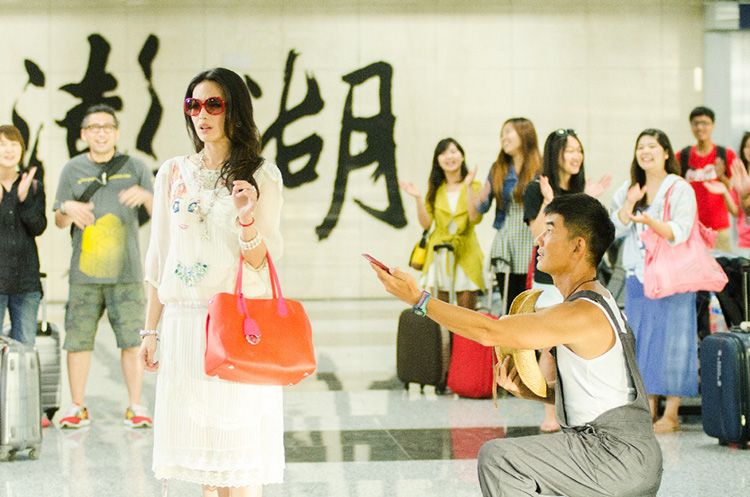 The story depict a wealthy girl (Fen Fen) left her protective home in China in search of the place that inspired the song that captured the heart of her late mother. In this movie, I really like the way Richie Jen conceptualized the whole romance story into this heart-warming film. From the most epic scene to sweet romance and touching scene, the transition of the movie was unpredictable and meaningful. Hence, a good thumb up for the sweet cinematography and comedy entertaining and also get prepared to fall in love with the cinematic ocean view.
Moral of the story in this movie is to tells everyone that, Do not live with regret; Fight for your true love and treasure it. I rate All you need is Love (落跑吧爱情) Movie: 3.5/5 stars. This is Richie Jen (任賢齊) first dream movie and we will be looking forward to see his second dream movie soon.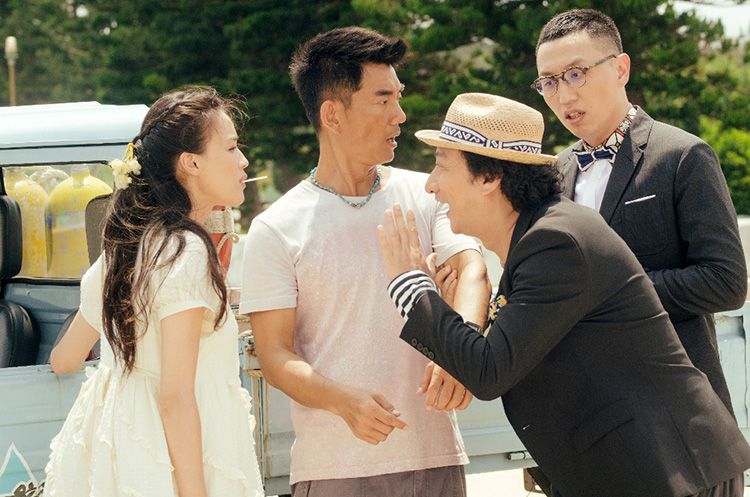 九孔 making his highlight performance in this romance comedy movie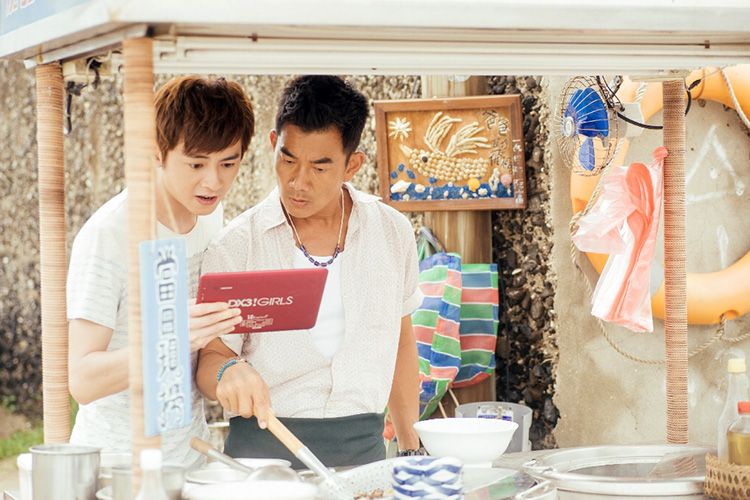 CHAPTER ONE: MY PESCADORES ISLANDS (我的澎湖灣)
This was the first name Richie came up with. It was derived from the name of the song "Grandma's Pescadores Islands." The song is meant to be the centerpiece in the movie itself. We learn at the end of the movie that there is no such thing as Pescadores Bay, but, as Richie says, it doesn't matter. Everyone has a place he can go to be free with no worries. Richie added, "I think everyone has a Pescadores Bay, but all in different places. It's like faith. Everyone has a belief. Some people may choose to believe in Jesus, or Allah, or Mazu, but it's all the same. The purpose of all these faiths is to build positive energy and spirit. So I hope this film can encourage viewers to be truer to their hearts. And if you ever doubt yourself, think of your own version of Pescadores Bay."
CHAPTER TWO: FACE COVERED IN SHANXI NOODLES (當海鮮麵遇上刀削麵)
There are several scenes in the movie where Shu Qi and Richie bond over food. Richie believes that the spark between two people with different backgrounds and lifestyles can also be provided by food. "In the film, one of these foods is the Shanxi rice noodle in soup. This dish is famous for its ultra-thin noodles. Pescadores produces and distributes seafood, which is used in the bowl of noodles in the movie. This subtle use of both Northern Shanxi and they want to eat, also to provide the audience with the warmth a home cooked meal can usually give you. I've been to Shanxi and met a Taiwanese exchange student who told me that he would make these noodles whenever he missed his mom. I used this story for Shu Qi's character. In reality, I hope to get the chance to cook for someone I love. This movie discusses love, friendship and relationships, so I am hoping that after watching the movie, the audience will be thinking of the people they care about."
CHAPTER THREE: JUST LEAVE, LOVE!( 落跑吧!愛情)
"Liu Pao" (落跑) is a Taiwanese term that loosely means to go off in a flash, somewhat like "scram!" It describes someone who leaves suddenly. Because people nowadays rarely communicate with one another face to face, the ending of this movie is to inspire people to have the courage to take a stand for themselves, to achieve their dreams, and to go after their love. "I think finding the courage to fight for your one true love when he or she 'just leaves' is quite romantic!" Richie said, "To take a stand for someone that special will really require courage." Shu Qi's character is the one that leaves suddenly in the movie, abandoning her rich fiancé for her true love. Shu Qi smiled while saying, "actually, I didn't really want to leave him…" Richie cut in to say, "hopefully this film of a pretty girl and a pretty view will inspire everyone to get off of his or her phone, disconnect from the internet, and go out to see what the world has to offer."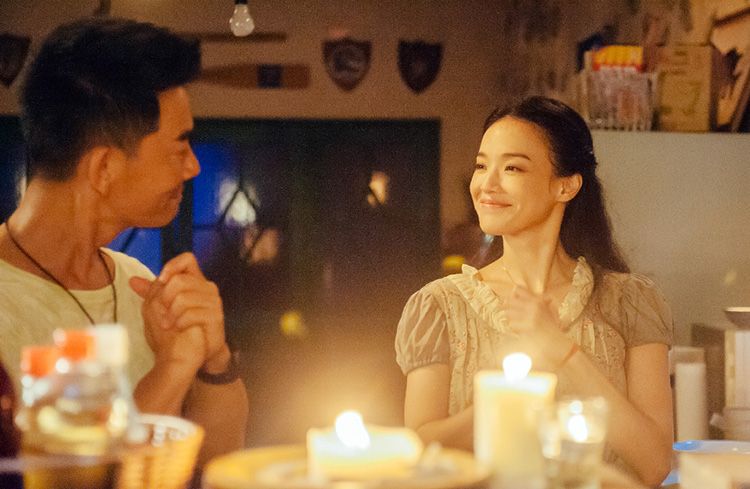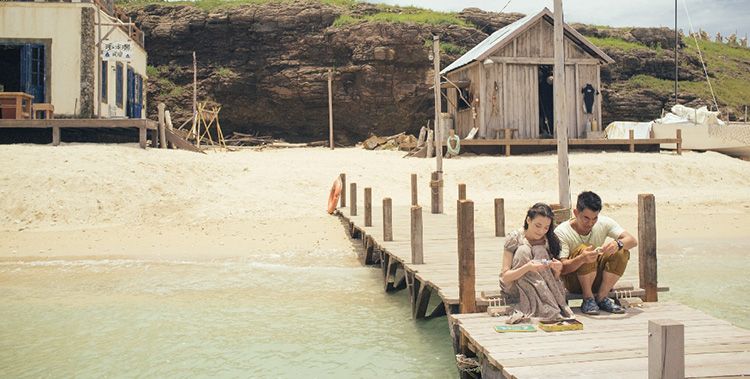 All You Need is Love (落跑吧爱情) Movie Synopsis
This summer, get ready for a lighthearted romance between the wealthy Chinese travel blogger Fenfen (Shu Qi) and the modest Taiwanese B&B owner Awu (Richie Jen). The story is set in the middle of the beautiful Pescadores Islands, where Fenfen leaves her protective home in China in search of the place that inspired the song that captured the heart of her late mother. Expecting the luxurious accommodations she reserved on the Internet, Fenfen is flabbergasted to find a crummy B&B kept by passionate Awu.
Feeling duped, she demands to leave the B&B the next morning, only to lose her passport and belongings in the sea in the process. Forced to stay with Awu and his daughter and father, Fenfen has to test her boundaries in all aspects and eventually finds true love in the least expected place.