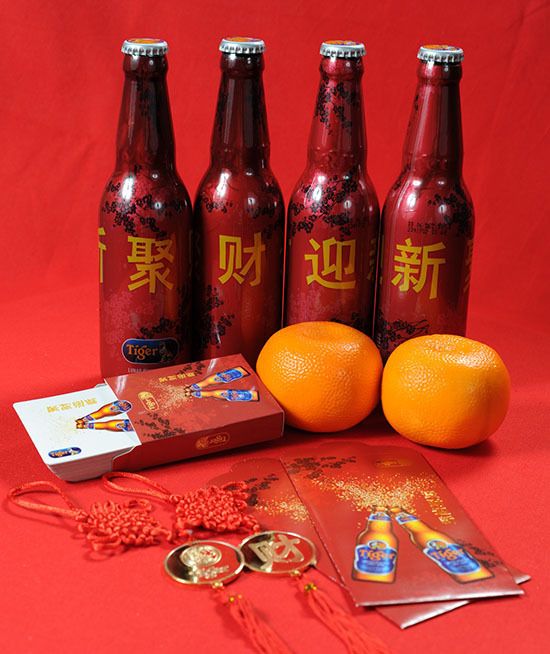 14 January 2013, Singapore – Singapore's internationally acclaimed Tiger Beer is celebrating the upcoming Lunar New Year by bringing to life "聚财迎新 (Ju Cai Ying Xing)", which translates to "Ushering in Prosperity Together for the New Year". The brand will be offering festive experiences, limited edition collectibles as well as promotions with $999,999 worth of prizes up for grabs for consumers to enjoy.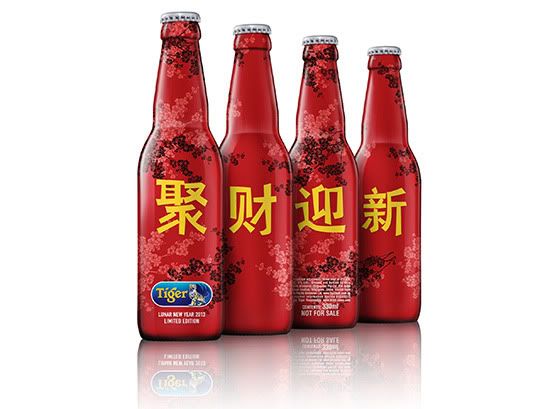 Tiger Beer has launched its first limited edition Chinese New Year pint bottle (330ml) designed with golden Chinese characters spread across cherry blossoms – signifying the auspicious notion of bringing prosperity to consumers all year round.
The limited edition pint bottle can be redeemed as a premium at participating coffee shops and hawker centres all across Singapore, while stocks last. Customers will only need to submit nine Tiger Beer bottle (633ml) crown liners bearing the shape of a bottle underneath to get their hands on this limited edition pint bottle.


Tiger Beer has also launched its 24-can pack with Tiger Beer Prosperity Collectibles by RISIS. Representing prosperity and fortune, 金,银,财 (Jin, Yin, Cai) are up for grabs at all leading supermarkets and convenience stores, while stocks last.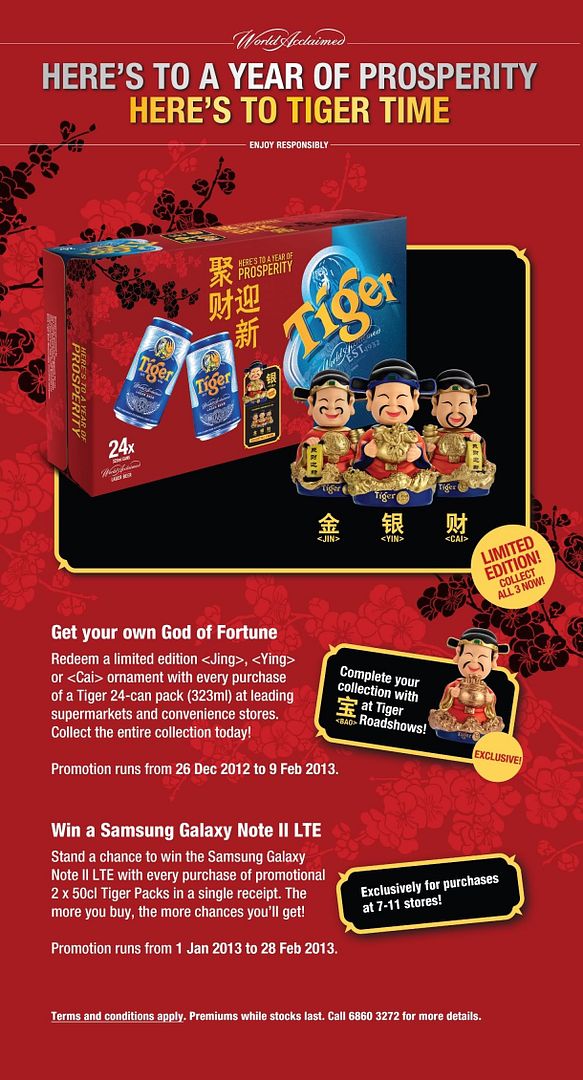 Tiger Beer's Festive Promotions – A total of $999,999 up for grabs!
True to the brand's theme of ushering in prosperity, Singaporeans can stand to win a total of $999,999 worth of prizes as part of Tiger Beer's promotions at coffee shops and diner outlets all over Singapore this Lunar New Year. With prizes ranging from Tiger Beer's limited edition Chinese New Year pint bottle to $9,999 in cash prizes, consumers simply have to purchase Tiger Beer (633ml bottles) and submit the bottle crown liners to redeem prizes.