Singapore, 22 October 2012 – Tiger Beer Singapore soon will be launching a new addition to its take-home offerings with a unique 12-can ice pack. Today Tiger beer had unveiled their latest "cooler box" design whereby it requires consumers to simply add ice into it to chill the cans. Hence, with the new ice pack, consumers need not place their beer cans in larger cooler boxes!
The new Tiger Beer 12-can ice pack will be available in the marketplace from mid-November in anticipation of the year-end festive season where gatherings and parties either at home or outdoor are commonly held among consumers.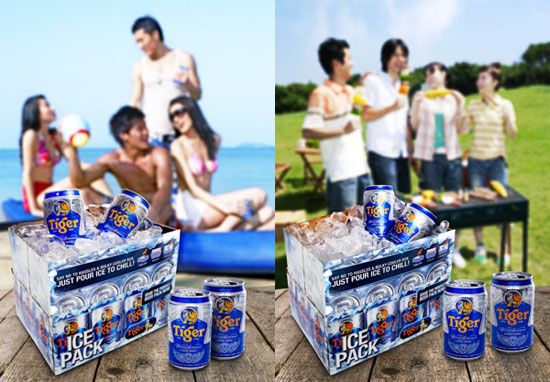 Image Credit to APB Singapore
4 simple step to enjoy using the chilled Tiger Beer ice pack without any hassle:
Step 1 – Consumers will first need to purchase the new Tiger Beer 12-can ice pack! It will be available at a retail price of $26.50 in all major super and hyper markets.
Step 2 – Following the instructions on the outer packaging, consumers will have to open the ice pack box by tearing the lid from the top.
Step 3 – Add ice into the pack, with the amount not exceeding the red line indicator on the sides.
Step 4 – The beer cans will be chilled to approximately 4 degrees Celsius in just 20 minutes — the optimum temperature to enjoy refreshing Tiger Beer!