16/06/09
Tuesday,
Nuffnang First Blogger Flash Mob Event!
In This Blog,
Picture Photographed By: Kaizhi,Me and Meldric!
Edited By: Me (Hpility.blogspot.com)
Hello people! sry for waiting…Here my FlashMob Blog Post! Out of 200 plus picture, i had chosen out 31 picture and Edited. Read further down to know the excitement happened during 13/06/09 (Last saturday).
Saturday, Nuffnang- the advertising company organized an event called as "NN 1st blogger Flash Mob". Event was held at orchard- beside heeren shop field. Time around 4pm, met Asher,Josh,Meldric at heeren shop…Soon later as time reached 4.30pm, we walked over to the field to Queue for register and waited some nuffnanger there too…Before going into deeper of the event, check it out….this the photographer during that day! xD

Time nearly 5pm, The queue getting longer and longer! Cheryl,joyce,don,nath…..they came…Register started and we were placed in different group. So LUCKY got into group 1! lols, why i say that? by seeing picture below, you can see those familiar faces! haha YES most of them are DECS member whereby we use to meet up often every month for blogger gathering! Btw, DECS stand for Drink Eat Chat Singaporean (session). Main Organizer By Me and Weijie. Our group were so called know each another well and…Group IC is….Elaine! *My picture is talking now*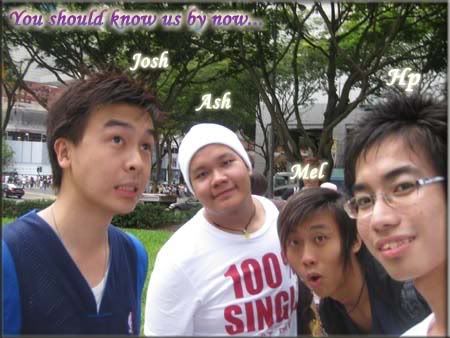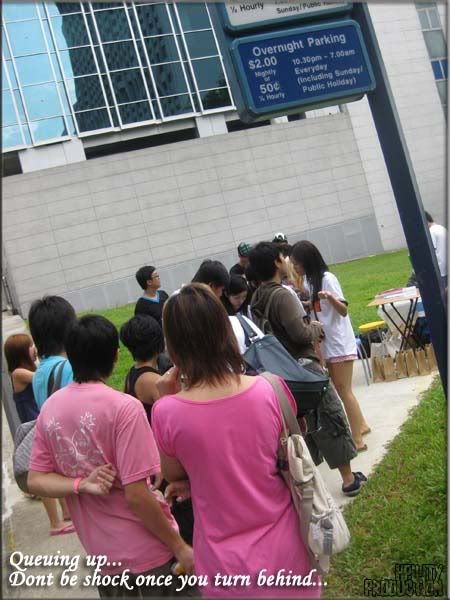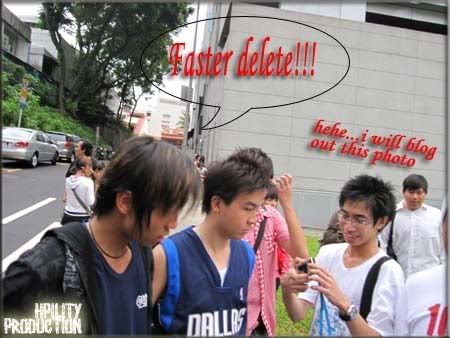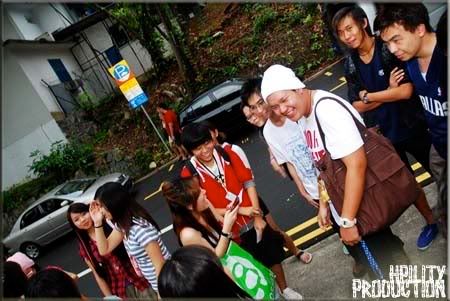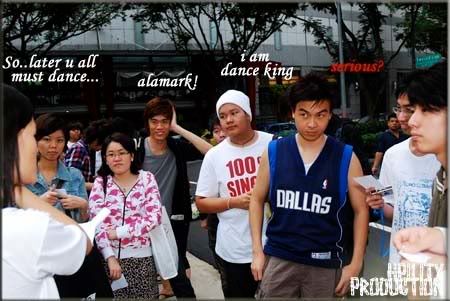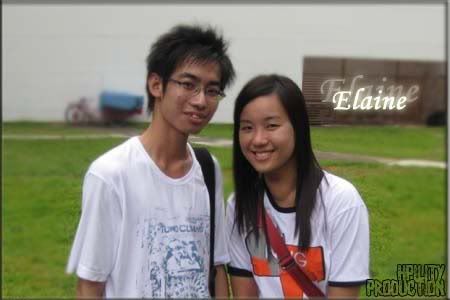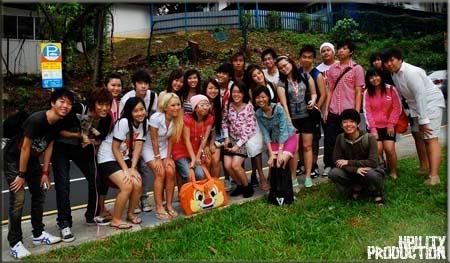 As soon as after BossMing and Huiwen introduction finish, the event start! went over a place…hide somewhere outside heeren…lols but in fact of hiding, i think everyone is FLASHING….with their camera! hahaha….walked past by heeren shop, wait for the pjs dance BUT….somehow dunno why…everyone behind was "HUH?" "Over Liao Ar?" "WTF?" "WTH?" and…"Nobody No But you".. LOL!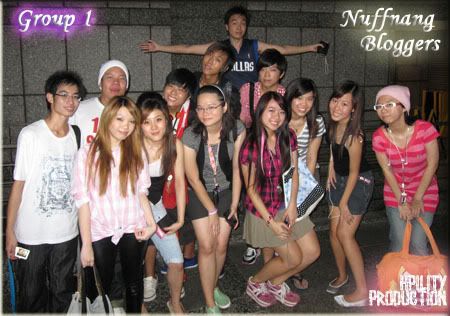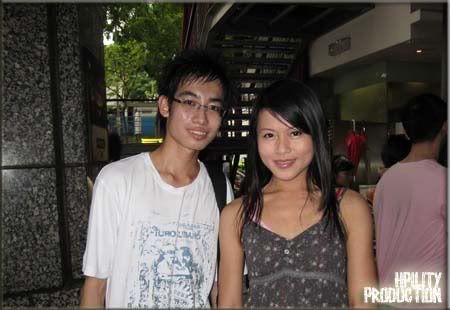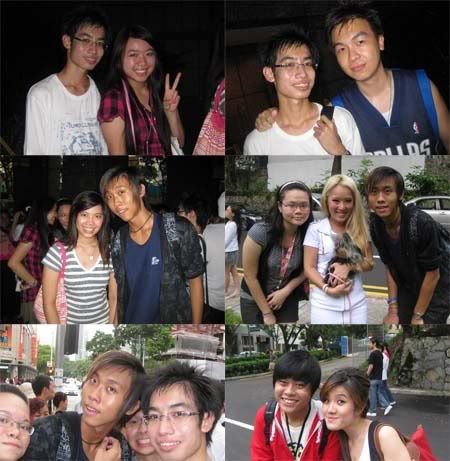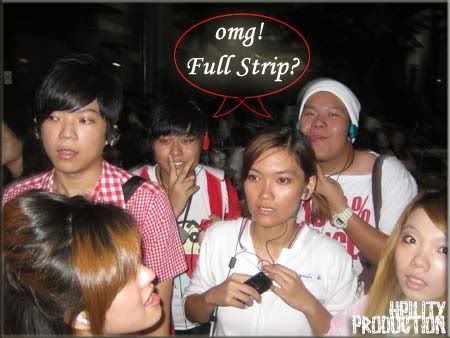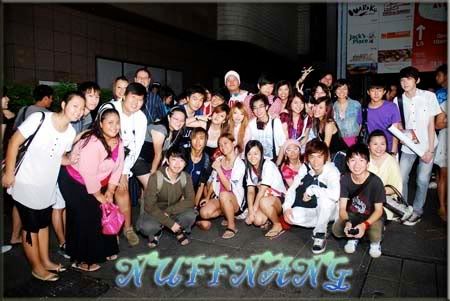 Anyway, we took a group photo again *sound like we are the superstar* lols…before going back to the field. Reached Field took photo again whereby holding a sign of phrase said that "On Our Way To The Singapore River Festival "!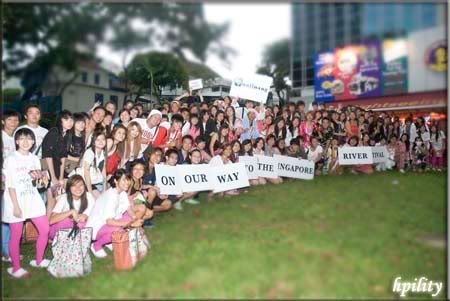 Collecting our goodies bag…

Throughout this event…i Finally met Dusty!!! haha…He the one holding "Free Hugs"! Next time i go make 'Free Kiss' liao haha…Nuffnang Innit really friendly till you met them in real life! hahaha…Oh, not forgot to say that..Valerie!, the blog i always support whenever she update! After that, collected goodies and….Photo taking session time…! haha…Who those favourite i refer to? *My picture gonna talk again!*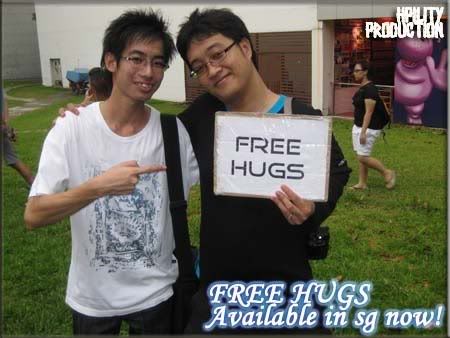 Lastly, We Took a group photo with nuffies…

Hohoho…You think tats all? I dont think so….
Because….
This Coming Friday…Nuffnang Pajamas Party @ The Arena!!!
EVENT DETAILS:
Time: 7.45 PM
Date: Friday, 19 June 2009
Where: Main entrance of The Central Mall (In front of Azabu Sabo Hokkaido Ice Cream Shop)
Blogger guided tour:
7.45pm Registration
8.30pm Read Bridge Spectacular ? Flights of Fantasy
9.00pm A River Romance ? Dance Musical
9.30pm Cruise Down the River- DUCKtours
10.30pm Exclusive Pyjamas Party @ The Arena (Age 18 above)
OMG…I haven RSVP this email…Anyway, i sure go de…*Nuffies if you visiting here* please write my name in can le…! xD
So people…Will you attend this coming friday event? Me and my DECS member will be there! haha…Cant wait for this Friday to come!!!! hahaha…SEE YOU THERE!