Hi Readers! Today going to introduce you people a new legendary notebook which I have received a couple of week ago, known as the Evernote smart notebook by Moleskine. Yes! You guys might be wondering what the specialty about this smart notebook is and what it do when using with the mobile application of 'Evernote'.
A very cool looking lightweight notebook came in black with it's illustrate design on its book cover and a 0.7mm roller pen for you to write, draw or sketch your daily plans and schedules inside this special design notebook.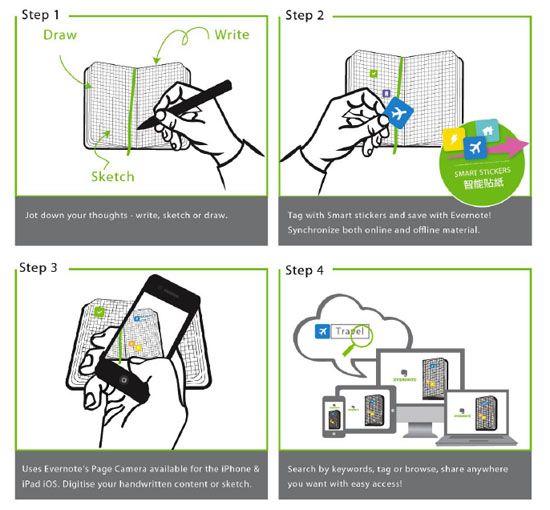 Well, here come the highlights of this smart notebook whereby it can turn your 2D note into a digital note by capturing using the 'Evernote' app camera. With this, you can visually browse it using the 'Evernote' application and this help you to access your online & offline notebook wherever, whenever, forever!


"Ever imagined a way to organise your online and offline notes in 1 place, avoiding wasting space with big file boxes. Even better, your notes are searchable wherever you are; and sharable whenever you want! This is now possible with this Moleskine and Evernote collaboration – The Evernote Smart Notebook], an innovative and powerful tool, which gives you the freedom to capture and create your notes professionally."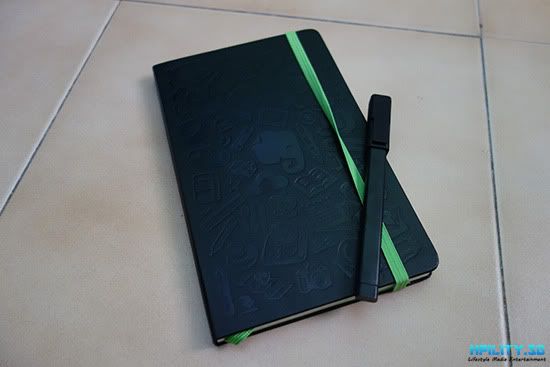 Unique design with "Evernote ruled" and "Evernote squared" page styles
These notebooks feature dotted lines that ensure a clean image when digitally capturing pages of your notebook with the Evernote Page Camera feature.
The Evernote Smart Notebook by Moleskine is now available in the market selling at $30 SGD (Pocket size) and $41 (Large size). For more information, do visit the Moleskine official website www.moleskineasia.com