Hi Readers! Today I am going to share yummy Chinese food here and do check out for the giveaway contest at the end of the post too! Last week, I was invited to the Dian Xiao Er Restaurant located at Serangoon Nex shopping mall to try out their traditional Signature dishes.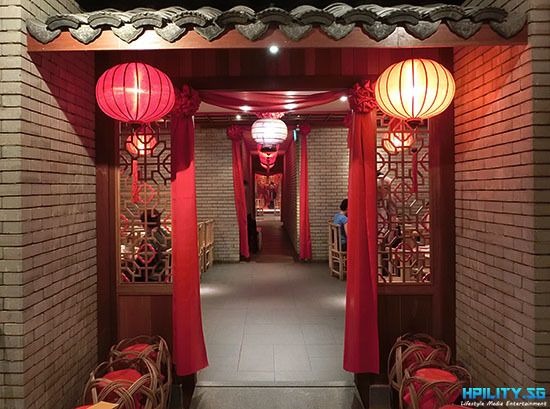 This was my second time in life stepped into Dian Xiao Er Restaurant and I totally love the professional and traditional of the Chinese style interior design decoration at Nex outlet. It's ambient look just like a realistic Inn (客栈) which you often see in China drama.

It was a fruitful evening to catch up with my great food tasting blogger friends! Through the food tasting session, we had tried out their top listed signature dishes – The Herbal Roast Duck and Hot Favorites dishes such as Roast Lamb Grassland Style, Claypot Pork Belly with Salted Fish, Wheatgrass Tofu, Spicy & Sour Fresh Fish Slices, Baked Fresh Prawns and etc…

One of the favourite foods I like from Dian Xiao Er was the Herbal Roast Duck! Well, I must admit that I am a very herbal person, the duck meat was tasteful and tender with the herbal flavor. Hence, the signature dish – Herbal Roast Duck are available in three flavours; Angelica Herb (当归), Ten Wonder Herbs (十全) & Wild Ginseng (泡参). Price for a small portion (approx. 2-3pax servings) starts from $12.90++ only.
Deep Fried Kailan with Floss

Claypot Pork Belly with Salted Fish – Thinly sliced pork belly served in claypot with shallots, dried chilli, ginger & salted fish. The salted fish is specially selected for its fragrance. This savoury dish goes very well with almost everything even if it's a bowl of plain rice.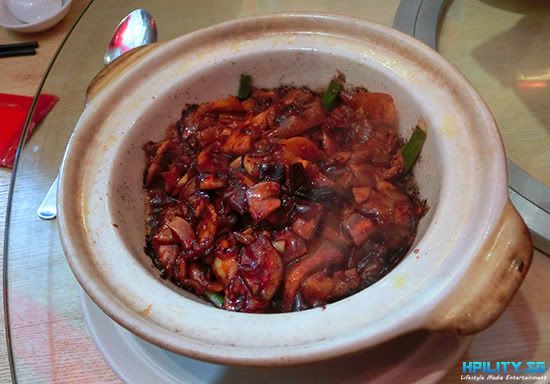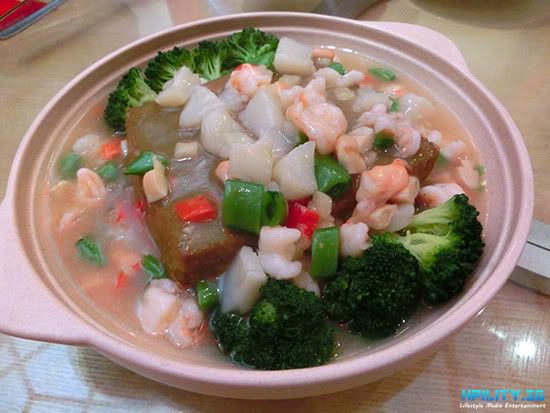 Sweet Pea & Celery with Cuttlefish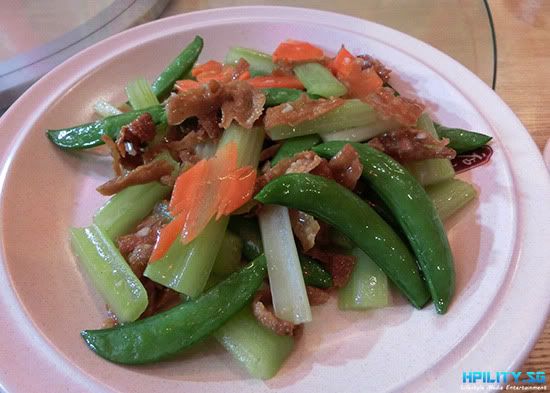 Spicy & Sour Fresh Fish Slices – A drizzle of our chef's special Spicy & Sour Sauce over the fresh Tioman fish slices. A great accompaniment for those who likes bold flavours.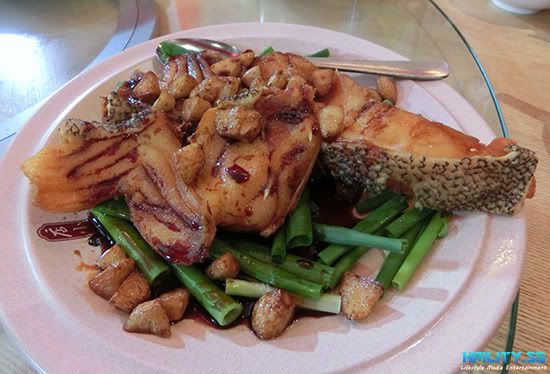 Roast Lamb Grassland Style – A mouth-watering dish served over hotplate. The lamb is tender and well marinated with spices. A sizzling sound from this dish announcing its arrival will keep guests deep in anticipation for the first bite.

Baked Fresh Prawns JiangNan (Gangnam) – Style Juicy & succulent River King Prawns, sautéed with wine, butter & herbs. Truly a delight among seafood lovers.

Overall, I enjoyed my dining with group of blogger friends at Dian Xiao Er Restaurant Nex outlet. As in line with health promotion board for healthier living, Dian Xiao Er will be providing 2 slices of Watermelon for the month of December 2012. All you have to do is to show them that you have LIKE the Dian Xiao Er Facebook Fan Page and you get the 'dessert' after your meal.
_________________________________________________________________________________
Dian Xiao Er 3x $50 Voucher GIVEAWAY CONTEST!
As collaboration together with Dian Xiao Er Singapore, we are giving away 3X [$50 e-vouchers] to our 3 lucky winners! Well, how to take part in this giveaway contest? All you have to do is to:
1st – LIKE DIAN XIAO ER FAN PAGE: http://www.facebook.com/dxesg
2nd – LIKE Hpility FAN PAGE: http://www.facebook.com/pages/Hpility/106919519365985
Next…
Comment in this blog post below by telling us "WHAT WILL YOU DO WITH THIS $50 Voucher at DIAN XIAO ER Restaurant?" together with your NAME and EMAIL and Blog Link (if Have).
This contest will end on 28th December 2012, 23:59 Sharp. 3 Lucky winners will be announcing on HPILITY BLOG. Good Luck to everyone participates in this contest!
Dian Xiao Er Outlets in Singapore:
1. Marina Square, 6 Raffles Boulevard #02-203/4 | Tel: 6337 1928
2. Vivocity, 1 Harbourfront Walk #02/137/8 | Tel: 6376 9786
3. Ang Mo Kio, 53 Ang Mo Kio Avenue 3 #B2-02 | Tel: 6484 2268
4. Jurong Point, 1 Jurong West Central 2 #03-26/27 | Tel: 67926268
5. Lot One, 21 Choa Chu Kang Ave 4 #B1-32/33 | Tel: 6766 1776
6. Terminal 3, Changi Airport #03-42/43 | Tel: 6542 3789
7. Tampines One, 10 Tampines Central 1 #04-07/08 | Tel: 6783 6068
8. Nex Serangoon Central #02-09/10 | Tel: 6634 4828