Woohoo! Few weeks ago, I met up with foodie bloggers to join the crazy food trail at Tampines 1 Shopping Mall. It was a blissful day for us to explore the 10 dining places including café and restaurant found in Tampines 1 and through the food trail mission, we had also try out lots of signature dishes from the designated places.


Top 4 Delicious Signature Dishes we ate at Fish & Co.
Grilled Peri Peri Chicken with Arctic Fish: Grilled Peri Peri Chicken coupled with the classic favourite Arctic Fish. You can't go wrong with this perfect duo.
Seafood Feast: Our supreme platter of king prawns with ebiko roe, scallops with homemade tomato sauce, prawn fritter, fried calamari, white fish and blue mussels, served with paella rice and chips. A feast for the king!
Fiery Peri-Peri Chicken Pizza: Peri-Peri chicken baked with lots of mozzarella cheese. Ooo-la~la~
Seafood Bouillabaise: A medley of white fish, prawns, mussels and squid simmered in our homemade chunky tomato sauce served together with a basket of bread. A true seafood-lover's delight! (Only available in our upcoming 3rd Special Catch Menu – for a limited time only!)
Group photo taken at Fish & Co Tampines 1.


Next, we went to JPOT – Hotpot Singapore Style for our steamboat mission! Woot! This is just the starter of my lunch meal. Heheh! In JPOT, they provide a range of quality well-prepared foods and soup. Hence, it present with a comfortable way of steamboat dining, especially when it comes to family reunion.
This is how i take food photo! LOL!
The foods we had for our steamboat session! Yummy! Me love the Bak Ku Teh Soup!
When things are mixed well, everything will look and taste good! 😉


Followed by, we headed to our last main dish station – Ramen Kagetsu Arahshi for our Japanese Ramen tasting. The ramen Kagetsu Arahshi was one of the ramen champion this year, although the taste was an average to me but with the affordable price, it's still worth trying it.
Time for some dessert session! Yes!! The first dessert station we visited was the J.CO Donuts and Coffee Café. It was one of my favourite café at Tampines 1, used to chill out with friends with a piece of delightful donuts and coffee during my free time.


J.CO Donuts & Coffee is a unique lifestyle cafe concept, offering premium quality donuts, coffee and yogurt. Established on 26 June 2005 in Indonesia, J.CO has expanded all over Indonesia, Malaysia, Singapore and Philippines. Since its introduction, J.CO has been presented with accolades from the media institutions in Indonesia for its breakthrough in introducing a unique lifestyle cafe experience with premium quality products. J.CO Donuts & Coffee is committed to serve only the best products combined with excellent service to provide a convenient place to chill out with family or friends at a price that is affordable for our customers.


At Hong Kong Sheng Kee Dessert, desserts come first. Be prepared to be delighted by our tempting range of authentic Hong Kong style desserts, prepared with quality ingredients to tantalize your taste buds. With a wide variety of desserts and food catering to the different palates and pockets of diners, we want to make the culture of eating desserts an integral part of Singaporeans' daily life.
Lemongrass Jelly with Strawberry & Aloe Vera and Sheng Kee Mango Hor Fun


I was quite impressed by the Dairy Queen Ice Cream whereby you can hold the ice cream upside-down and it still stay remain in the cup. One of the Warren Buffet's favourite's Blizzard ice cream (Oreo) is the recommended at Dairy Queen, hence you may try out the Moolatte and Orange Julius too.


Yoguru goes a step further than the rest to guarantee that the health benefits of our frozen yogurt is retained. Most frozen yogurts are made from powders or pre-made liquid mixtures. However, with Yoguru, no expense is spared as we only use fresh ingredients that are completely natural with no preservatives. In addition, Yoguru yogurt is produced in Singapore daily, which maximises and maintains live probiotic cultures that other frozen yogurt brands cannot claim.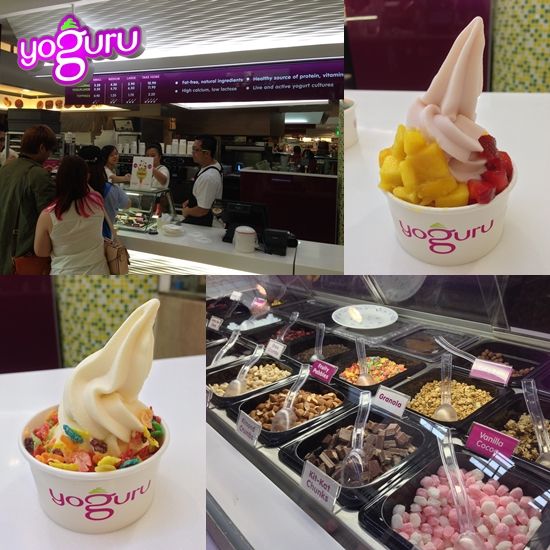 Yoguru yogurt contains seven essential nutrients – calcium, potassium, magnesium, fibre and Vitamins A, C and E. It is also an excellent source of protein. Additionally, it helps to promote weight loss as studies have shown that a high calcium diet will ultimately favour bodies and aids in burning fats rather than storing fats.
Yoguru serves a variety of flavors to cater to the many different taste buds of it's consumers. Choose from the very light, refreshing and delicious Original flavor that is filled with the right amount of tartness or experiment with one of Yoguru's signature YoguFlavors.
The different YoguFlavors ranges from YoguBliss (combination of Pomegrante and Dragonfruit), YoguBerry (combination of Blueberry and Acai Berry), Green Tea and Mango. Have your yogurt simple and plain or choose to top it off with Yoguru's fresh fruits and dry toppings.
Yogurt flavours: Original, Mango, Blueberry, Strawberry


Finally we came to the last station of Tampines 1 Food Trail session, The DeConti Caffee & Gelato Café, a lifestyle coffee café which sell savory cup of cappuccino, Pistachio coffee and hot chocolate. The café also serve delicious Gelato ice cream as well as Tiramisu.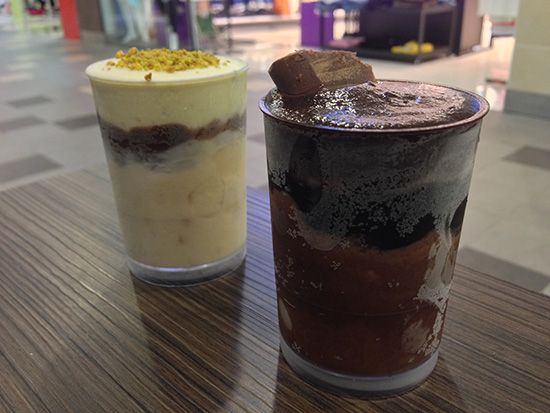 After all,
it was a fun and casual bloggers food outing at Tampines 1. I am glad to try
out many awesome foods within a short period of hours and at the same time got
to familiarize with the café and restaurant at Tampines 1 Shopping Mall too. Thanks
AsiaMalls for the invitation once again. *Smiles*
Bloggers call it a day!