Hi Readers! Are you a chocolate lover? If Yes! Here is your chance to create your very own chocolate bar now!!! Introduce you guys the online chocolate creation website – The Cocoa-B.com whereby you can bring chocolate to life by mixing and creating a unique and attractive design of chocolate bar with their adorable toppings and flavours.
Well, if you are looking for perfect gift for any occasion such as friend birthday, Valentine's Day, mother day, father day, Christmas gift, anniversary gift and etc…, I think this is a great idea! Cocoa B also creates in bulk for corporate gifts, weddings and parties. Excellent service!


Without further do, let's check out how it works on Cocoa B website. First of all, at the 'Create You Chocolate' section, there will have three different type of chocolate (Dark, Milk, White) for you to choose. I am a Milk Chocolate lover; therefore I selected the option and proceed on to my next step of creation.


Next, select your favorite topping for your chocolate bar design. You may choose up to 5 topping from different categories. Each topping give a different outcome result to your design of your chocolate bar. After you have chosen you're topping, click 'Add to Bag' and proceed on to the payment section.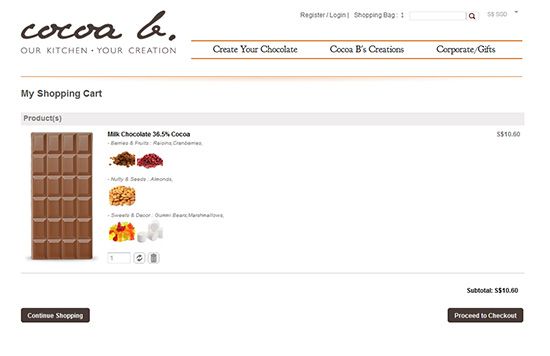 Alternative, you may want to check out the 'Cocoa B's Creation' to look out for some awesome chocolate bar design and I believe that those chocolate bar taste well too.
Here is my yummy chocolate bar from cocoa b!!
The chocolate topping flavour I had chosen was Cranberries,
Raisins, Almonds, Gummi Bears and Marshmallows.
Hope you enjoy creating chocolate bar at cocoa b!