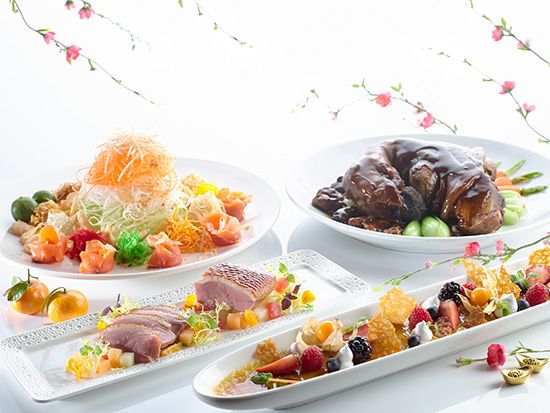 Welcome to the Year of Horse! Introduce Azur Restaurant new Chinese New Year Auspicious Buffet menu to have a taste of spring home with its delicious and well-prepared signature dishes as well as sumptuous Prosperity Yusheng available from 20 January to 14 February 2014.
AUSPICIOUS BUFFET AT AZUR
Herald the New Year with a culinary feast offering plentiful options for diners. Azur will offer Western options for those looking for a bit more variety during the promotion in addition to delightful traditional Chinese cuisine. Every dish presented on our buffet spread is meticulously prepared by our team of Chefs in the two show kitchens of Azur before making its way into the steaming hot chaffers.
This year, not to be missed is Chef Andrew Tharm's indulgent New Year creations like the fragrant Fortune Pigs Trotter with Dried Oyster and Black Moss, abundant Steamed Seabass Fillet with Snow Fungus and Lily Flower, and tasty Sea Cucumber with Chinese Mushroom Casserole. The carving station will also present more oriental flavours with crispy Roasted Duck and Roasted Pork served with Walnut Glaze and Ginger Mustard.
Our Signature Seafood Bar with feature the freshest catches this festive season: Boston Lobsters, Boiled Flower Crabs, Freshly Shucked House Oysters, Half Shell Scallops and Steamed Korean Clams.
No new year celebration is complete without a hearty "Lo Hei" and diners can order servings of our Prosperity Yusheng with choice of popular sliced Salmon or customary Wolf Herring.
Pricing:
Chinese New Year Eve Reunion Dinner (30 January 2014)
Adult: $88++ Child: $44
Chinese New Year Brunch (31 January – 1 February 2014)
Adult: $68++ Child: $34++
Chinese New Year Dinner (31 January – 1 February 2014)
Adult: $78++ Child: $39++
Auspicious Buffet Lunch (3 – 7, 10 – 14 February 2014)
Adult: $48++ Child: $24++
Auspicious Buffet Dinner (2 – 14 February 2014)
Adult: $58++ Child: $29++
Auspicious Buffet Brunch (2, 8 – 9 February 2014)
Adult: $48++ Child: $24++
Azur Restaurant Address:
75 Airport Boulevard, Singapore,
Singapore 819664 (Level 2)