19/05/09
Tuesday
The camera you might looking for?
Canon Digital Reviews
Hello people! Today post might be interesting to you! haha…so what is about? well, not phone…but camera! I been posting phone review as the topic "1 week 1 phone review"…Thus, for today, let me have abit change here…Why? cos recently i cant find new and unique handphone! lols…Alright, see the next few post about the camera today! *Maybe you might be looking for this camera*
Review on Canon ixus X 100 Is
Instead of having a phone review post for today, i decided to write a review on camera! and is digital! haha…yes! is Canon Ixus 1001s digital camera! woohoo…Like this camera very much..why? because it has cool design…Specification, such as 12.1megapixel CCD,contrast correction, face and blink detection,auto focus and output in HD movie quality! Capture the brilliance image tats their theme!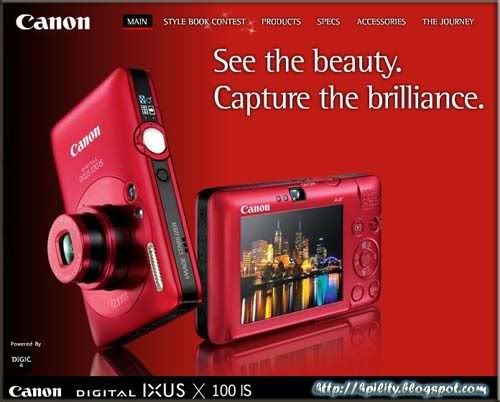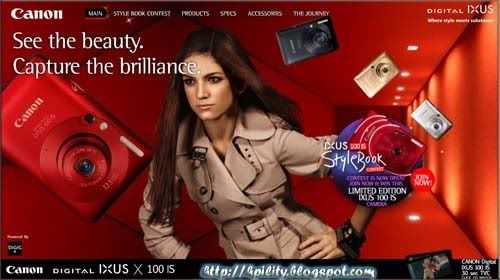 Next, lets talk about their surface design…This Digital camera came with flat smooth surface together with its pure colour of image taken, it really show out the beauty of this camera! Slimmest as light weight whereby many people would like to carry around..*portable* haha and lastly, This digital camera got 4 type of different colour, Red/Silver/Black and Gold.
Regardless ofno matter of digitial or SLR,I believe that canon camera is the best camera. They give out the best ISO during day and night time photo shooting. Face detection give out the best camwhore shoot and The colour! is 100% pure! haha…Likewise, canon camera itself also give out the high quality of image taken! Well, this not my first time using canon camera but one good thing on canon digital design is that, it look Cute, Nice and Unique!
So people! Vote me now!! Now! NOW!!! Just simply go to this website: http://goto.canon.com.sg/ixus100is/#/stylebook/vote/
And click on Page 6 and choose number 284…! haha thank for people who voted me! xD
Tats all for today!
Thank for your reading and viewing! xD
[Do Tag Before you leave this blog]