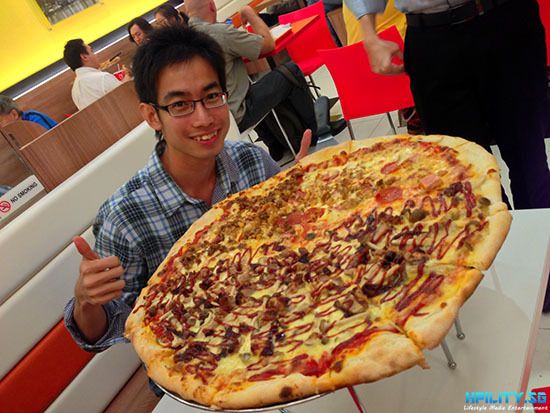 Hi Readers! It's time for Pizza Mania! Today I am going to introduce you guys a huge pizza in Singapore! Have you heard of The Manhattan Pizza Company? I got stunned at a moment when I first saw the giant pizza appeared in front of me! This is awesome!!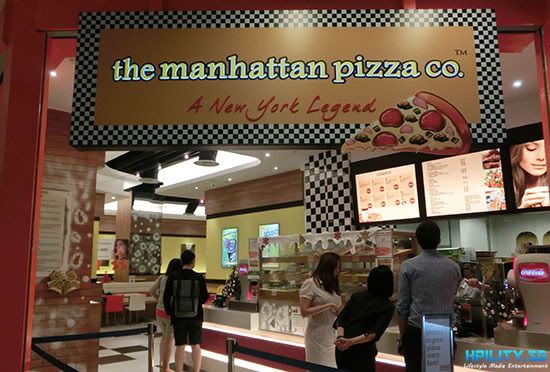 The Manhattan Pizza Company origin from New York and in Singapore, currently there is only one outlet which is located at Orchard Central #B1-01. Hence, the Manhattan Pizza Company is one and only fast food restaurant bringing you authentic Manhanttan Pizzas.
NY Wedges with cheese sauce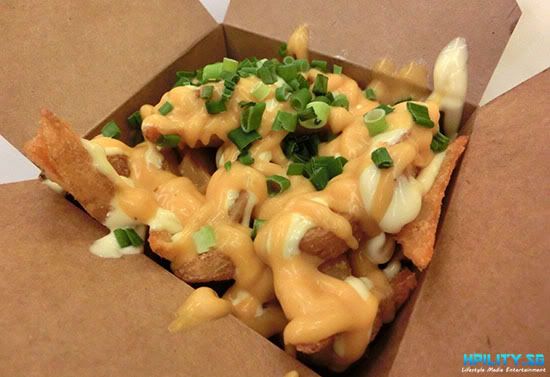 NY Wedges with curry sauce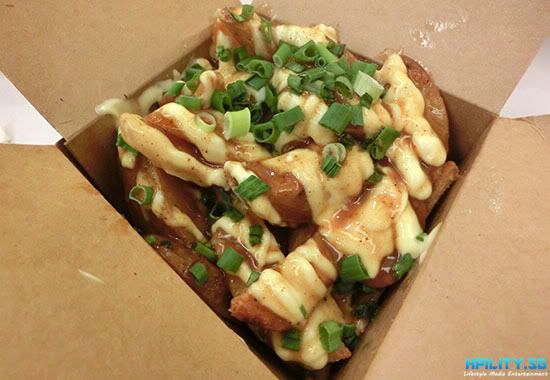 Original Buffalo Wings
20 inches Huge Pizza from The Manhattan Pizza Co


In Manhattan Pizza Co, there are total of 9 different variety type of pizza favour which fresh make by the professional pizza chef in the kitchen and with their secret recipe skills, it enhance the whole pizza into become more favorable and unique. For your more info, one whole slice of pizza is 10 inches and one whole pie of pizza is 20 inches! The Manhanttan pizza taste delicious!
In term of pricing, I would say that The Manhattan Pizza has the cheapest pizza price compare to other pizza outlet in Singapore. It comes with 8 different types of combo set and the price range of the combo set cost from S$4.90 to S$10.90.
Great Pizza dining with my friends!
Thanks Boss of The Manhattan Pizza Co. for the awesome treat!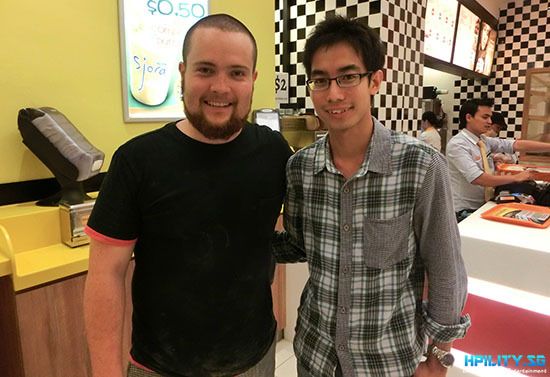 As collaboration together with The Manhattan Pizza Company, we are giving away 5X [20 inches] Manhattan Pizza to our 5 lucky winners! Well, how to take part in this giveaway contest? All you have to do is to:
1st – LIKE this Fan Page: http://www.facebook.com/pages/Hpility/106919519365985
2nd – Tweet this: I want to win GIANT PIZZA from The Manhattan Pizza Co @hpility SG #hpility http://goo.gl/fdpQj
OR
Comment in this blog post below say that "I WANT TO EAT GIANT PIZZA FROM The Manhattan Pizza Company" together with your NAME and EMAIL and Blog Link (if Have).
This contest will end on 8th December 2012, 23:59 Sharp. Do follow @hpility Twitter, because winner will be announce via Twitter DM (Direct Message)/Email on the 10th December 2012, Monday. Good Luck to everyone participates in this contest!
The Manhattan Pizza Company Address:
181 Orchard Rd, Orchard Central, B1-01
Singapore, Singapore 238896
Contact: 800-852-3887 (TOLL-FREE)
Opening Hours:
Monday – Thursday: 11am – 10pm
Friday – Sunday: 11am – 10.30pm
Price Range: $0 ~ $10