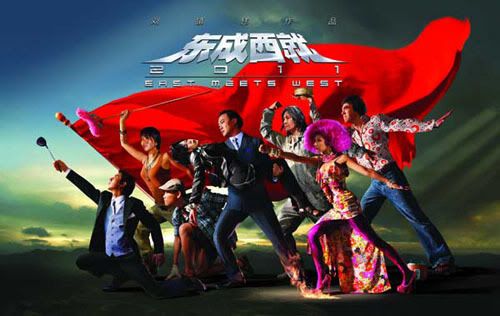 East Meets West [东成西就] Movie Review:
East Meets West (东成西就) is an enjoyable comedy movie whereby audience can enjoy laughing and is very relaxing in watching this movie because the way they plot the story in some part is unpredictable. However, this movie has its story behind which talk about loneliness, relation and love. Favourite quote number from the movie "38.6 degree", hence this is the sign of starting in love with someone.
Overall, this East Meets West (东成西就) still not bad to me, I think young teenager will like it due to its trendy fashionable dress and performing in the movie. I rate this East Meets West (东成西就) 2011 movie 2.5/5 stars.

East Meets West [东成西就] Movie Synopsis:
Ten thousand years ago eight gods fought incessantly, not realizing that by doing so they were securing their own demotion into the secular world. They can only return to heaven once they come to understand one another and can get along with each other harmoniously.
Ten thousand years later the stereotypical Hong Kong girl Zhong Xiaoming, and her smart and eccentric father Ah B, have no idea why they are being chased up for a debt. Having no alternative, they flee from Hong Kong to Guangdong to search for the girl's unreliable mother Jia Jia to find out the reason.
Jia Jia had cheated somebody out of a deposit to set up a concert which is impossible for her to realize. She is placed on a blacklist by Boss Zhou Dong because she has no way of honouring that deposit.
Whilst the father and daughter are fleeing to Guangdong, they meet by chance all kinds of "wise and hip" people. What then unfolds is an urban romance full of jokes which could "startle the universe and move the gods".
Although the concert is held as scheduled, something else happens unexpectedly. Seven people including Xiao Ming discover that they are the gods who have been transformed into humans but they wonder why the eighth god has not appeared at all. In the meantime, the equilibrium which has just been established is thrown into disarray by the arrival of a love affair onto the scene.
People and gods, men and women, life and death, love and hate… 2011 passes by as we are waiting for the dawn of peace in this world and we wish you and your loved ones well – success and prosperity!