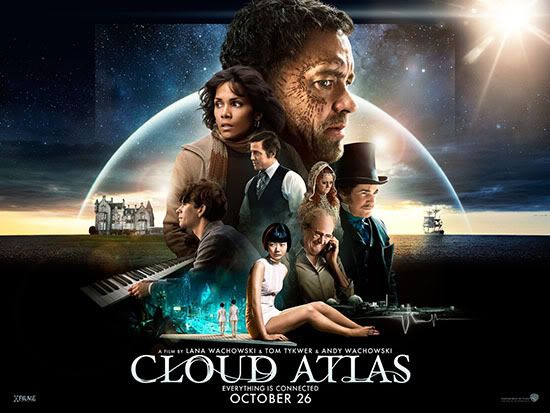 Cloud Atlas Movie Review:
Cloud Atlas – a drama life story movie directed by three directors; Lana Wachowski, Tom Tykwer and Andy Wachowski. This movie shows three different part of world which includes the past, the present and the future. Through the revolution of distant future, life is just like a puzzle, it form pieces by pieces to get a full reunion. Cloud Atlas movie will bring you into a deeper understanding of life and you will see how human life relates to world change. However what changes human mind? That's the question.
"Time is what stops history happening at once; time is the speed at which the past disappears." – Quotes from David Mitchell, Cloud Atlas.
I rate Cloud Atlas Movie 4/5 star with its awesome story content and film choreography. Cloud Atlas Movie will be release on starting from 17 January 2013 at Golden Village Singapore Cinema Theatres.


Cloud Atlas Movie Synopsis:
"Cloud Atlas" explores how the actions and consequences of individual lives impact one another throughout the past, the present and the future. Action, mystery and romance weave dramatically through the story as one soul is shaped from a killer into a hero and a single act of kindness ripples across centuries to inspire a revolution in the distant future.
"Our lives are not our own. We are bound to others, past and present, and by each crime and every kindness, we birth our future." – Quotes from David Mitchell, Cloud Atlas.