04/09/09
Friday
Nuffnang G-Force Movie Screening
G-Force Movie Review
Hello people! once again, i wanna thank to nuffnang for the G-force movie tickets! haha, Few days later after the final destination 4 movie outing, the usual group met up again! woohoo…The big is getting bigger! haha…

2 days back, which was wednesday..Met NN bloggers for dinner at shaw lido KFC before heading to movie screening…New bloggers i met were, shalny,ashley,charlene,wynn and dawn…they join in with us for the dinner too…haha…Great dinner with the NN bloggers.

After dinner, we ahead to the cinema to collect our G-force tickets! Great walking in a group!..Saw Nuffie Raine and Elise at the tickets collection booth…Collected my tickets,camwhore with group member,have some chat before entering the threater.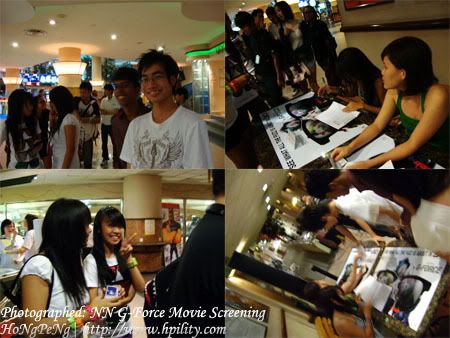 Dont win Hp & Kaizhi…wth..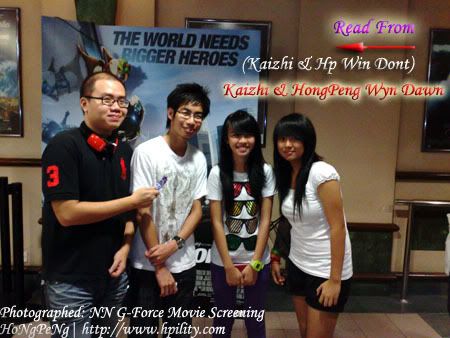 Here our malaysia nuffnanger! and he is littlecicak! in innit quite famous too and also know as the flying cicak (lizard) haha…Welcome you to singapore and welcome you to SG NN movie screening!
Qianyi,Dawn,Wynn,Donn,Kaixiang and Yingzi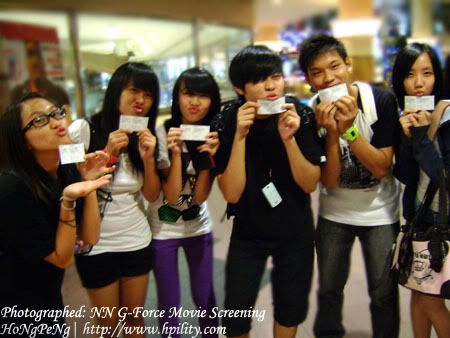 Look at Wynn naughty "Re-action"…hahaha

Ash finally appear…haha, he miss out quite a number of gathering due to his job attachment! We have Sentosa outing coming up follow by Dinner gathering in sept 2009!
Picture with Boss Ming


Kaizhi,Me,Ashley,Shalny,Charlene

G-Force Movie Review:
After watching G-force movie, i can say that it was great! Cute guinea pigs which believe that their mission can be complete as well as human! those guinea pigs are train to save the world, they are train to show that they can be better than human when its come to battle! Well, one scene i like it the best which was the firework part! I gonna watch it again! haha..I rate this movie 4.5/5 stars. worth to watch it in either 3D or HD!
Last but not least, we slack at shaw mcd for some gossip chat,camwhore,drinks,game before heading to home and i call it a day!

Muhahaha…Bonus picture in Flash version before i end my blog post…Story between Donn,Dawn and Wynn! Check it out now! xD
Bloggers Site you should visit:
Weijie: http://vveijie.blogspot.com/
Charlene: http://charleneeeeee.blogspot.com/
Shalny: http://www.entwynedfairy.blogspot.com/
Ashley: http://www.miracle-bliss.blogspot.com/
Kaizhi: http://aversence.blogspot.com/
Wynn: http://littleyellow-lorry.blogspot.com/
Dawn: http://choccherry.blogspot.com/
Kaixiang: http://superman–x.blogspot.com/
Donn: http://dcann-x.blogspot.com/
Qianyi: http://qianyi-calando.blogspot.com/
Stephen: http://stephen7.blogspot.com/
Asher: http://thisishmybloglink.blogspot.com/
Joyce: http://www.joyce1012.blogspot.com/
Joyce Stella: http://imperfect-joyce-stella-reflexions.blogspot.com/
Josh: http://josh524.blogdrive.com/
Yingzi: http://www.whirlwind-dreamz.blogspot.com/
Isaac: http://littlecicak.blogspot.com/
Tats all for today!
Thank for your reading and viewing! xD
[Do Tag/Comment before you leave this blog]