Although it was only a 2D1N trip to Malacca, Malaysia, I felt it was much longer than that. It was a well planned trip hosted by Tourism Board of Malaysia. Interestingly, I was with my family in Malacca during the last month June holiday. I thought I knew Malacca pretty well. To my surprise, there was much more and interesting places to visit in Malacca.The main event for this short trip was the Durian Fiesta at the Malacca Tropical Fruit Farm.
It was an early morning trip, we arrived at the Malacca Tropical Fruit Farm. At the entrance of the farm, there were many stalls. Some are selling durians, drink and interesting local food delights.
Ready for Durian Fiesta!


A specially converted bus brought us into the huge fruit farm. It does not look like a fruit farm. It looked more like our Singapore Botanic Garden with lots of space to run around. We were introduced to various tropical trees and plants that provide the raw material for making soap, and etc…


We arrived at some fruit trees, the farm spokesman does not require any explanation. We simply get out of our vehicle and started our primitive hunting for fruits – The Rambutan. With our bare hands, we raided the rambutan trees.


Along the way, we sighted orisch, deers and horses. There were also chalets around the farm. Finally, we arrive at a higher ground. A huge tent filled with durians; welcome us to start our durian fiesta. I put my durian selection knowledge into practice.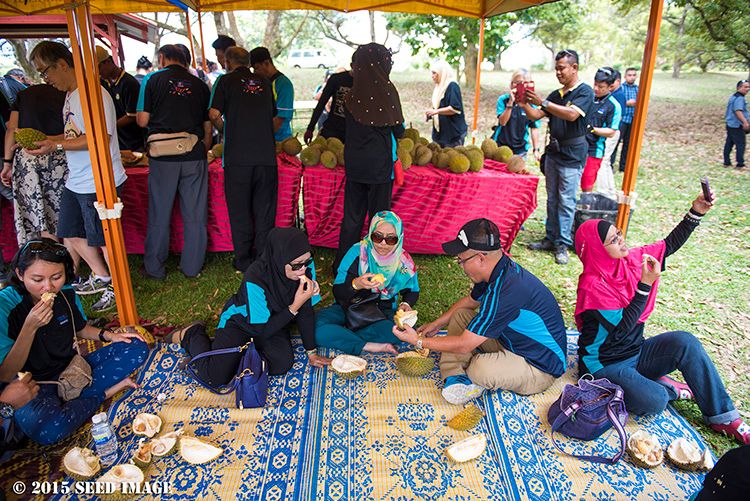 My first durian was a failure. It was not ripe. The later ones were much better as I sharpened my durian selection skills. We eat and have a good chat over the durians. We were told not to drink coke and liquor when we have durians.


After durians, we tried the various local delights sold at the entrance of the tropical farms. There was one interesting drink which I like. It was a mixed of corn and durian drink. We left the farm feeling satisfied and look forward toward our next destination.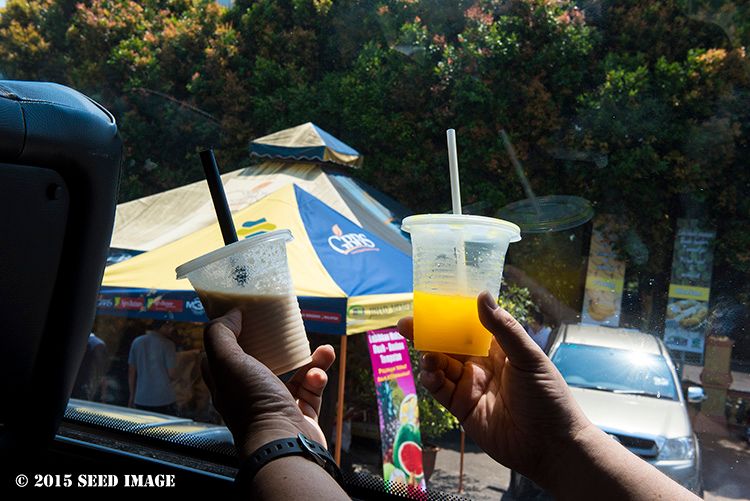 We arrived at Malacca Town and pay a visit to The Settlement Hotel. It was small but interesting hotel. There were only 49 luxury bedrooms with varying sizes ranges from deluxe rooms to Settlement Suites. The 1960, 4 storey hotel building was originally a government training building.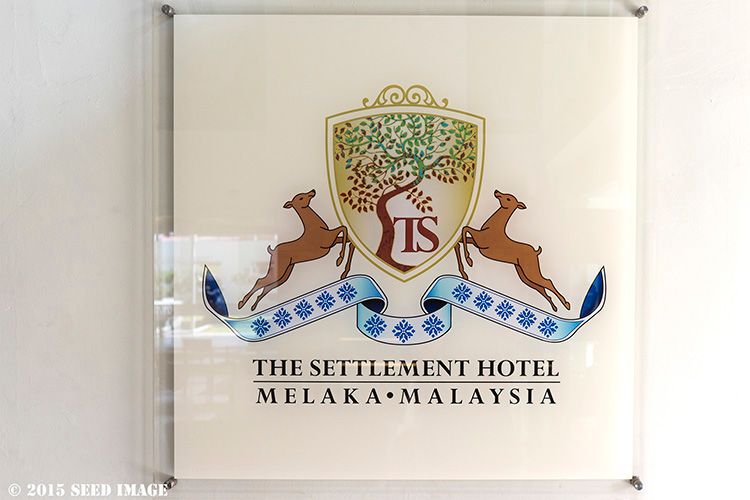 After two years of painstaking restoration, it has transformed into an intimate boutique hotel showcasing the unique intertwined culture and the rich heritage of Malacca. It even has an artist gallery. As I walked around the hotel, the notice the fine details that the owner put into the hotel. The hotel also have lovely garden filled with fruits. In fact at the tea reception, we were honoured to be served with the organic pink guava that was harvested from the garden.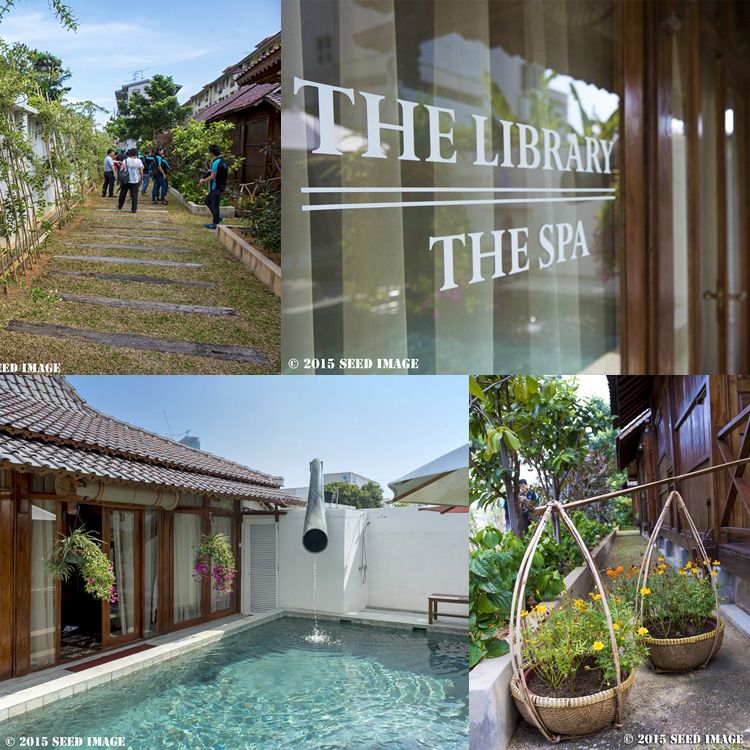 I believe you will have a pleasant stay at this interesting hotel with a first class service from the hotel staff. Promotional packages at RM290 (original price at RM680) for weekends / public holidays while RM260 (original price at RM580) for weekdays.


Our next stop was a visit to this famous local coconut shake eatery, Klebang Original. Located at Lot 130 Solok Kampung Bahagia Klebang Besar 75200 Melaka. Long queue for the coconut shake while some of us go for the interesting local delights such as the fried fish sticks, unique small packet but nice Nasi Lemak.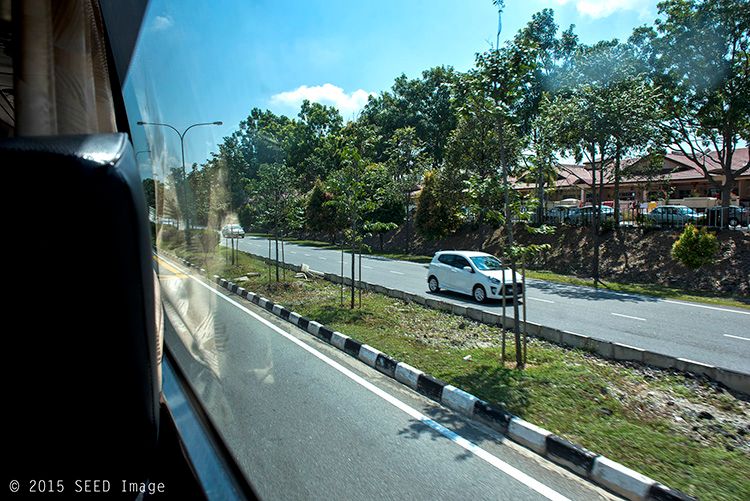 We finally checked into our Swiss-Garden Hotel which was located at The Shore. The hotel room was pleasant and have a nice unblocked view of the Malacca Town.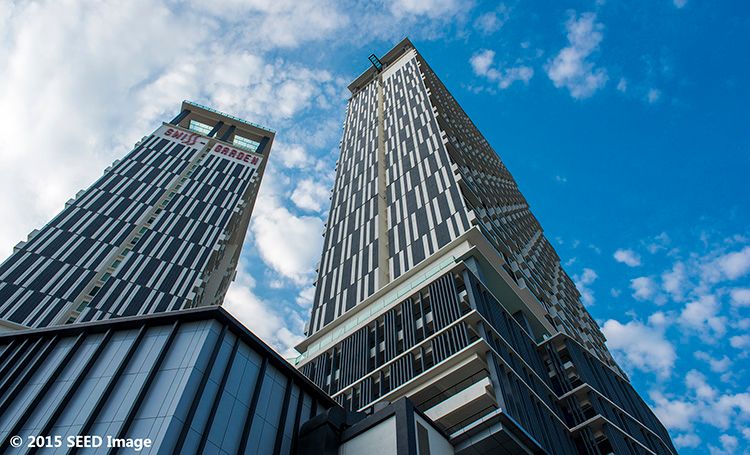 Our Hotel Room!


It was an aquarium with lots of tropical fishes both freshwater and seawater. I am an arowana lover. Naturally, my favourite fishes should be Asian arowana which comprises of Red Tail Gold arowana (RTG) and the expensive cross backs arowana. Both species of Asian arowanas can be found in the rivers in Malaysia.


We visited the Sky Tower which was on the 42th floor of The Shore Oceanarium. A narrow passage way welcome you as you walk on floor with a small gap between the tiles. I was a bit nervous although it was not a see through floor like some of the buildings.


We walk up a flight of steps and reach the rooftop of the building. The rooftop was huge with see thru koi pond. It was the highest peak in Malacca. You get 360 degrees of the Malacca Town. You get to see the famous Malacca River.
I didn't realize the river was so long. Interestingly, all the early settlement started with this river. Just like our Singapore River where our forefathers settled along the river bank to live, work and trade. The river brings people together.
We have a tea break of Nonya kueh with ice lemon tea at the 42th floor restaurant,
as we waits for the egg yolk sunset.


Shortly after, we had a buffet dinner at The HaliaInc Restaurant, which was quite near to Jonker Street. We had a quick dinner and did a quick shopping at Jonker Street.


Next was the live performance show, Melaka Alive. It was an explosive performance where it tells the history of Malacca starting with the arrival of Portuguese. It was a musical show with dances and singing. At the end of the show, the audience were invited to dance with the performers.
At the end of the show, we took photos with the performers. The management of Malacca Alive provide us with supper. I can only look at the food as we still very full. It was a long day. We went back to our hotel to have a good rest.


The next day was a free and easy day. The Swiss-Garden Hotel served a wonderful breakfast buffet. There were a lot of local delights such as my favourite Roti Prata, porridge, noodles and etc. After breakfast, we had a 15 to 20 minutes walk along the Malacca River towards Jonker Street.


Thanks to Tourism Malaysia for the short but rewarding trip. Hence, I realize Malacca attractions places are fabulous and spectacular. We shall look forward to the next trip organised by Tourism Malaysia.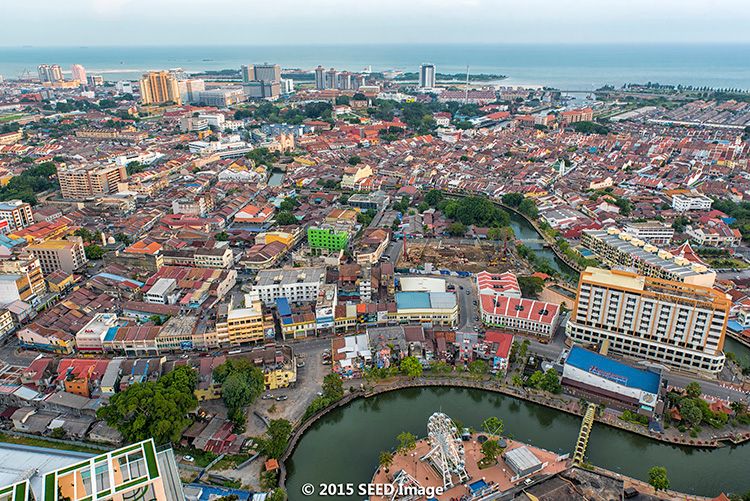 Writer/Photographer: Derrick See & Hwee Chin