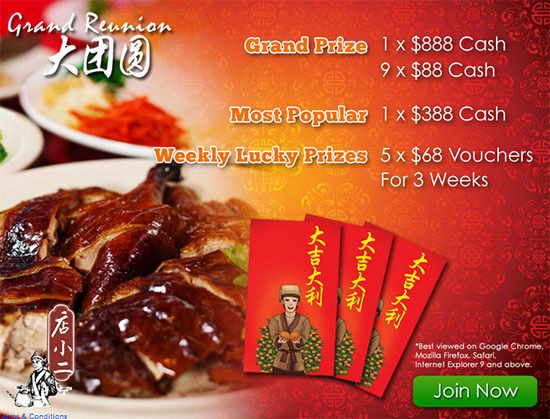 Hi Readers! Chinese Lunar New Year Festival is coming! Kit Solution has launched a new campaign on Facebook for Dian Xiao Er called the "Grand Reunion" ("大团圆"). This is a campaign where a user will play a virtual host and will 'host' as many tables as he/she want and invite 9 friends to join him at every table.
Once a table is full, those not on a table can open more table and invite another 9 different friends. Every filled table will be entitled to a lucky draw and the prizes are stated below.
Grand Prize:
For one lucky qualified table will be randomly selected at the end of the contest.
1 x $888 Cash for the Host
9 x $88 Cash each for those who joined the table
Most Popular Host:
For the host who has the most number of qualified tables
1 x $388 Cash for the Host
Weekly Lucky Prizes:
Each week we will randomly pick 5 lucky fans who joined the contest
5 x $68 Cash for lucky fans each week for 3 weeks
Contest Duration
This contest starts on 10 January 2013, at 12.01am (Singapore time) and ends on 9 February 2013 at 11.59pm (Singapore time). Entries shall be deemed to be received at the time of receipt by Dian Xiao Er and not at the time of transmission by the participant.
How To Qualify
1. Participants 'like' the Dian Xiao Er fan page to enter the contest.
2a. Fan(s) can create or host as many table as they would like to have, with the following options:
Public – anyone can join the table
Friends Only – any friends of the host can join the table
Invitation – only those invited by the host can join the table
*Note: All tables hosted, must not have the same people joining
2b. Fans can also join any table opened to them
Each table can only accomodate up to 10 people including the host, and that table is considered 'full'. Once the tables which is 'full', the host of that table will be qualified to win the grand prize and the fans of that table will win one of the 9 x S$88 Dian Xiao Er voucher.