With the last day of the year approaching in less than a days, the question posed to you by friends is "How are you spending your countdown?" Here is one of your best options if you are still uncertain. Be a part of the Marina Bay Singapore countdown.
1. Bask in a night of lights, camera, and action
By lights, we mean 3D projection on buildings such as the Fullerton Hotel Singapore. Titled "Reflections of our Past, Present, and Future", it features a montage of sketches and graphics depicting scenes of Singapore's history as well as present-day Singapore.
Be prepared to whip out your phone and take photographs or video of the projection as the three minute extended version of it plays every half hourly from 8.15pm to 11.15pm on New Year's Eve and a final run at 11.55pm.
Enjoyed watching the video clip of the projection? Nothing beats watching it live for yourself, so grab your friends and family and head down to Marina Bay on the 30th.
2. Themed Lighting on Selected Buildings
If you think that you will enjoy the 3D projection on the Fullerton Hotel, 5 buildings in Marina Bay will also feature a synchronized themed lighting in our national colours.
The Ocean Financial Centre, OCBC Centre, Maybank Tower, One Raffles Place and Millenia Tower will be lit in red and white and feature the number '50', lasting 5 minutes every half hourly from 8pm to 11.30pm.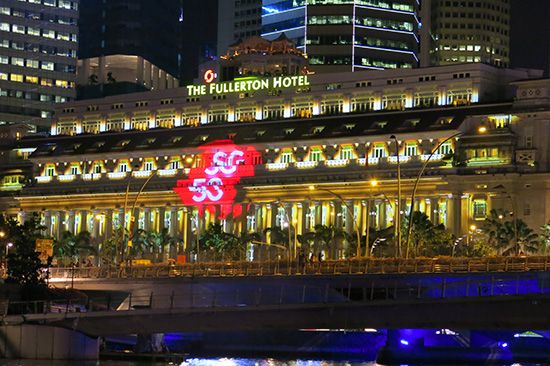 3. Lighted Wishing Spheres
Do you observe red and white spheres floating in the Bay? Wonder what they are for? No, they are not just part of the decoration. For the first time, 5,000 red spheres have been added to the usual white spheres to form a giant number '50' in the Bay. They are wishing spheres because they carry more than 600,000 wishes from members of the public.
4. Fireworks with Music
The firework display this time round will last 8 minutes and this display is specially choreographed to a score composed by local talents Julian Wong and Riduan Zalani. Think fireworks with music, like a music video. A segment of the Music will feature 400 drummers performing 'live' at the lower boardwalk in front of the Marina Bay Sands Event Plaza.
Photo credit: Darren Soh
5. Events and More Events for Everyone
A map of the activities around the Bay:
Celebrate December will include a range of activities including music performances, craft workshops and other activities for all ages. Entry is free
Drumgaia feature drum performances as part of the firework display.
Marina Waterfront Bazaar offers a shopping experience for the public and there will be tidbits and drinks available for sale.
Celebrate with the World 2015 is a ticketed concert that features local artistes and both international and local DJs. There will be a carnival zone with games for families.
Celebrate SG50 features superstars and celebrities such as BigBang, Stefanie Sun, Kit Chan and Dick Lee and an outdoor party with DJ Tinc.