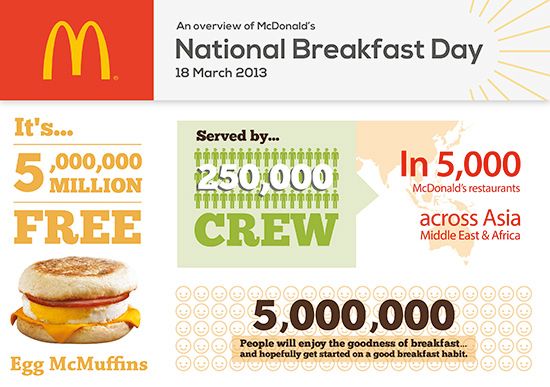 Hi Readers! Good News share here! Woohoo! On the 18 March 2013, 121 McDonald's restaurants in Singapore will participate in National Breakfast Day by giving away over 100,000 Egg McMuffins, as part of Singapore's (and the world's) largest ever breakfast giveaway.
National Breakfast Day is a regional McDonald's initiative that will see 5,000 McDonald's Restaurants in Asia, the Middle East and Africa give away some five million Egg McMuffins in all.
McDonald's iconic Egg McMuffin, with its perfect combination of freshly cracked eggs, Turkey ham and cheese between toasted English muffin buns, has been specially chosen for this one-of-a-kind event. Each participating restaurant will be giving away 1,000 free Egg McMuffins to customers on a first-come, first-served basis.