Advertorial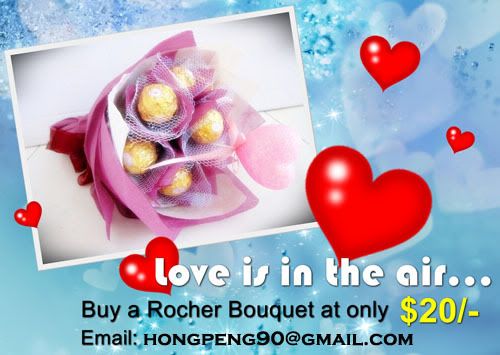 Hi Readers! It's February, the month of love! If you are looking for Valentine's gift for your loved one or special friends in life, here is good news for you! As collaboration with Rocher Creations, they are promoting some Valentine's Day gift special! What Valentine's gift will you give on that day? Red Rose or Premium Chocolate? Why not combine these two ideas together!?
In February 2012, the "Rocher Creations" has launched out the Valentine's Day gift special – 'Rocher Rose'! A handmade bouquet with unique style of creation with soft and lovely colour and in addition, the bouquet also includes the Ferrero Rocher Premium Chocolate as well as the soft toy display.
There is few different type of Bouquet which carries different meaning to it. Two of the promotions this year are "I Love You" Bouquet which cost at $10 and "Love You 4-Ever" bouquet which cost at $20.
"I Love You" Bouquet – $10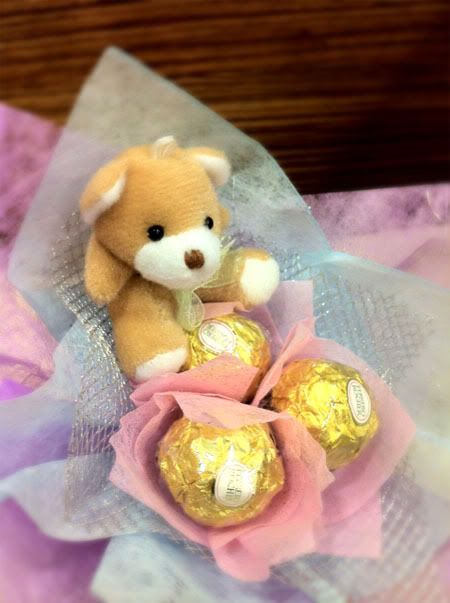 "Love You 4-Ever" Bouquet – $20 [Recommended]

Well, if you are interested in buying the Rocher Rose, do drop me an email at hongpeng90@gmail.com before the Valentine's Day (14th Feb). However, better price will be offered for bulk ordering, be it for your company door gift or promotional gift to customer!!!
Below here are the pricing for Rocher Rose:
1 Rocher Rose cost at $2/- (Minimum 5 stalks order)
6 Rochers bouquet- $15/-
12 Rochers bouquet-$26/-
20 Rochers bouquet- $36/- (Usual Price: $40)
99 Rochers bouquet is available too!
Collection of Rocher Rose Detail:
– Blk 514 Serangoon North Ave 4
– AMK MRT station or City Hall MRT
– Delivery to one location: $15 (Weekday) & $20 (Weekend)
– Else Special arrangement can be arrange too.
Well, what are you waiting for? Valentine's Day is coming in 10 days time, Hurry and order Rocher rose now! For more information, do visit http://www.rochercreations.com today! Hope you have a lovely Valentine's Day celebration this year! *Smiles*