Hi readers! Welcome back to my blog! *Smile* If you have follow my twitter, you guys will know that few days back, i attended a '23 minutes' of Tron Legacy 3D movie sneak gala preview screening at cineleisure orchard. *See my review below*

Tron Legacy, a movie which produce by Walt Disney picture and directed by director Joseph Kosinski. Freaking awesome movie which allow you to enter into a high-tech adventure set of digital world!! *Are you ready to change everything?*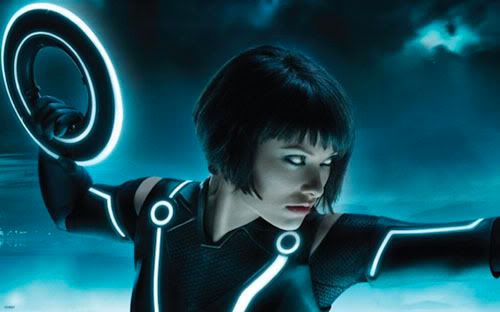 *Try to survive with my disc* Its a game between human right whereby good and evil character always challenge themselves in their digital environment, Thus, who will survive till the last section?

Tron Legacy Movie Synopsis:
"TRON: Legacy" is a 3D high-tech adventure about a father and son (Jeff Bridges, Garrett Hedlund) who embark on a life-and-death journey of escape across a visually stunning cyber universe that has become far more advanced and exceedingly dangerous.
Sam Flynn (Garrett Hedlund), a rebellious 27-year-old, is haunted by the mysterious disappearance of his father Kevin Flynn (Jeff Bridges), a man once known as the world's leading video-game developer. When Sam investigates a strange signal sent from the abandoned Flynn's Arcade that could have only come from his father and he finds himself pulled into a world where Kevin has been trapped for 20 years.

However, I can't wait for Tron Legacy movie to be official release in December!! Can't wait watch its full version because i wonder how the story going to end!! haha… Check out the Tron Legacy movie trailer below here! *Get ready to change!*