Did you attend the Topshop and Topman Autumn/Winter 2011 party last week? It was an outdoor event located directly outside ION. There was already a crowd outside the 'event place' waiting even before the event started!

I was there with my friend to take some pre-event photos of the place. Luckily, we were early, otherwise we would be standing at the back struggling to catch a full view of all the pretty babes and hunks.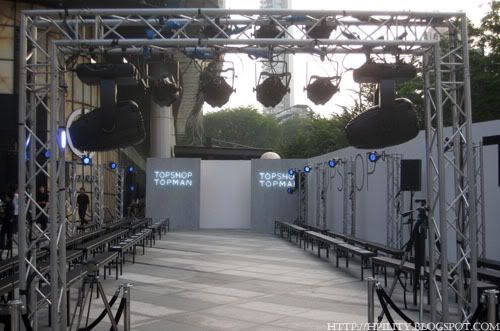 The coolest thing was there was a staff taking pictures via iPad and uploading it to Facebook, Twitter or Instagram on the spot. The first tweetwalk ever in Singapore!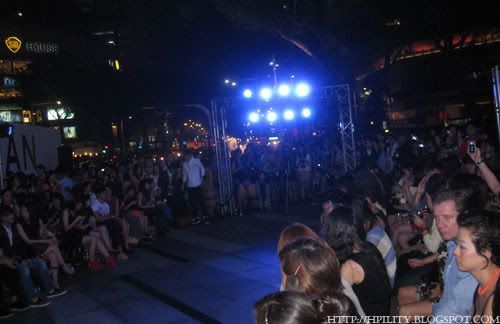 While waiting for the fashion show to start, drinks and snacks were served by the friendly waiters and waitresses which was kinda thoughtful of Topshop and Topman management. The fashion show began right after the sun set. Flashes of light were everywhere once the models started making their first appearance for the event on the 'stage'.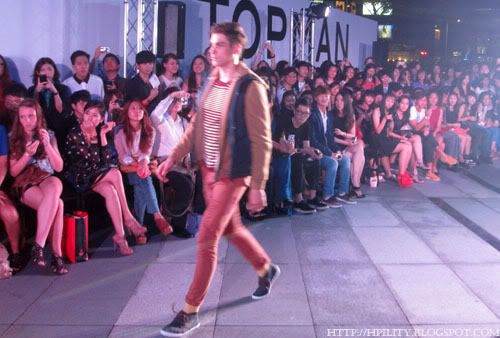 After the show, everyone who were invited were entitled to 20% off storewide. It was a great experience. TOPMAN's A/W'11 Collection lets you feel high and mighty, from casual everyday looks to party wear fresh off the runway that won't break your bank.
For fabulous F3 members or MasterCard holders, you can now enjoy 15% off all regular-priced items storewide and this offer is valid from 1-9 Oct 2011.