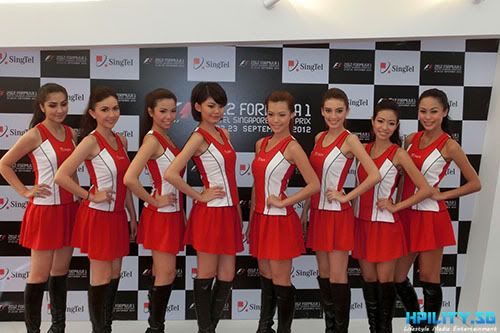 Singapore, 2nd September 2012 – This year, SingTel teamed up with race promoter, Singapore GP to organise a series of exciting race-themed roadshows across Singapore, culminating in the grand finale roadshow with plenty of carnival activities this weekend.
The roadshow also featured the unveiling of this year's F1™ trophy and crowning of the top 3 2012 SingTel Grid Girls, Singapore's fastest electric go-karter and the champions of the 'F1™ in Schools' fastest car and go-kart challenge this evening.
Congratulations to the top three 2012 Singtel Grid Girls. The top Grid Girl for this year goes to Ashvin Sandhu, 21, who an avid F1 fan who has watched almost every race over the past few years. Follow up the second place: Emily Chia, 21, who a lover of fast cars and lastly, third place: Esther Leong, 23, who thrives on the adrenaline of the race and extreme sports.
Emily Chia, Ashvin Sandhu, Esther Leong