It's Tiger Time!!! What so happening outside Suntec city tower five during last Thursday evening, the 1st of September? Woohoo! Yup, it was the Tiger hour launch event whereby the first 1000 visitor get to enjoy their free flow of Tiger beer.

Starting of the hours wasn't that much people but soon later, as the time passed, it attracted more than 1000 of people coming down to have a taste of Tiger beer! Besides drinking beer, there also had live music performance from the talented young people and with all, photo taking was the one thing that I can't miss it.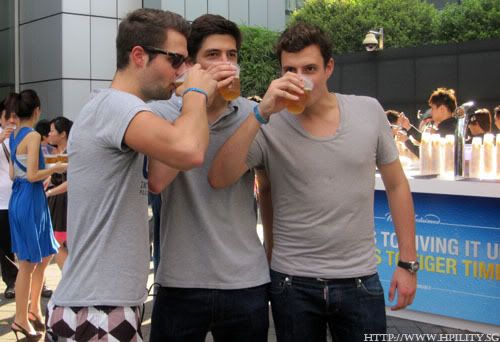 It was a nice and present chill out session with your friends after office work hours together with a cup of beers, it really make the day feel great. Well, I was with my usual clique drinking tiger beer before having our dinner. Haha… However, I am glad and happy to see familiar faces at this event too. Lastly, lets smiles at the great and successful event ahead.
Pictures with friends!
Picture with the Tiger Beer top model inside the Tiger Truck!