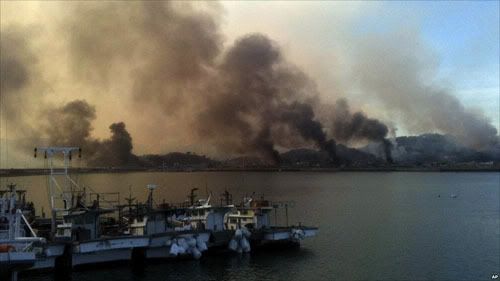 Seoul (The Korea Herald/ANN) – North Korea fired dozens of coastal artillery shells, some of which fell on the South's Yeonpyaong Island near the tense western inter -Korean border, the Joint Chiefs of Staff said Tuesday.
"The North fired dozens of artillery rounds from its Gaemeori western coastal artillery base at 14:34 p.m. In response to the military provocations, we fired back dozens of rounds with K9 self-propelled howitzers," JCS spokesman Col. Lee Bung-woo told reporters.
In the artillery firing, one soldier was killed and four marine solider were seriously injured. The military was trying to evacuate civilians on the island near the border. Several civilians were reported to have suffered injuries.
The firing came as the South was carrying out a live-fire exercise in waters off the Bangnyeong Island and the Yeonpyeong Island as part of the annual nine-day Hoguk Exercise, aimed at enhancing inter-operability and defense capabilities against North Korea. [Read More]
News Adapted from: [http://sg.news.yahoo.com/ann/20101123/tap-update-1-s-korean-soldier-killed-as-b65e254.html]
Found one tweet very meaningful!
"Don't #prayforkorea just because your idols live there, pray for every single people there. It's a matter of lives concerned."