Hi Readers! Hope you have enjoy reading my Korea Day 2 Trip! Welcome back to my blog and is time for me to continue my South Korea trip post! Today, I will be sharing with you guys about my Day 3 journey in South Korea and this time round, we had travelled from Busan City to Tongyeong City.
South Korea trip Day 3; we packed our luggage and check-out our hotel early morning in Busan and took a 55 minutes subway from Centum city station to Sasang station and followed by walking to the Busan Seobu Intercity Bus Terminal.
Walking toward the Busan Seobu Intercity Bus Terminal.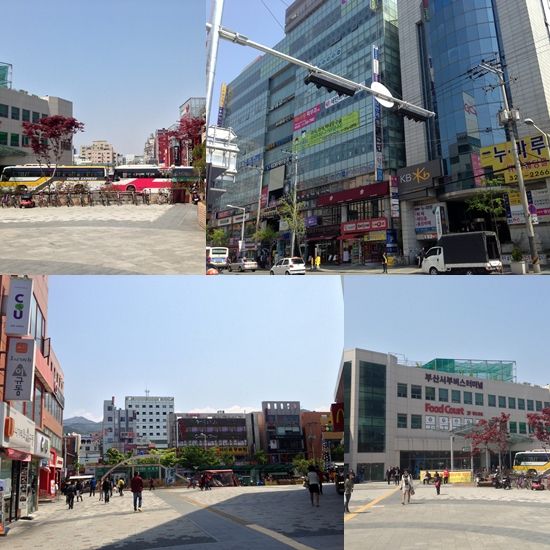 We bought the express highway bus ticket to Tongyeong city and
the whole journey took us about two hour to reach our destination.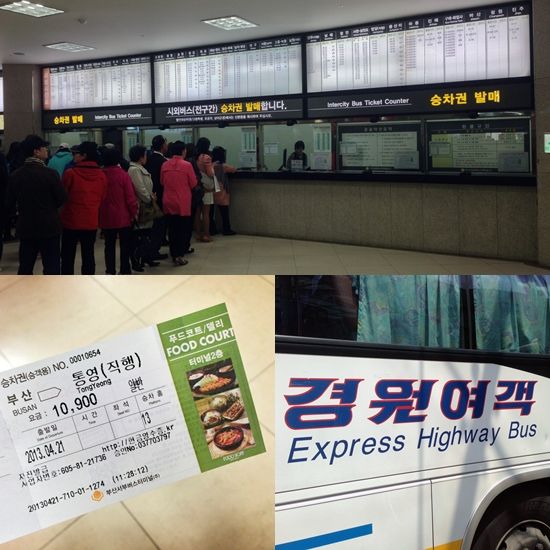 Welcome to Tongyeong City in South Korea!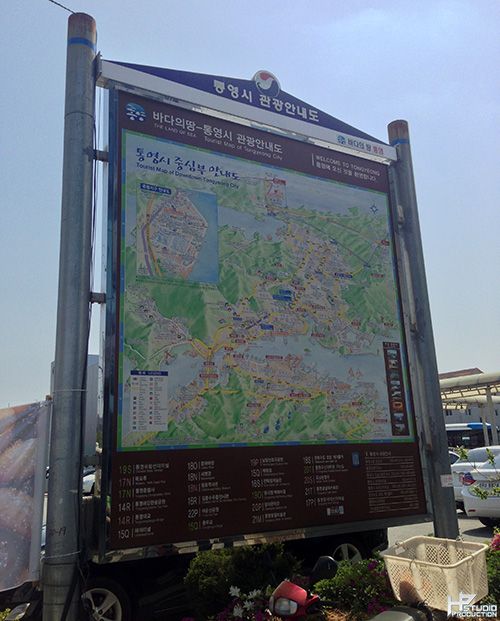 We stayed at Tongyeong Anchovy Hotel!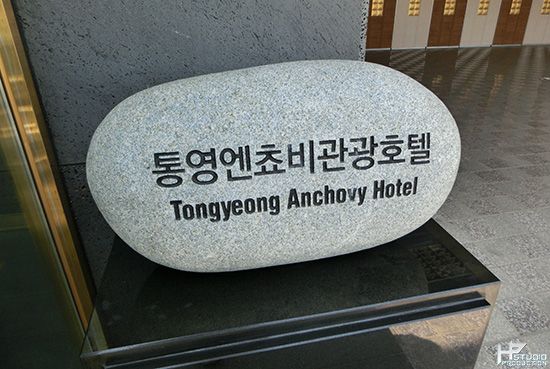 Next, we checked-in to one of the famous hotel in Tongyeong, the Anchovy Hotel. I totally like the high-end multimedia system in this hotel room, very elegant and luxury and by seeing through the transparent glass window, I am enjoying the breezy coastal scenery. To add on, the staff service at Anchovy Hotel was polite and friendly too.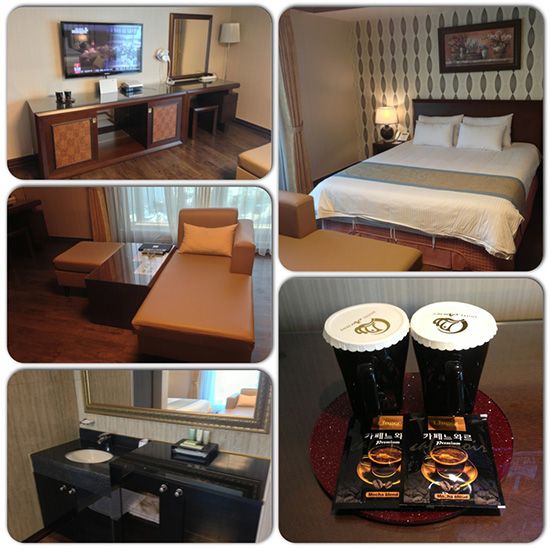 One of the staff from Anchovy Hotel guiding us
on how to get our easy way to our next destination.
Pretty coastal view from my hotel room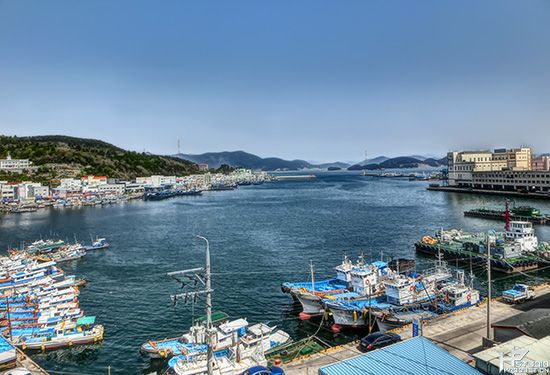 It was a perfect sunny day during my third day of South Korea trip in Tongyeong and let's takes a walk along the beautiful and busy Tongyeong Coastal Street which also known as Tongyeong Dongpirang village. Along the way, we saw many stall selling dry salty fish, grilled cuttlefish fish and some of their local food which rarely seen in Singapore.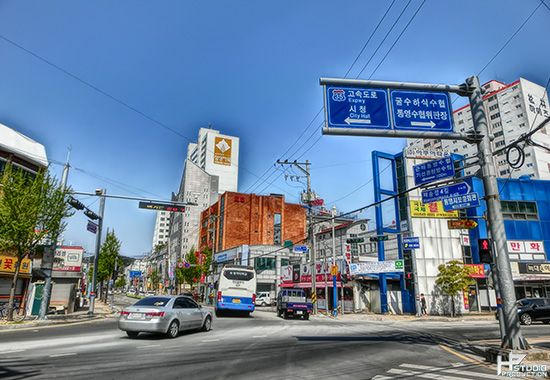 Unique Orange in Tongyeong, South Korea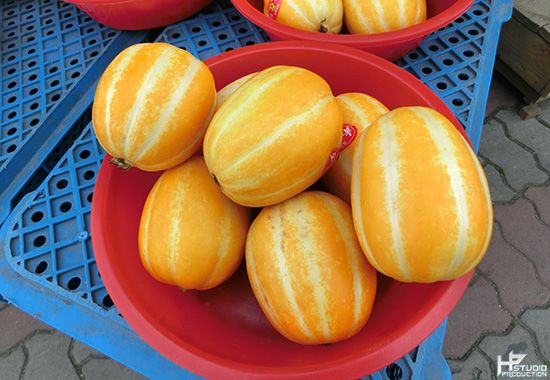 Dry Salt Fish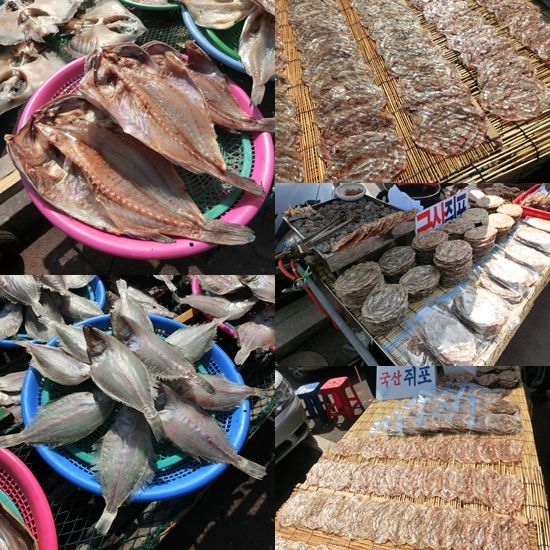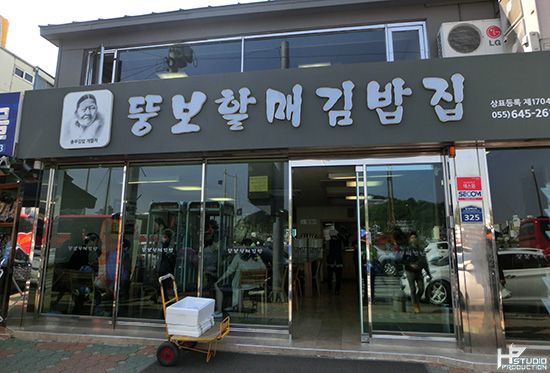 Its lunch time! We came by a stall selling the traditional gimbap (Korean Dried Seaweed Rice Rolls) along the way of Tongyeong Dongpirang village. Yup! This was my first time eating the traditional gimbap and I like it although the taste was different from the usual Japanese sushi.


Alright! After our lunch, is time for some adventure mountain climbing! Woohoo! We took a cab and travel to the tourist attraction in Tongyeong – Halleyosudo Landscape Cable Car station. Woot! We bought a two-way cable car ticket cost at 9000 KRW and headed up to visit the Mireuksan Mountain.
Halleyosudo Landscape Cable Car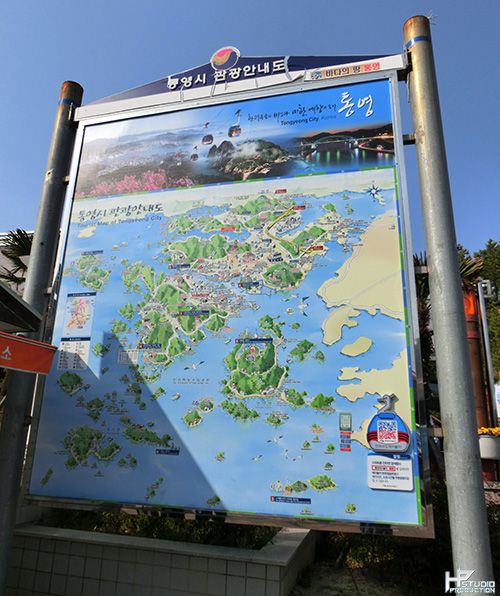 Cable Car ticket cost at 9000KRW
My first time taking cable car in Korea and I am ready for the cable car ride!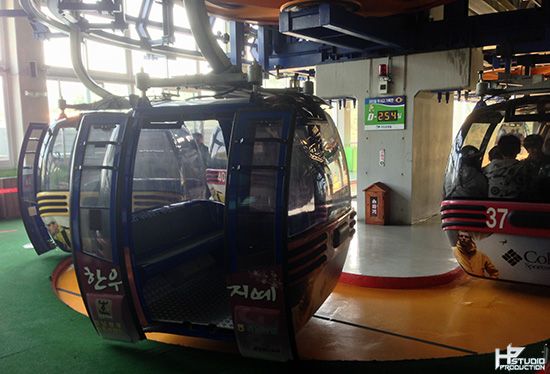 Welcome to the inner peace place! By looking at the photo below here, it shows that our journey had just started and right below of Mt. Mireuksan, it was crowded with lots of tourist and local folks. Are you an adventurer person? Ready let's go!
I saw this awesome landscape view with my own eyes for the very first time in my life!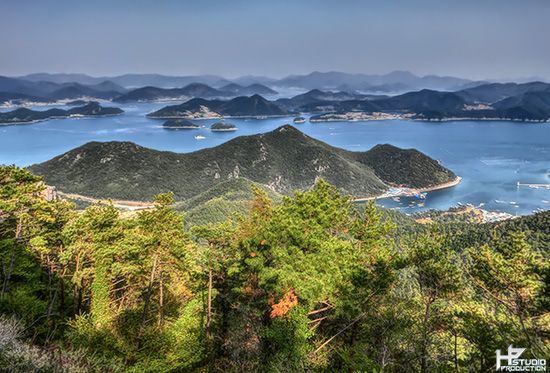 You are able to see Japan island from Mt. Mireuksan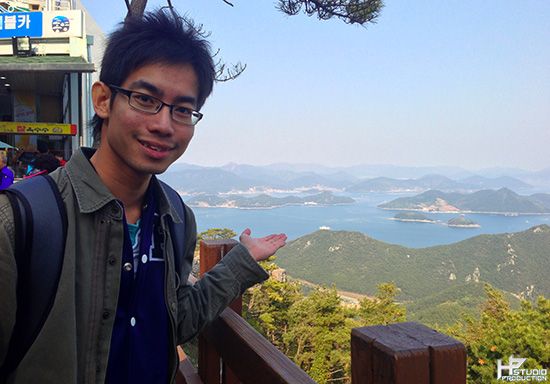 Sky view Map of the Mt. Mireuksan
Time to start climbing up to the top of Mt. Mireuksan!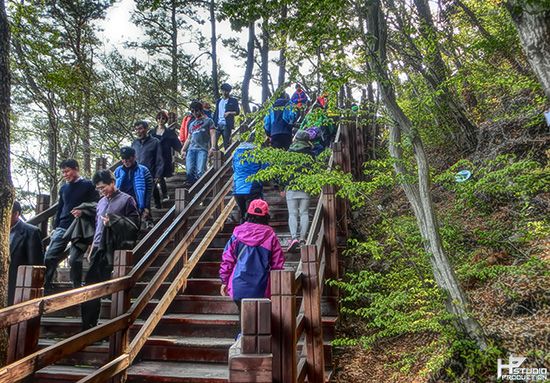 Half way to go…
170m more to go…
Almost reaching the top! 70m more to go!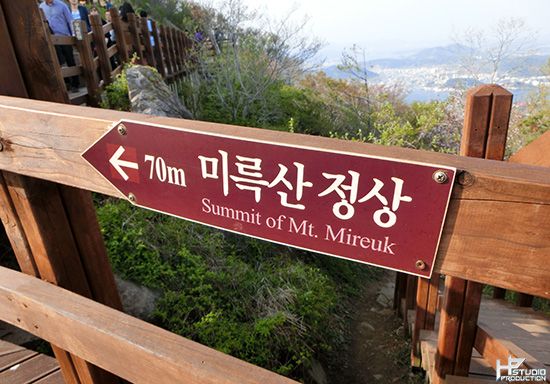 Stunning nature scenery
Yes! We are here!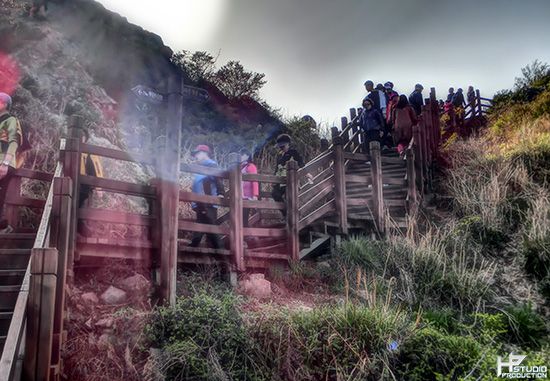 Welcome to the top of Mireuksan! Mireuksan is a mountain in the city of Tongyeong, Gyeongsangnam-do in South Korea. The height of Mireuksan is 461m tall and according to research, it is considered one of the 100 best mountains in Korea. While not as high as other mountains, it is home to a lush forest, valleys with pure water, odd-shaped rocks, rock caves, and ancient temples.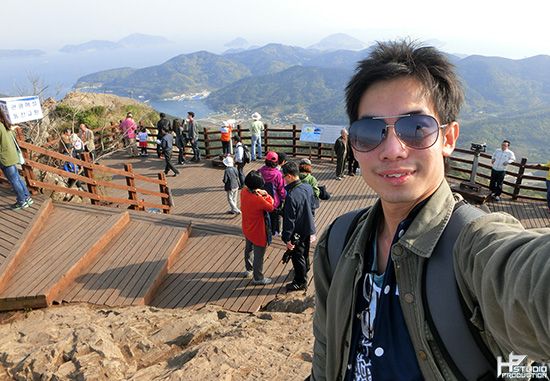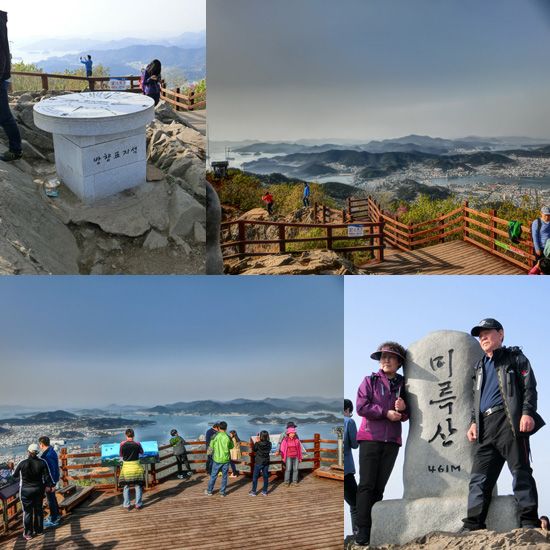 Bird-eyes view of the Tongyeong village!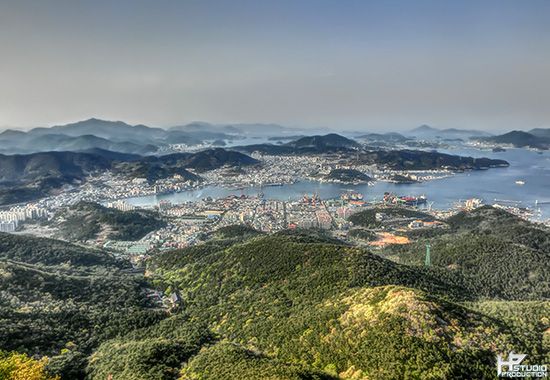 Gorgeous Mountain and Island Landscape Scenery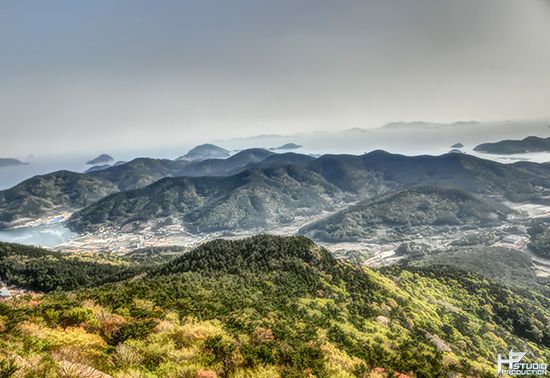 Spectacle view!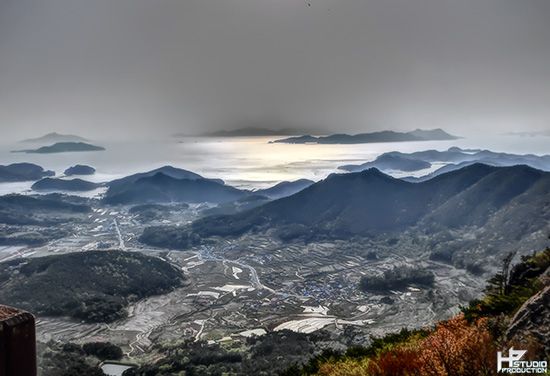 Congratulation to myself for conquering the Mt. Mireuksan in Tongyeong!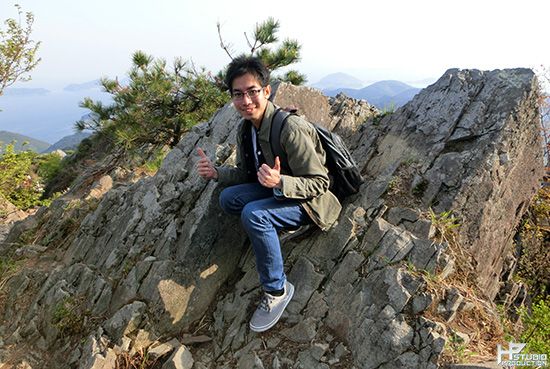 To conclude my South Korea Day 3 Trip:
This was my first time visiting Tongyeong South Korea. Many of the local people there was surprised when we say we are from Singapore. Well, however I am attracted with the beautiful nature landscape scenery in Tongyeong. I went for a Hallyeosudo Landscape Cable Car ride and successfully visited Summit Mt. Mireuksan. I stun at a moment when I climb up to the highest point of the mountain and I would like to say that everything was worth it for great achievement in life. Stay tune for my South Korea Day 4 Trip! Next travel destination will be bringing you guys to Suncheon City. *Smiles*