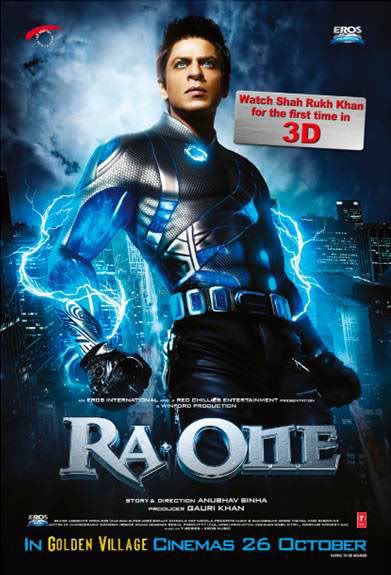 Bollywood is set to thrill audiences with the highly anticipated release of Shah Rukh Khan's first 3D film, RA.ONE, and Eros International presentation, will open worldwide on Deepavali, 26 October 2011. This also marks the first Hindi 3D movie to be screened in Singapore, across all nine Golden Village cinemas.
The most ambitious and expensive Bollywood film till date, RA.ONE stars the "King of Bollywood" and is directed by Anubhar Sinha, jointly produced by Eros International and Shah Rukh Khan's production company, Red Chillies Entertainment.
Bollywood stars Kareena Kapoor and Arjun Rampal will join Shah Rukh Khan in leading roles, supported by Shashana Goswami, Dalip Tahil and Chinese-American actor Tom Wu. Adding to the star-studded line-up of cast members will also see guest appearances by Super Star Rajinikanth, as well as Sanjay Dutt and Priyanka Chopra, backed by the film's crew of more than 5,000 members from India, Italy and the U.S.
Bollywood fans can look forward to an action-packed, superhero-inspired film featuring a father, Shekhar, who tries his best to communicate and 'fit-in' with his son, who is quickly maturing into a teenager. Shekhar tries every method including increasing his "cool" quotient and "dude-difying" himself, but his son has given up on him. The cards are in his favour when Shekhar designs a super awesome game that bonds the family better, but they find themselves in a middle of a disaster as the game they played starts playing them instead.
Movie-goers can expect to be transported to another world through vivid and realistic scenes with Shah Rukh Khan performing his own action stunts, as well as the creative deployment of software and technology for stunning visual effects in the film.
RA.ONE will be screened in Hindi with English subtitles at all GV cinemas. This will also be the first Hindi film to be screened at GV Gold Class cinemas.