Singapore, 20 August 2013 – SingTel Singapore Grand Prix unveiled the top eight finalists of the 2013 SingTel Grid Girls and as the city transforms ahead of exhilarating weekend of Formula 1 racing, SingTel is shifting the local element into high gear with a series of Singapore-style activities.


This year's headline activities include The Big Race, an island-wide search for Singapore's fastest race driver and this year's SingTel Grid Girls starring in The Singapore Factor, which will see the eight finalists, entertain with a series of uniquely Singapore challenges.


This year Formula 1 SingTel Singapore Grand Prix Trophy was officially unveiled to the media and MediaCorp celebrities include Joanne Peh, Qi Yuwu, Pei Fen and Romeo Tan had make a special appearance to give a support on this year F1 racing too by introducing the Big Race Competition during the press conference.
Photo of Joanne Peh at Singapore SingTel F1 Media Launch


Well, there are upcoming lots of excitement regarding Singapore F1 2013 such as "F1 in Schools" and "Wave the Flag, Singapore". Likewise, the theme for Singapore F1 this year is aims to create an F1 experience where everyone can be involved regarding both on and off the race tracks. For more information, do visit: www.singtelrace.com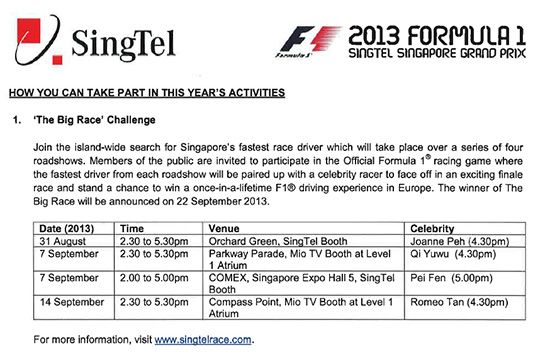 Photos Credit: CK Chai