15/03/10
Monday
Singapore Entertainment Awards 2010
第二届新加坡e乐大赏

Hello people! Welcome back once again! If you have followed my twitter, you guys should know that 2 days back (saturday), i attended the Singapore Entertainment Awards (SEA). Thanks OMY.sg for the invitation. Scroll further down to see more excitement happening picture i took during the event! haha…
第二届新加坡e乐大赏,亚洲娱乐 独e无二。 Wow! 今年的e乐大赏果然有点不一样。虽然是下了点小雨但现场的热情是低档不过的! 感谢 Omy.sg 的邀请,而我也带了我的好友 JianHao 到e乐大赏现场。。话不多说,请看看以下吧!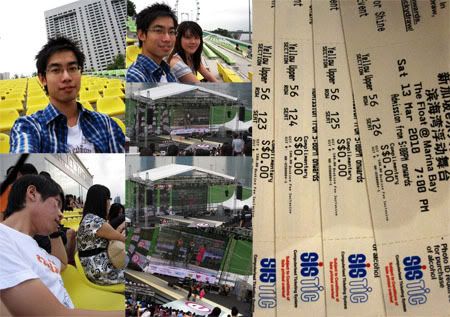 SEA2010 started at 6pm…This timing not many people enter the seating place yet..In fact, can say that is just a warm up starting on stage..The host intro yet a quite new Singapore talented artists but all i didnt see before. lols..Whole environment was quite bored until 7pm came…
Time about 7pm, Dancer from Hai Tei Company came out to have a grand opening. Enjoyed the dance performance pretty well, People getting high as the famous song dance by…hahaha…

Next, Red Carpet Time…Super star artists walk along the red carpet and up on stage for a short introduce. It somehow give me a feel of watching 金马奖..haha Oh yeah! I finally saw 黄鸿升(小鬼) in real life. His first visit to Singapore and his fans was damn alots!! I'm one of it too…hahaa *scream* xD
Shinee! I guess everyone by now know who this group…Especially girls were being crazy when Shinee wave their hands at them…Tat night all ppl get high because of Shinee! haha

As Time goes by…Performance started. One by one singer came up on stage to sing their awarded song … The most memories performance i ever forget was Liu Ling Ling, 臭屁将, 小鬼, JJ Lin (林俊杰),阿杜, Shinee and Eason Chen.
臭屁将 sang a song called 'RESPECT' and i totally like it alots! lols..and yeah…first time seeing 臭屁将 sing and the next second i was thinking of MC Hotdog and 张震岳! haha…Rap and music was good…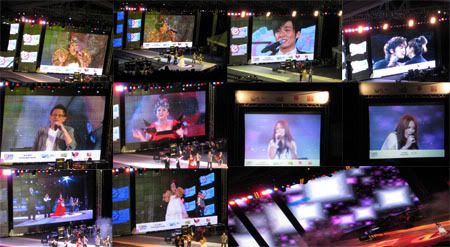 Yeah! Here come the most popularity 黄鸿升(小鬼). Finally see and hear him perform in live on stage. His live voice was nice and most important is…He sang the song i like it alots which is 搞砸了! haha…一路上支持小鬼的我非常高兴!

Yoga Lin (林宥嘉) Performance. I think this my first time seeing Yoga Lin perform live too. haha…Singing still not bad…like the song 说谎 he sang. 不归是《超级星光大道》冠军!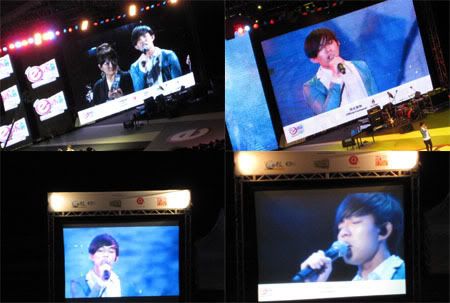 Is Ah Du (阿杜) and JJ Lin (林俊杰) Perform Time. Woohoo…Long time no see Ah Du on stage liao and his singing still remain good. His new album coming out soon!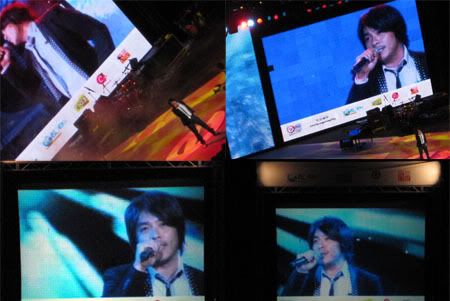 JJ Lin (林俊杰)! Singapore Talent Singer…Singapore music man! hahaha…Supported all his album song since past, glad to heard the live piano version of 第几个100天.
Surprise on stage! JJ Lin and His Fans performed on stage.

Liang Wen Fu…The 新摇 period in the past 1980s. Although i born in 1990 but used to listen 1980s Song while i am young…Consider my childhood song…haha…Thats why, during tat time, i was touched by liang wen fu song… 新摇 song always give different feel…

Hoho Yes!! Below this picture is SHINEE!!! The whole crowd got high because shinee was on stage. Camera Flashing non-stop and while they were performing, the scream also non-stop! lols…舞台超cool 的!

Last but no least, 陈奕迅 aka 歌神 on stage! Awards the most of the night..No wonder people call him HongKong 歌神. haha…

Finally, The whole Awards ceremony come to the end…The timing at this time was around 11pm plus…The overall concert was success and i enjoyed the whole events, manged to see my fav. singer and glad to see in live! haha…Did you guys notice that my twitter tweet was updated live too…? #SEA2010! haha

Once again, Thanks Omy.sg for the pair of tickets! Do Check out some links below to preview more live video…Basically just visit their official Singapore Entertainment Awards 2010 Website will do! haha…After all, i call it a day. ^^
Official SEA2010 SITE: [Click Here]
Tats all for today!
Thanks for your reading and viewing!
[Do Comment/Tag Before you leave this Blog]